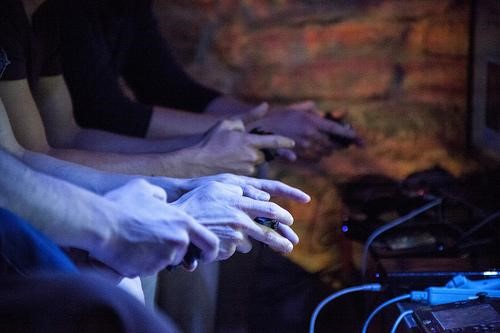 IMG_4778 by VisionGamingCH, Public Domain
If recent studies by Google and KPMG are to be believed, online gaming is on track to become a $1 billion industry in India by the turn of the next decade. By 2021, the "Online Gaming in India: 2021" combined report by Google and KPMG confidently predicts there will be over 310 million online gamers throughout India.
The industry is expanding at a rate of knots. With 117 percent year-on-year growth, its popularity is rising faster than anywhere else on the planet.
As faster, more reliable internet connectivity becomes commonplace, and the adoption of smartphones and tablet devices is ever more widespread, the appeal of online gaming will increase simultaneously. The freemium online gaming market is forecast to drive the most growth within India's online gaming industry. The same Google-KPMG report claims that freemium games will experience a 22-fold rise in revenues from last year, with revenues anticipated to continue during the next few years.
The past decade has seen gaming developers focus predominantly on Indian-centric gaming titles, such as traditional family favorites, Rummy and Teen Patti. But there is no doubt that developers are becoming more ambitious in their approach today. Poker has also become an increasingly popular online card game. The game in India is being pushed hard by professional, Aditya Agarwal, who has finished in the top 100 of the World Series of Poker (WSOP) Main Event twice. His presence in local tournaments across India, as well as online as a member of Team PokerStars, has seen Agarwal becoming something of an ambassador for online poker in India.
Mobile game publisher, Nazara Technologies has also established its own esports league, hosting League of Legends and Dota 2 tournaments that cater to the growing number of professional online gamers in India. The league also gets traction online via live streams of the action, as well as web chats. There's no doubt the concept of competitive online gaming throughout India is gradually increasing. Last year, a partnership between World Cyber Arena (WCA) and eGamers Arena saw them play host to a national qualification stage for Indian gamers to secure a place in a championship held in China, with a total prize pot of $28 million up for grabs. Furthermore, the ESL joined forces with Indian-based esports firm Nodwin Gaming to establish a new gaming tournament exclusively for Indian talent, with a prize pool of $63,000.
Esports could yet become an Olympic sport at the 2024 Olympics, provided the IOC approves. Online gaming will then become recognized as a spectator sport, replicating the fan experience of watching a professional live sporting event. With two million regular esports viewers and another two million 'occasional" viewers, according to Frost & Sullivan's recent report into online and mobile gaming in India, it's still a relatively new market for companies to pursue. Nazara Technologies has confirmed it will invest $20 million in developing the foundations of an Indian esports scene. Meanwhile, leading digital entertainment firm JetSynthesys hosted a mobile gaming tournament in Bengaluru in January, with 20,000-plus gamers competing to qualify for a real-life tournament and a chance to win cash prizes.
When you throw growing technologies such as augmented and virtual reality and artificial intelligence into the mix, it's clear that online gaming will become big business in India. With enhanced and immersive gaming possibilities and games localized in regional languages such as Hindi and Gujarati, it's an opportunity for esports to become as big in India as it already is in China. In fact, the Indian gaming audience could hold the key to the worldwide dominance of esports in the years to come.
Comments
comments