"Today is the day when people will bring home two Coronas", went the joke as the images of serpentine queues outside liquor stores across India went viral on the internet today.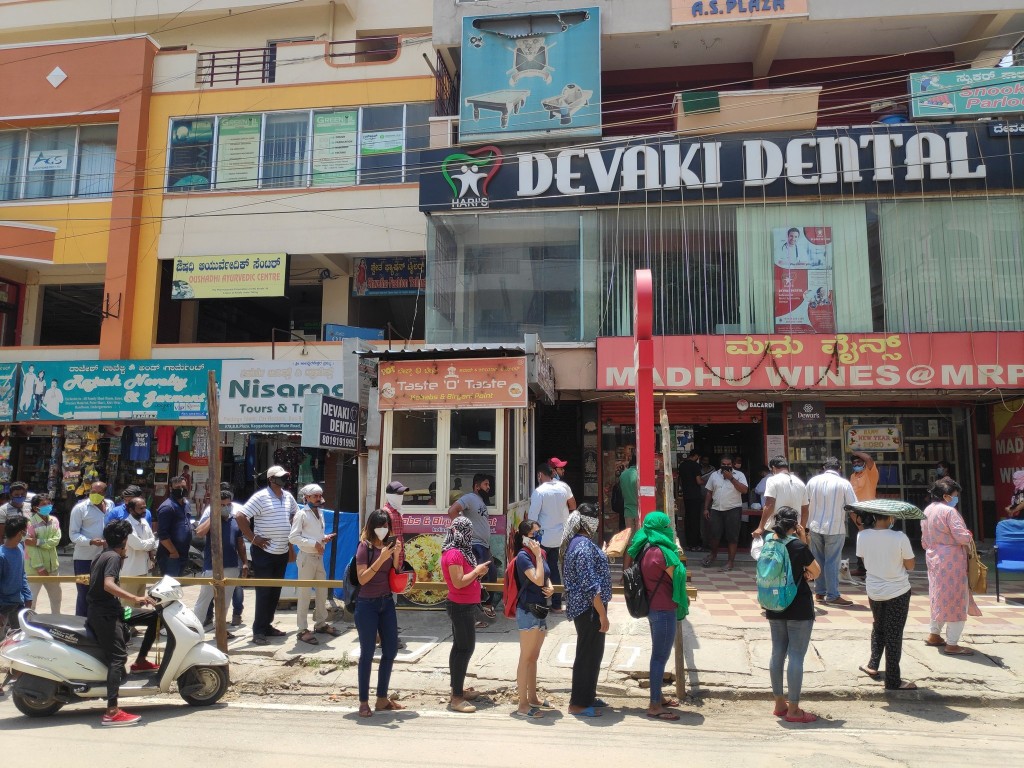 (Image credit: @RGVZoomin)
After almost 45 days of a country-wide lockdown and a complete prohibition on alcohol due to CoVid19, India decided to loosen some of the restrictions across zones as the country looks to scramble back to opening up. The first beneficiaries of the partial relaxation were liquor stores as the govt let individual states decide their status provided all social distancing norms were followed. It wasn't long before queues – even as long as a kilometre – formed outside the alcohol stores that were open. After being shut-in for 45 days, people braved the risk of being outside and contracting the virus in the hope of an alcohol-led succour. 
"There is huge pent-up demand and people are celebrating that it is opening but the supply chain and the supply lines have been totally disrupted," said Deepak Roy, a member of the board of Allied Blenders and Distillers, India's largest domestically owned spirits company.
By Tuesday over Rs. 250 crore worth of alcohol was sold in Karnataka alone. According to the Excise Department, 3.9 lakh litres of beer and 8.5 lakh litres of Indian-made liquor was sold on the first day of re-opening of liquor shops after being shut for over a month. Two images of liquor store bills totalling over 95,000 and 50,000 from Bangalore in particular went viral as people hotly debated whether the alcohol stockpiling was done to later bootleg the loot, should India go into lockdown 3.0.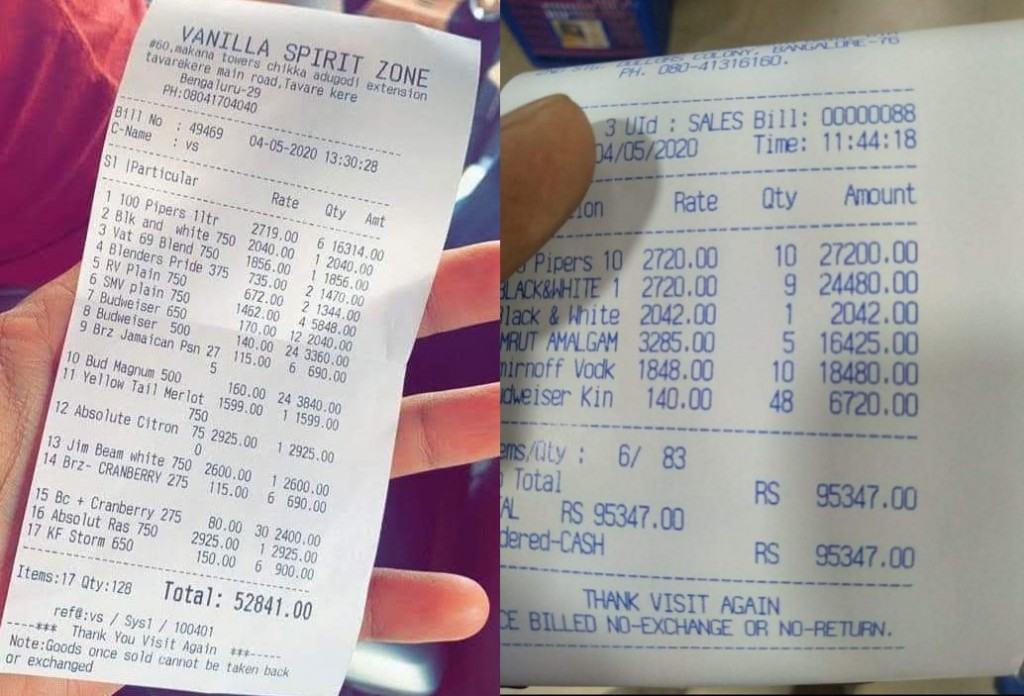 The govt's decision on the relaxation on alcohol ban and letting liquor stores open didn't stem from an altruistic angle. It made perfect economic sense. In 2019-2020, India collected almost $30 billion from excise duty and taxes on alcohol. Keeping liquor shops shut for longer would cost states millions in lost revenue, a huge setback for an economy that's already standing on shaky ground due to the almost two-month long lockdowns.
Delhi govt went as far as deciding to levy a 70% "Special Corona Fees" on liquor sold in the state, a 30% hike from the previous excise duty overnight. That didn't deter the massive queues outside liquor stores in the capital.
The move hasn't come without its fair share of criticism and fallouts though. Massive crowds clambering to get their hands on alcohol, in a time when staying-at-home still has to be practised, jeopardise flattening of the curve. Social media has been abuzz with activists rallying to reverse the decision to open alcohol stores. A twitter hashtag "Say_No_To-Alcohol" has been trending all day which seeks to continue the ban on alcohol sales in the country, complete with moral judgement and calling out health ills of the practice.
Looks like alcohol may provide a brief respite to its consumers and the government after a pandemic ravaged morale and economy, but it remains to be seen, at what cost.