Festivals are usually a time for celebration and joy, but Holi has brought no cheer for digital media publication ScoopWhoop.
ScoopWhoop has come under fire after sharing an article today titled 'Holi Is The Worst Festival That Exists & I Can't Pretend To Play Along Anymore". Today, of course, is Holi, and the author Sampada Sharma argued in the article that she didn't like Holi because she hated colours ("Your skin gets itchy"), there's "nuisance created on the roads" and alleging that people found it an excuse to touch her inappropriately. The article began with a rather direct sentence — "F*ck Holi."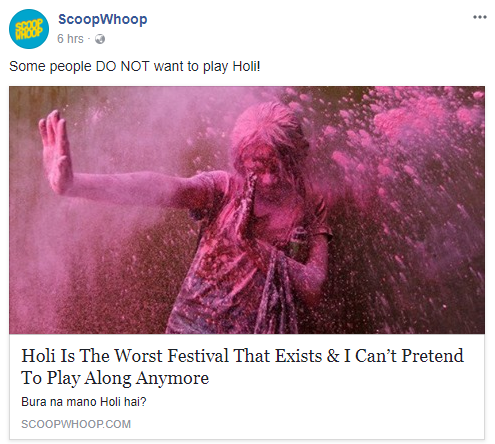 Twitter, though, wasn't impressed with ScoopWhoop literally saying "F*ck Holi" as millions of people were celebrating it across the country. Soon after the article was published, tweets started appearing attacking ScoopWhoop.
This is really sick. Everyone is busy enjoying & spreading colors of love & @ScoopWhoop had to poop. #Blockscoopwhoop pic.twitter.com/Y41iM5aocM

— Vedank Singh (@VedankSingh) March 2, 2018
People also started getting creative — like ScoopWhoop had called Holi the worst festival, people began calling it the worst website.
Also, @ScoopWhoop is the worst website that exists on the internet I can't pretend to visit it anymore. #BlockScoopWhoop and share the screenshots in reply along with the hashtag. Let's give them return gift. pic.twitter.com/i2F06CsBxF

— Bhaiyyaji (@bhaiyyajispeaks) March 2, 2018
Some people also began to draw comparisons over how the publication appeared to wish people differently on different festivals.
If someone asks Why Block SoopWhoop..?
Show them this? and tell, now #BlockScoopWhoop #blockscoopwhoop ?? pic.twitter.com/V97e1FjcwU

— Pandit Amanatullah #HMP? (@Burbakk) March 2, 2018
And it being the internet, someone edited ScoopWhoop's Wikipedia page to show that the site was based in Karachi, Pakistan.
Why they think Eid is best and holi is worst.
Owner of scoopwoop- Hafeez Saeed
HQ – karachi, Pakistan#Blockscoopwhoop pic.twitter.com/2hJwfyBODd

— अल्ला यादव (@alla_yadav) March 2, 2018
And people were soon sharing screenshots, showing how they'd blocked ScoopWhoop.
Boycotting this web portal forever #Blockscoopwhoop pic.twitter.com/0gWND7lJ4V

— Dr. Jay (@Dr_JaySpeak) March 2, 2018
#BlockScoopWhoop is currently trending nationwide on Twitter, and people are continuing to express their displeasure. This isn't the first time ScoopWhoop has managed to anger a large section of its users — in 2015, the company had shared a funny article with gifs titled "10 things I Felt During The Earthquake" as the Nepal earthquake had hit and thousands of people had lost their lives. Last year, thousands of users had hit ScoopWhoop's app with one-star ratings after it had emerged it had threatened the owner of a small meme page for allegedly stealing a meme.
ScoopWhoop can ill afford these controversies — the company has been consistently making losses since its inception, and had lost Rs. 11.2 crore last year. Last November, it had shut down its News division, and fired 10-15 employees. In April, a former employee had filed an FIR against co-founder Suparn Pandey for sexual harassment.