Reliance Jio, through its suite of apps, streaming platform, and investment in Saavn, was always shaping up to be a tech company. It's now received the largest FDI for any tech company in India — and its suitor is one of the largest tech companies in the world.
Facebook has acquired a 9.99% stake in Reliance Jio for Rs. 53,574 crore, a statement by the companies said. "Reliance Industries Limited, Jio Platforms Limited and Facebook, Inc. today announced the signing of binding agreements for an investment of Rs43,574 crore by Facebook into Jio Platforms," the statement said. "This investment by Facebook values Jio Platforms at Rs. 4.62 lakh crore pre-money enterprise value ($65.95 billion, assuming a conversion rate of Rs70 to a US Dollar). Facebook's investment will translate into a 9.99% equity stake in Jio Platforms on a fully diluted basis," the statement added. Reliance Jio will continue to remain a wholly-owned subsidiary of the Reliance platform. Reliance said that this was the largest investment for a minority stake by a technology company anywhere in the world and the largest FDI in the technology sector in India.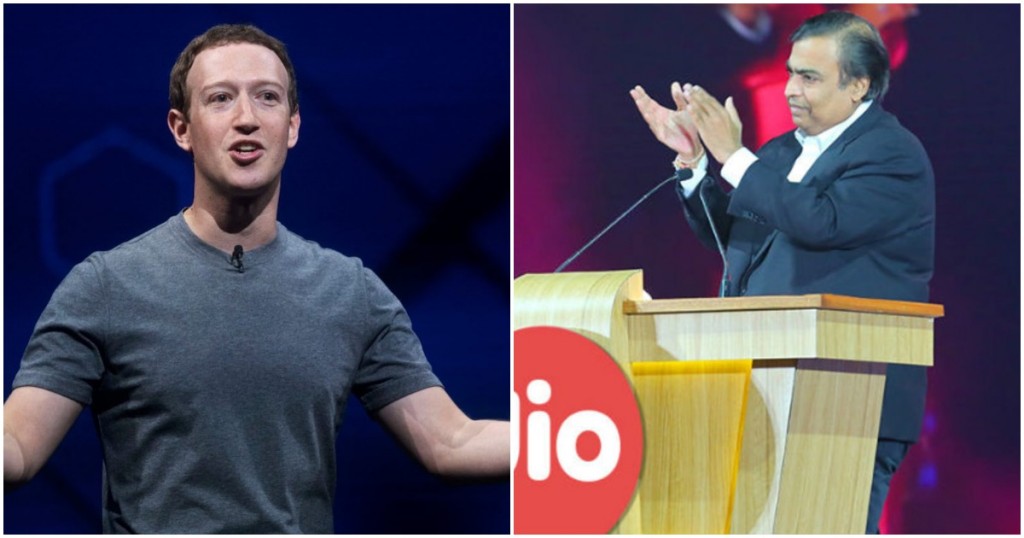 "At the core of our partnership is the commitment that Mark Zuckerberg, founder of Facebook, and I share for the all-round digital transformation of India and for serving all Indians…In the post-Corona era, I am confident of India's economic recovery and resurgence in the shortest period of time. The partnership will surely make an important contribution to this transformation," said Mukesh Ambani. In a separate statement, Facebook said the deal underscores its commitment to India. India is the biggest market for Facebook with 328 million monthly users and the company's WhatsApp messaging app has 400 million users in the country, also the most in the world. "This is especially important right now, because small businesses are the core of every economy and they need our support. India has more than 60 million small businesses and millions of people rely on them for jobs," Zuckerberg said. "With communities around the world in lockdown, many of these entrepreneurs need digital tools they can rely on to find and communicate with customers and grow their businesses," he said. "We're looking forward to getting started," he added.
The synergies of the deal are obvious — Jio operates India's largest telecom and data network, and Facebook, in addition to WhatsApp and Instagram, are some of the most popular apps that people use on Jio's network. But the main focus of the deal appears to be Reliance's e-commerce play, which has been in the works for over two years now. Concurrent with the investment, Jio Platforms, Reliance Retail and WhatsApp have also entered into a commercial partnership agreement to further accelerate Reliance Retail's New Commerce business on the JioMart platform using WhatsApp and to support small businesses on WhatsApp. "In the very near future, JioMart – Jio's digital new commerce platform, and Whatsapp – will empower nearly 3 crore small Indian Kirana shops to digitally transact with every customer in their neighbourhood. This means all of you can order and get faster delivery of day-to-day items, from nearby local shops," Ambani said. "By bringing together JioMart, Jio's small business initiative, with the power of WhatsApp, we can enable people to connect with businesses, shop and ultimately purchase products in a seamless mobile experience," he added.
The investment could be a game-changer for India's e-commerce industry — nearly half a billion people in India use WhatsApp, and if its platform can be leveraged to run e-commerce for JioMart, JioMart could end up upending the entire space. Thus far, e-commerce companies like Amazon and Flipkart run warehouses and hold inventory to sell goods on their platform. JioMart instead seems to want to use India's kirana stores to deliver goods, and with WhatsApp now in its corner, it has a platform that millions of Indians already use. JioMart's model, should it prove successful, could end up upending e-commerce in India.
But for now, the ripples of the deal are still being felt across sectors. Reliance's shares spiked up 8 percent in early trade, indicating that the investing community is glad that Reliance now has a tech giant like Facebook backing it. For Facebook, a partnership with Reliance could help it grow in India, which is its largest market — Facebook has been looking to launch WhatsApp Pay in India for years, and a deal with Reliance could help it accelerate the process. And across industries, companies which compete with the two be looking on with trepidation — Reliance and Facebook together span sectors from telecom to news to e-commerce to social network, and with them having combined forces, they could well end up changing how the entire tech space looks like in India in the years to come.