Last week, Paytm had created a bit of a stir by claiming that it had become India's largest UPI app. "In two months of launch, Paytm has achieved top spot in UPI contributions," Paytm VP Deepak Abbot had tweeted. It was an impressive achievement — Paytm had launched UPI on its app just 2 months prior, and had quickly leapfrogged established players like PhonePe and BHIM, which had been operating in the space for more than a year.
In two months of launch, @Paytm has achieved top spot in UPI contributions. Soon touching largest contribution than everyone else combined ! #UPI_on_PaytmKaro https://t.co/Wh6JYJW9yw

— Deepak Abbot (@deepakabbot) March 1, 2018
But PhonePe says there's more to the claim than meets the eye. In a blogpost, PhonePe has attacked Paytm's claims of being India's top UPI app, and called them "uni-dimensional and misleading." PhonePe's chief grouse appears to be that Paytm only leads other apps in transaction volumes, not in other metrics. As per publicly available data, Paytm had 68 million transactions on UPI in February, compared to PhonePe's 28 million. Given how UPI overall had 171 million transactions in the month, this was widely reported as a 40% market share for Paytm.
PhonePe says that this data alone doesn't paint an accurate picture — a better measure of popularity would include the number of unique customers, and average transaction values. This data, sadly, isn't publicly released by NPCI, and thus doesn't allow for comparison between different apps. But PhonePe says it has found a workaround — while PhonePe has no data on the kinds of transactions done by Paytm customers, they do have access to the payments made by Paytm customers to PhonePe customers. And these numbers, it says, are revealing.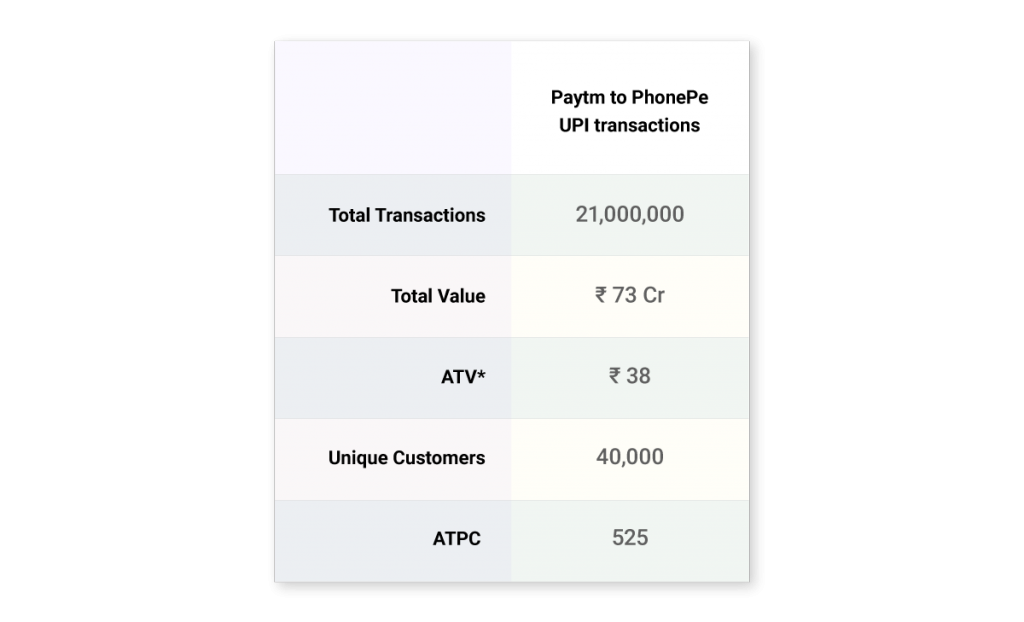 PhonePe says that there were 21 million transactions from Paytm customers to PhonePe customers in February, but the average transaction value for these transactions was just Rs. 38. In contrast, the average PhonePe customer had an average transaction value of Rs 1,820, and average transaction value across all UPI apps was Rs. 1,116. More interestingly, Paytm's 21 million transactions were done by only 40,000 unique customers, which meant that the average Paytm user was using UPI 525 times a month. In contrast, the average PhonePe user was using it just 5 times a month.
"This is simply not representative of normal user behavior on the UPI network," PhonePe says in its post. "Paytm's transaction volumes are clearly influenced by significant per-transaction cashback incentives that appeal to a very small population," it adds.
This isn't the first time PhonePe has questioned Paytm's UPI numbers. In January, PhonePe CEO Sameer Nigam had alleged in a tweet that 90% of Paytm's transfers to PhonePe had been for just Rs. 1, which amounted to 5.6 million Rs. 1 transactions. Nigam, though, had later deleted his tweet. This time, PhonePe hasn't come up with an exact number of small transactions, but said that Paytm's average transaction is significantly smaller than the UPI average.
There could be several reasons why Paytm's average transaction volumes can be lower than those for other players — Paytm's QR codes are widely accepted at merchants, so it's possible that people use it to make smaller offline purchases, while other apps are used for making larger payments. The figure that will raise more eyebrows, though, is the 525 monthly UPI transactions by Paytm users. This, in effect, means that the average Paytm user pays using UPI 18 times a day, which has to be hard, even for the most ardent UPI enthusiast.
PhonePe has called for NPCI for releasing more data into the public sphere about the nature of UPI transactions. "We welcome the fact that NPCI has been so transparent in sharing the total volume and value of transactions. It would be great if they considered publishing the number of unique customers counts to enable the larger ecosystem to form a more holistic picture of the health of the rapidly growing digital payments ecosystem," it said. PhonePe isn't saying it in so many words, but it seems to be implying that Paytm's UPI numbers could simply be too good to be true.