It's been a season of sales, but it's also been a season of claims. India's three top e-commerce companies have all touted impressive numbers – Flipkart says it's done Rs. 1400 crore worth of sales in a day, Amazon says it sold 1 lakh products in the first half hour, and Snapdeal says it's seen more traffic on its site than ever before. 
But there's one particular claim by Snapdeal that caught our eye.
In a promotional video shared by Snapdeal, a Category Marketing  Manager happily tells the camera that "We're trending number 1 on Twitter…that's what we just got to know from our social media team." At the 1:09 mark, another employee excitedly says "Twitter bhara pada hai (There's lots happening on Twitter)"
Kick-starting the #UnboxDiwaliSale in our own unique way @snapdeal @1kunalbahl @rohitkbansal @snapdealdiaries pic.twitter.com/uSeaeeNUkL

— Saurabh Nigam (@sznigam) October 5, 2016
The claims are true. During the sales, the hashtag #SnapdealUnboxDiwaliSale was indeed among the top trends on Twitter. But we've been looking at data closely around these sales, and we decided to dig a little deeper.
A quick search for Snapdeal on Twitter throws up a lot of tweets – people are discussing offers, talking about things they bought, and making complaints.
Snapdeal also seemed to have its share of ardent fans – like one Mr. Rajeev Kumar.
I am a loyal and happy Snapdeal shopper. It was very easy to make a purchase.

— rajeev kumr (@rajeevkumr1) October 5, 2016
Now Rajeev Kumar doesn't seem to be particularly active on Twitter. He'd joined in 2012, has no display picture, and has tweeted only 10 times since then. But his last few tweets, all in quick succession, look something like this.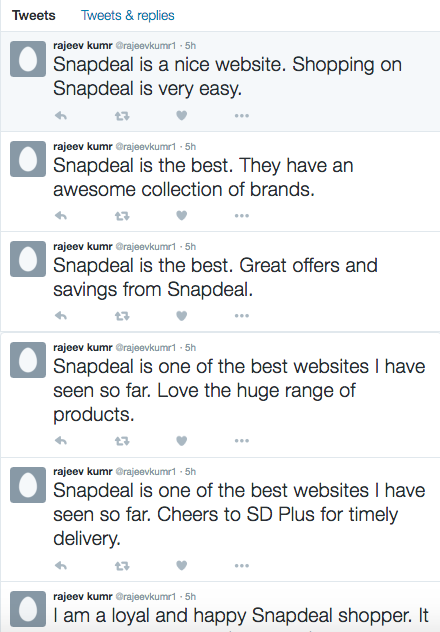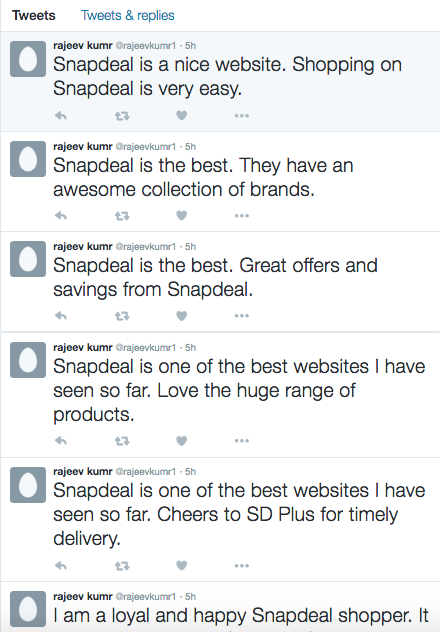 One after another, Rajeev Kumar has tweeted "Snapdeal is a nice website. Shopping on Snapdeal is very easy", "Snapdeal is the best. Great offers and savings from Snapdeal", "Snapdeal is one of the best websites I have seen so far. Love the huge range of products", "Snapdeal is one of the best websites I have seen so far. Cheers to SD PLus for timely delivery.", and "I'm a loyal and happy Snapdeal shopper."
The offers on Snapdeal were quite tempting, so one can argue that Rajeev felt compelled to let his love about Snapdeal known. This could be a one-off case of someone who's really happy with Snapdeal.
Except that it isn't.
Several accounts have tweeted the exact same thing as Mr. Kumar – and have chosen to use his exact same language, verbatim.
The first tweet – "Snapdeal is a nice website. Shopping on Snapdeal is very easy." has been tweeted many hundreds of times, by several different accounts.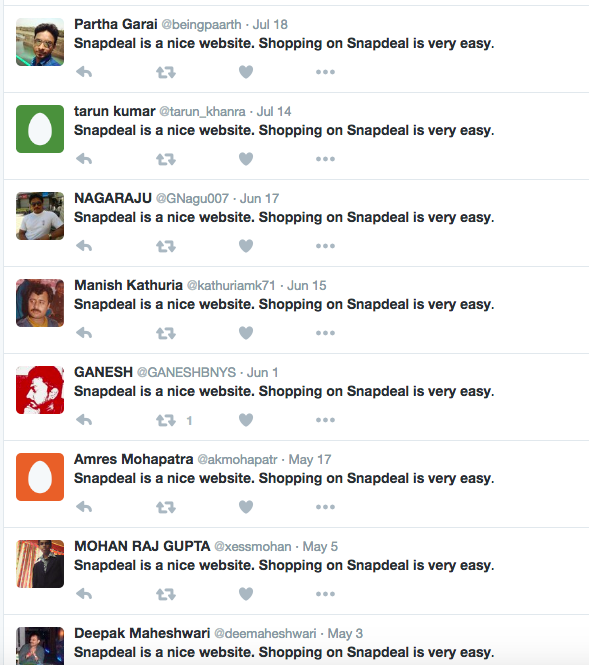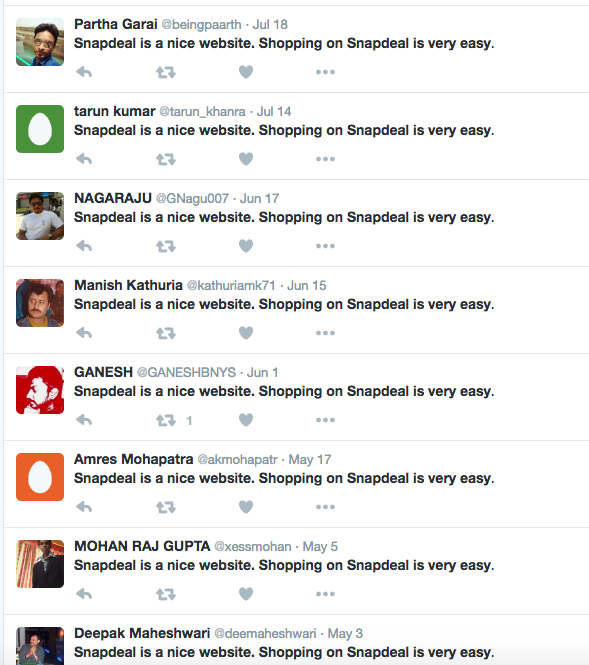 And things are exactly the same way for the other tweets.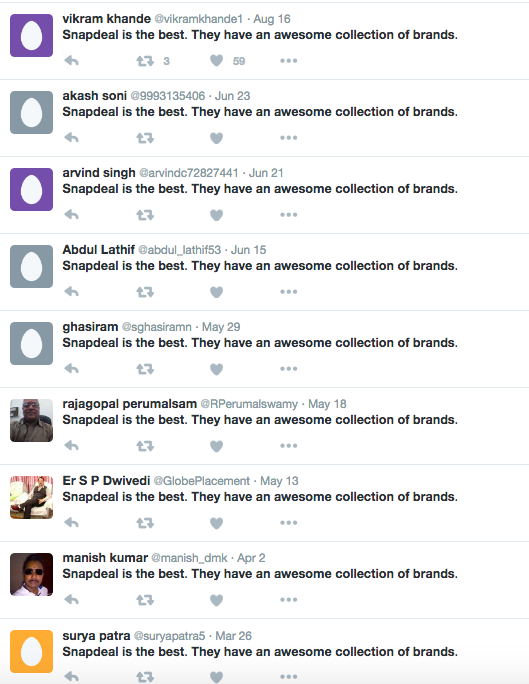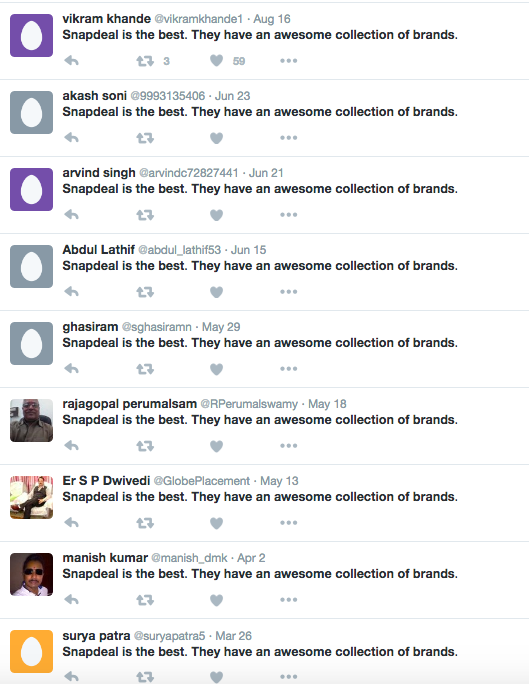 Here's Mr. Kumar's third tweet, and repeated verbatim by several other accounts.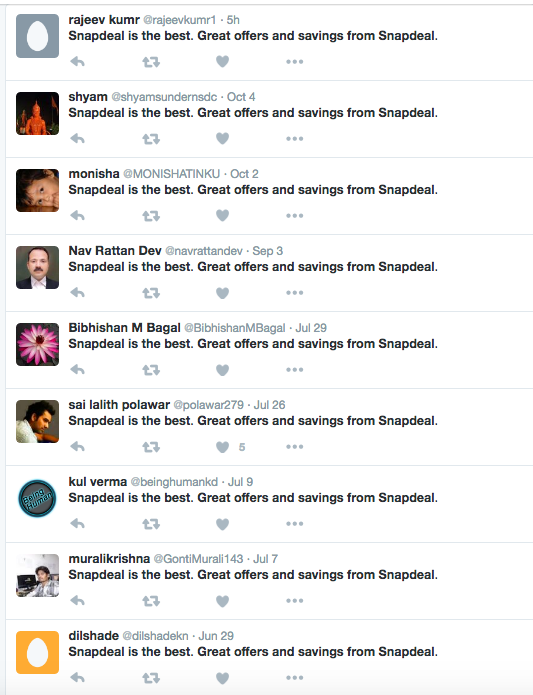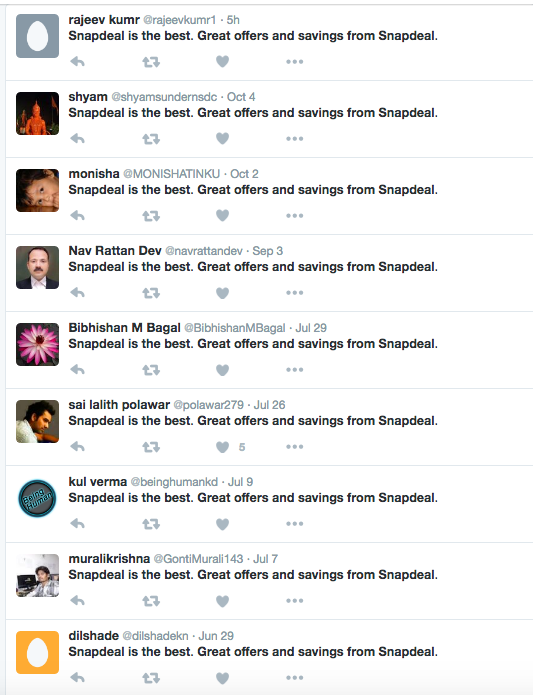 Here's his fourth.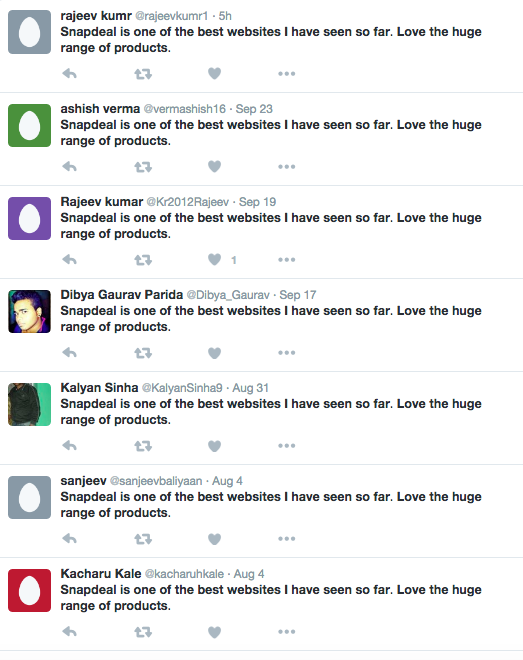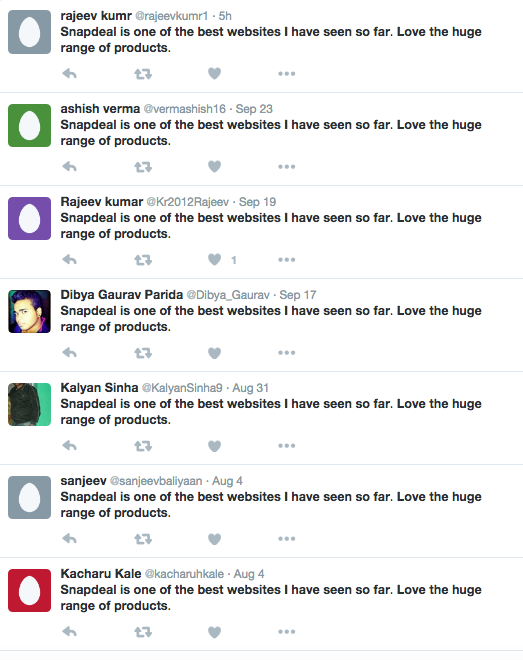 And there are other similar tweets that aren't on Mr. Kumar's account, but have been tweeted, word for word, by lots of accounts.