WhatsApp has been teasing its business integration for what seems like years now, but it's finally here.
Verified business accounts on WhatsApp now have their own green tick, and will be able to directly message their customers. WhatsApp says it's running a pilot with a small number of Indian businesses, and will extend it to more businesses later.
BookMyShow appears to be one of the businesses that have been selected, and it's been using WhatApp to send booking confirmations to users. Apart from simply one-way exchange of information, BookMyShow also seems to have build a rudimentary chatbot over WhatsApp — users who wish to stop receiving messages from the company can simply message "Stop". While that isn't immediately very impressive, one can imagine how a whole lot of functionality can be built around this API.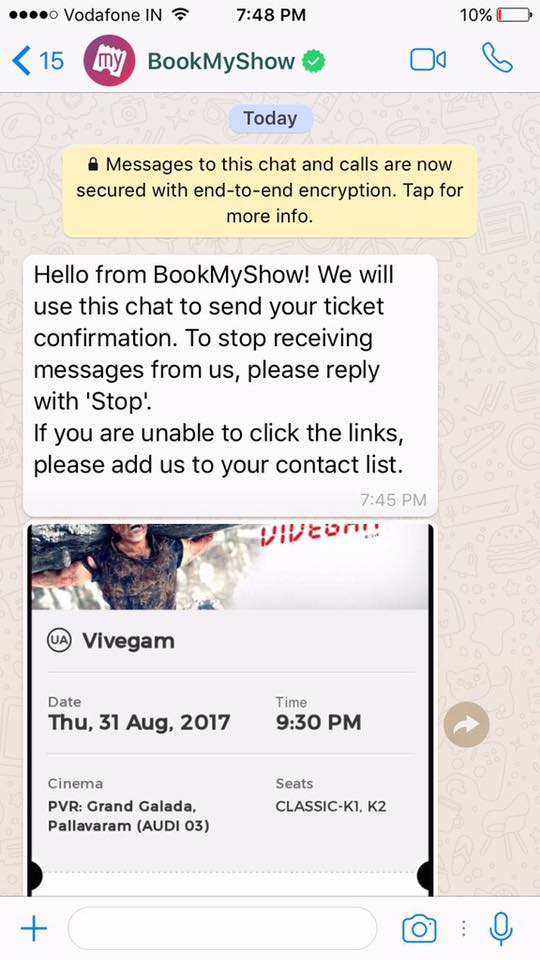 WhatsApp chats with businesses will run much like regular WhatsApp chats, but there are a few differences. Messages sent on these chats can't be deleted, which would give them the permanence of email and help prevent fraud. Also, WhatsApp will let its users know when they start talking to a business via yellow messages inside the chat. Like normal chats, users will be able to block messages from businesses.
Game Changer?
Not yet. For now, WhatsApp's chat seems to be much like a chatbot, providing businesses a means to communicate with its users. While its a pretty nifty tool, WhatsApp chat don't seem to be doing anything that couldn't have be done over SMS or email. 
But WhatsApp could shake things up dramatically if it could add another feature that's long been rumoured to be in its pipeline — payments. WhatApp has been looking to integrate with UPI for a while now — a few months ago, it had listed a job opening for a UPI engineer on its site, and cofounder Brian Acton had visited India and met with senior government officials. If WhatsApp could integrate payments into its app, users could finish the entire transaction — for BookMyShow, it could mean choosing a seat, paying for a seat, and receiving a confirmation — while never leaving WhatsApp.
That could have a transformative effect on business who're on the platform. WhatsApp is ubiquitous on Indian phones, and adding e-commerce capabilities to the platform would mean it would quickly take away market share from dedicated apps and websites for conducting business. This would give WhatsApp tremendous power — it could end up becoming the gateway to e-commerce for a millions of Indian consumers.
But challenges will remain. E-commerce interfaces on phones can often be clunky, and haven't quite taken off. Last year, Facebook had announced that selected business could sell items right through Facebook messenger, demonstrating a bot that let users buy flowers without ever leaving Messenger. Users had little arrows within the chat through which they could search for flowers, and could integrate payment options as well. But the product hasn't quite found widespread acceptance — people still prefer the convenience of dedicated apps and websites.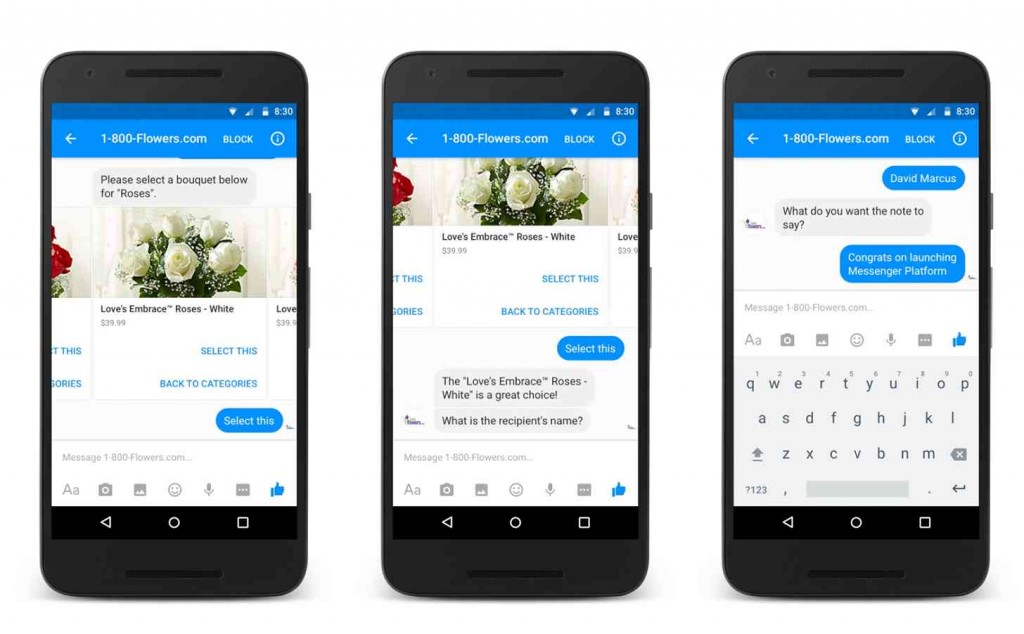 But WhatsApp business integration shows it intends to go down a similar path. It would be a good business decision for WhatsApp — Business Profiles will likely mean that Facebook will ultimately begin to be able to monetize the product. And given WhatsApp's ubiquitiy, it'll have a ready base of consumers willing to try it out. And if WhatsApp for business takes off, it could cement the company's position as a must-have app on Indian phones.