[This article is a part of our First Person series, in which entrepreneurs and professionals talk about their lives, jobs and careers.]
Every industry in the recent days is gaining momentum through user reviews. Companies are going to great lengths to develop their customer/client experience as the ratings/feedback provided by these clients is one of the major factors influencing further business. There were a lot of sites which were capitalizing on the same and were driving users to generate reviews on their site. There were a lot of companies using user generated content as their centric idea in creating a database. Some of the examples in the market – Zomato, Glassdoor, Mouthshut and so on.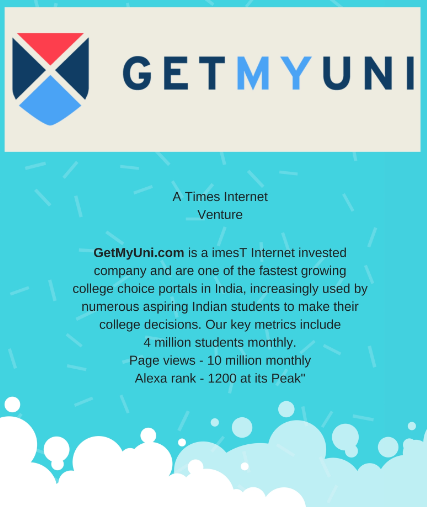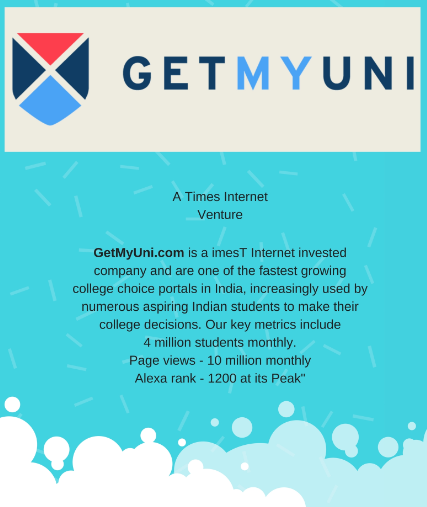 The education sector had market leaders like Shiksha who have been in the industry for 9 years, but none of the players in the industry strived to create a database of user generated content. The option of reviews have always been on these sites but the idea was not driven aggressively and this is what GetMyUni wanted to target in the first place and which incidentally became the sole idea for the founding of the site.
GetMyUni was founded in 2014 by Upneet Grover and Hardik Thakkar, with a dream to give aspiring students an assortment of colleges, universities, and courses with student reviews to make an informed choice for their respective careers. Friends since their days in Infosys, the duo would always discuss ideas and were sure that they wanted to start a company together.
The initial challenges for us included the difficulty in sourcing user-generated content and getting students to write college reviews without having to spend money on it.
As a result we created campus ambassador programmes, strong referrals and in product marketing programmes and were lucky to have a good word-of-mouth going around. We were surprised by the number of students who were willing to help aspirants and hence wrote long, unbiased reviews.
Once we got funded by the Times Group in 2015 ($50,000), we started to pick up the pace and started to see a traffic of 5000 people in a month which grew substantially to 10K per month in the peak season.
Just when GetMyUni was gathering momentum, we faced a setback in early 2016 when one of the founders Hardik Thakkar decided to quit and moved on to smoother, greener pastures. We were a team of just 4 including Upneet Grover and a couple of interns. Everything started to seem shaky and uncertain. All this while, all the efforts we put in started to feel like we were swimming in an ocean with no shore in sight. When everything was bleak, there was a slight glimmer of hope when the traffic slowly started increasing to 20K a month in March' 16 to 100K a month in April' 16 to 600K a month May' 16 to 1 Million a month in June' 16.
This is where we started to believe in ourselves and were ready to take on big players like Shiksha.com and Careers360. With a slight change in attitude, the right hires and a ton of motivation we hit the 4 Million traffic mark this year with 9 Million page views. We are also providing free preparation for JEE MAIN exam. We believe we have started to make a positive impact on students by enabling them to make informed choices and getting them free academic counseling from our admission counselors.
We aim to build the strongest college recommendation tool. We believe that currently a lot of students are being misguided by offline consultants to suit themselves, and if there is a fair portal, which bases a student's background, marks and abilities, using advanced algorithms, to present them with the right set of college recommendations, that product will be a super success.