[This article is a part of our First Person series, in which entrepreneurs and professionals talk about their lives, jobs and careers.]
Clearing your dream exam is one of the best feelings ever. But in today's extremely competitive market, it is not that easy to be among the top. The situation is much difficult for the students who cannot afford to pay huge amount of money to the coaching centers.
When the company's co-founders Shobhit Bhatnagar, Vibhu Bhushan and Sanjeev Kumar were working on another idea in the edtech space, they realized that this a pressing problem which needs to be solved. They have set themselves on a mission of building a community of students preparing for various competitive exams to provide them with enough resources and mentoring so that they can clear the exam. That's how Gradeup has started in September 2015.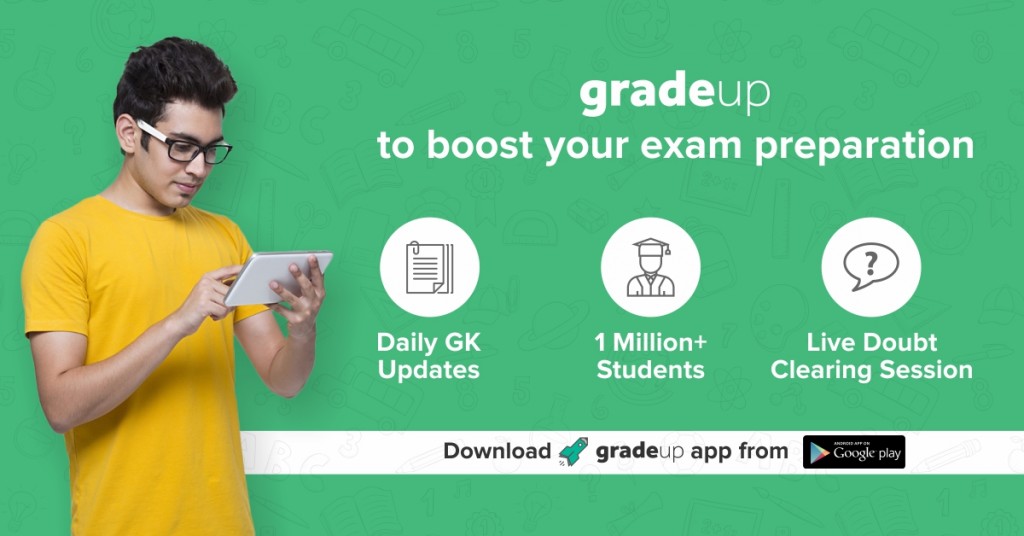 Today we have more than 4 million downloads for Gradeup app on the Google play store apart from millions of students who visit the website for exam preparation. How did Gradeup make this possible in such a short span of time?
Minimal Features:
Since our inception we didn't focus on too many features. We released the product by adding the important elements of a community like feed, study tab and practice section.
This helped the students to get study material from mentors and to practice unlimited questions. After that we gave priority to the features to solve some of the important users problems like gamification, previous year solved papers ( PYSP) and instant query resolution. We want our product to do most of the talking on behalf of us.
To give an example, we have thought of various game mechanics elements in gamification such as badges, bonus, streak, challenge friend and others, but we took a decision to keep things minimal and features such that they will be easier to understand by user and he doesn't get overwhelmed with sudden outburst of information. Keeping all this in mind hence arrived on awarding one coin for each correct attempt.
UI/UX:
Since day one, our team at Gradeup has been solving the problem for the customer- more specifically we have been relentlessly focussed on building the best product to give the best user experience.
We kept the UI clean so that users can use the app without any guidelines. We wanted to give users a great experience on our app by taking care of each and every detail in the design. We want to be remembered as a product users love to use.
Our main philosophy is, whatever deliver 10x value to the user is the priority. This is something which we practice in our day to day decision making as well. We could have promoted our paid services (such as test series etc.) extensively; but we took a different approach of giving space and environment for community to flourish which is of more value for the user than our paid features so that user can easily navigate to what he intends to discover in the app which is Previous year solved papers, Practice Section, Query solving and exam updates. Our data scientists and product team keep a tab of all important metrics of launched features and do the product iterations according to what data tells us to do.
For example when we implemented the share button  in gradeup, we have initially thought of showing the social icons sticky like in this picture which everyone do. But when looked at from the user point of view, we thought it might affect the user experience as it is screen space every time he is reading the article. So we have changed to a action based pop-up which shows up only after he clicks the like button.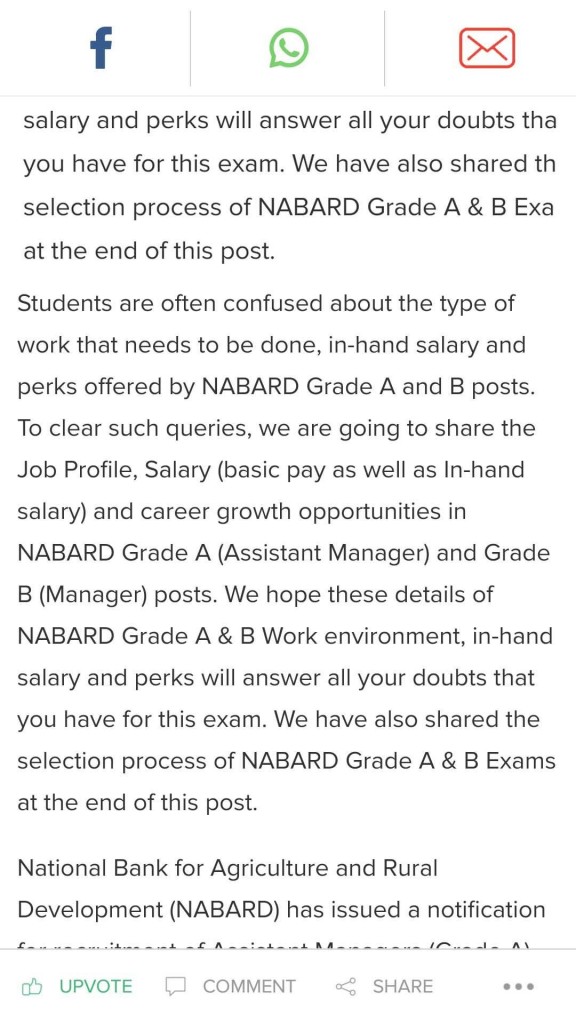 User Feedback:
The philosophy which we followed seriously is to keep the user happy and everything will fall in place. Gathering and acting on the customer feedback has helped us a lot to bring out the best product to the users.
Our community management team stays in deep touch with users and hence know their problems in and out. This gives us a very good understanding on what are problems, whether UX related or any other, users are facing, what features they want in the app and other things and we try to empathize as much as possible with them.
Content Marketing:
With of help our brilliant content team, we prepare valuable content for more than 10 exams in various formats like articles, quizzes, mock tests etc.
Our heavy focus on the SEO and the quality content has made all the difference. We managed to get good downloads from the users who were impressed by our content on our website.
Word of Mouth:
Though most of the people still prefer offline mode of coaching, we have positioned ourselves in such a way that it would still assist them even if they were going for an offline coaching. We have created a name for ourselves with the mentor support and the community where you can help and also ask doubts from others.
This helped us to get very positive and strong word of mouth which really kept us going in the initial days. The users who got benefited from our platform referred their friends which helped us acquire more quality users.
Paid Marketing:
We had acquired many users through their interaction with our content through social media because of our marketing efforts on Facebook fan pages, Facebook Ad Manager and Google AdWords network.
The focus of our acquisition campaigns is mainly to get users who have higher retention rates. We have created customized dashboards to track engagement of new users coming from each ad campaign. User acquisitions from Facebook(D7~70%, D30~58%) mostly stick around longer when compared to AdWords(D7~50%, D30~40%). Within AdWords, approx. 80% installs are driven through search ads, and remaining through google display (app) placements. Retention of users via display channel mostly super-seeds the acquisitions through search by 60% on Day 7 and Week 2.