Employee absences and employee health problems are a major cost for any business. But when you're running a startup, absent employees are doubly crippling. There's just no one else to take up the slack. Each year millions of working days are lost to ill-health. And often, ill-health is entirely preventable.
Unfortunately, it seems like only the big corporates are able to afford expensive gym memberships and life coaches. So where does that leave the small startups on a budget looking to keep their employees in good shape? Fortunately, there are some answers.
Get group packages on gyms and other facilities
Some gyms now offer group discounts to large groups. If you have a team of about a dozen people, you may be able to negotiate with a gym for reduced membership costs. Getting your employees to the gym will increase the amount of exercise they do. And, hopefully, this will forestall any of the ill-health and disease associated with a lack of exercise.
Have A Weekly Health Blast
Generating a culture of health in the workplace is about getting every employee involved in improving their health. If you can get a team genuinely interested in their health, they'll support each other to make better decisions.
One option is to include in the schedule a weekly health session. This could be an hour of yoga, a game of football or a jog through the park. Doing something physical that everyone is happy to do will bring a team together. It will also refocus the company, not only towards doing better business but towards getting health right too.
Get A Free or Subsidised Health Checkup Done For Employees
Prevention is better than cure. Many hospitals and clinics offer health checkup plans for corporates. You can schedule on once every year or two years.
If an employee is unsure whether they're able to return to work, they can have an occupation health assessment. This is a confidential consultation between the employee and a third party which tries to find out whether the employee can return to work. 
Invest In Standing Desks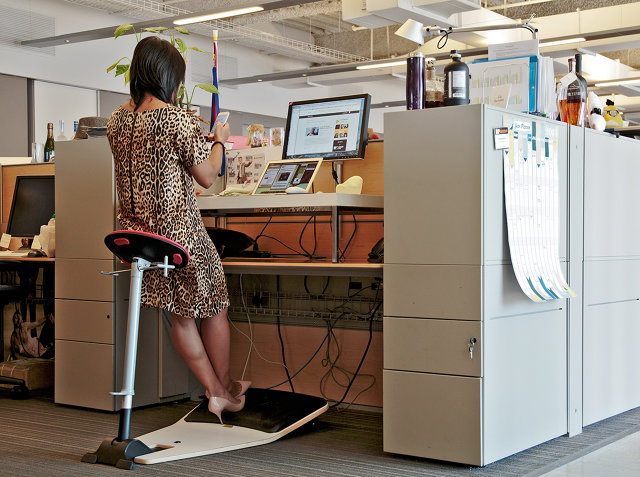 Standing desks have been heavily advertised recently, and for good reason. Sitting is apparently the new smoking. And every employer would agree that reducing smoking in the workplace is a benefit.
Standing desks mean that your employees are experiencing an office life that's a little closer to nature. Sitting down all day long is simply not something that human beings are supposed to do from an evolutionary perspective. They should be on their feet all day, and if they're not, it can lead to all sorts of metabolic and heart-related problems.
Get Everybody Outside For 15 Minutes A Day
Having walking meetings means that your team can combine work with exercise. Studies in Taiwan have shown that by just doing 15 minutes of exercise each day, people increased their life expectancy by 3 years. And they lowered their mortality from all causes by 4 percent. Your employees might not be at death's door, but the implication of such studies is that longer life is achieved by improving health right now.
Subscribe your employees to a healthy breakfast, fruits or snacks plan
Employees put in long hours at work, and end up ignoring their nutritional needs or binge on junk food at their desk. It's not always possible for them to bring nutritious foods from home. There are many food startups around and some of them have corporate plans at subsidised rates. You can try giving the employees a healthy breakfast, a fruit bowl or healthy snack options everyday.