The salary of an Indian Member of Parliament (MP) is just Rs 50,000 per month. This may lead one to think that the job of an Indian MP is rather poorly paid. But this amount is only the tip of the iceberg. For, there are several other allowances and benefits that come along with the MP salary. Here is a lowdown on the benefits of being an MP in India.
According to Article 106 of the Constitution of India, the members of either House of Parliament shall be entitled to receive such salaries and allowances as may from time to time be determined by Parliament by law. The MP Salary, Allowances and Pension of Members of Parliament Act, 1954 has been enacted in pursuance to the above constitutional provision and the salaries and allowances of MPs are governed by it.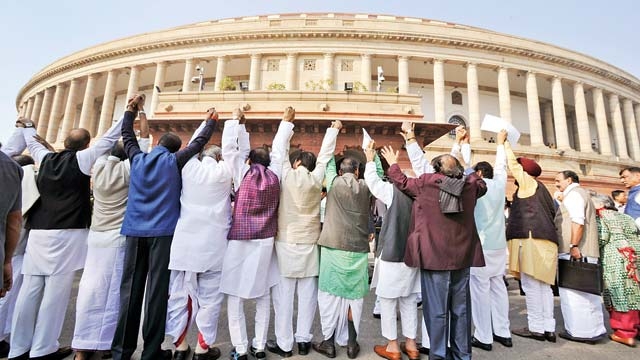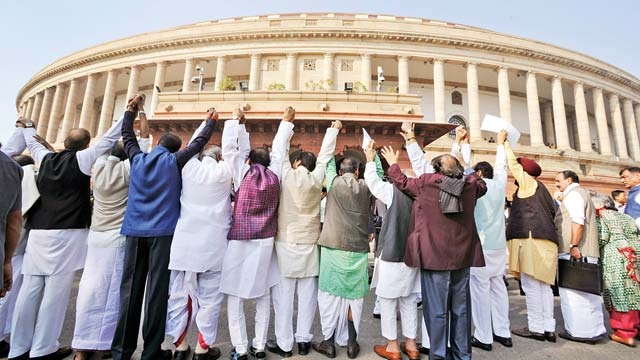 Indian MP Salary
A Joint Committee of the two Houses of Parliament, constituted from time to time, frames rules, after consultation with the Government of India, to provide for matters like medical, housing, telephone facilities, etc. and for regulating the payment of daily and travelling allowances under the said Act. The Act and the rules made thereunder have been amended from time to time, in keeping with the changing requirements.
At present, in addition to MP salary, following are some of the major allowances and benefits that an MP is entitled to:
Daily allowance: Rs 2,000 per day for each day of residence on duty; paid only when the member signs the register maintained for the purpose.

Constituency allowance: Rs 45,000 per month.

Office expense allowance: Rs 45,000 per month. Out of this, Rs 15,000 is paid for meeting expenses on stationery items and postage while Rs 30,000 is paid to the person(s) as may be engaged by the MP for obtaining secretarial assistance provided.

Travelling allowance: For attending a Parliament session or meeting of a Parliamentary Committee or attending any other business connected with the duties as an MP from the usual place of residence to the place of duty and for return journey. The amount varies with the mode of travel adopted. In case of air travel, the amount is one and one-fourth (that is, 25 per cent more) of the air fare. In case of rail travel, in addition to the free executive class ticket, one first class and one second class fare is allowed.

Travel facilities: An MP can avail 34 single air journeys during a year with spouse or any number of companions or relatives. The spouse/companion can travel alone eight times in a year to meet the MP. Any journey performed by the spouse, companions or relatives shall be added in computing the ceiling of 34 air journeys. As regards travel by rail, an MP can travel at any time by any railway in India in first class air-conditioned (AC) or executive class. The MP is also entitled to be accompanied by one person in AC-II tier, while travelling by rail. The MP's spouse gets a free railway pass to travel in first class AC or executive class in any train, and if travelling by air, an amount equal to the air fare, from the usual place of residence to Delhi and back during Parliament session subject to 8 such journeys in a year. The spouse is entitled to travel in first class AC or executive class in all the trains with the member from and to any place in India. A member having no spouse is entitled to accompany with any other person in lieu of spouse in addition to the facility already available to the member in respect of one companion in AC-II tier.

Accommodation: An MP gets a rent free flat or hostel accommodation throughout the term of office.

Telephone facility: An MP gets three telephones, of which at least one should be installed in Delhi and one at usual place of residence or a place selected by the member in the constituency or the State in which the member resides; the third one can be installed at either of the aforesaid places. Each telephone comes with 50,000 free annual local calls, which can be clubbed together to make 150,000 local calls in a year. In addition, an MP gets one mobile phone connection of MTNL and another mobile phone connection of MTNL/BSNL or any private mobile operator, in case MTNL/BSNL services are not available, with national roaming facility for utilization in the constituency. The calls made from mobile phones are adjusted from the 150,000 free local calls available on the three telephones.

Water and electricity: An MP is also entitled to 4,000 kilolitre of water and 50,000 units of electricity (25,000 units measured on light meter and 25,000 units measured on power meter or pooled together) per annum beginning from 1 January of every year free of cost at the residence in Delhi.

Medical facility: An MP gets the same medical facilities as are available to the Class-I officers of Central Civil Services, under Central Government Health Scheme (CGHS).

Furniture and furnishing: Furniture within the monetary ceiling of Rs 60,000 for durable furniture and Rs 15,000 for non-durable furniture; washing of sofa covers and curtains every three months.

Conveyance advance: An MP is eligible for an advance of up to Rs 400,000, which is repayable from salary in not more than 60 instalments.

Taxability: For the purpose of income tax, the salary and allowances received by member are taxed under the head "income from other sources" and consequently, no income-tax is deducted at source; the daily allowance and constituency allowance are exempt from income tax.

Purchase of computers: Under a scheme for purchase of computers, an MP from Lok Sabha (lower house of Parliament) can purchase computer equipment (desktop, laptop, printer, scanner, etc) up to Rs 200,000.

Subsidised meals: Meals inside Parliament are heavily subsidised.

Pension: An MP gets minimum pension of Rs 20,000 per month. If the MP has served for more than five years, he/ she gets additional pension of Rs 1,500 per month for every additional year. The spouse or dependent of a deceased MP is entitled for the remaining period of life to receive family pension equal to one-half of the pension otherwise admissible to the deceased MP.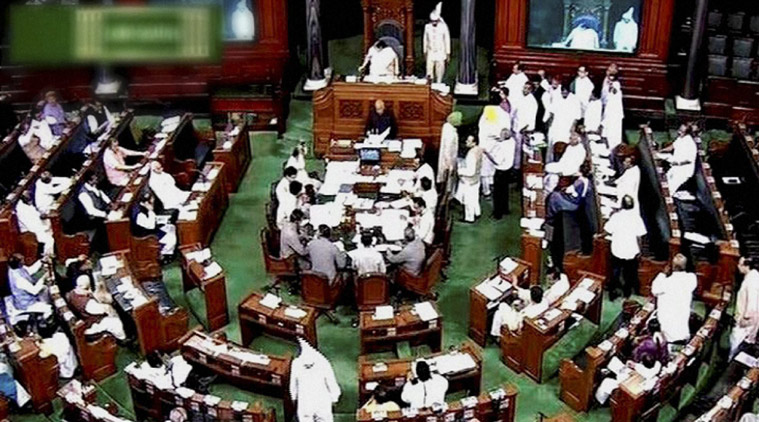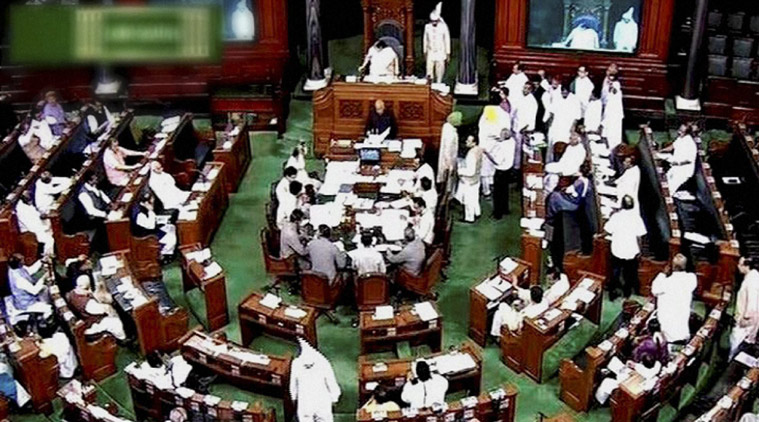 Notably, these facilities have been revised upwards several times during the last seven decades. For the records, an Indian MP got a salary of Rs 400 in 1968 and Rs 500 from 1969 to 1985. In 1985, the salary was revised to Rs 1,500.
The last revision took place in 2010, when the MP salary was hiked from Rs 16,000 to the present Rs 50,000. Similarly, the office allowance and constituency allowance saw a hike from Rs 20,000 each to Rs 45,000 each. The daily allowance was doubled from Rs 1,000 to Rs 20,000 while the minimum pension was raised from Rs 8,000 to Rs 20,000.
In 2015, a joint committee of MPs proposed a doubling the MP salary to Rs 100,000 per month. In addition, the office allowance and constituency allowance were also proposed to be doubled to Rs 90,000 per month and minimum pension increased to Rs 35,000 per month.
No decision has yet been taken on the proposal. Generally, the legislation proposing increase in salaries of MPs witnesses smooth passage in both houses of Parliament, cutting across party lines.