Living green walls have become an important part of modern interior designing. Many corporations have
embraced the idea of establishing an interior living wall to increase the aesthetic appeal of their corporate offices.
Living green walls are basically panels of indoor plants that are grown vertically with the help of hydroponics.
These leafy walls can be either attached to walls or free-standing. Living green walls are also referred to as living
walls, eco walls, and vertical gardens.

The idea of creating living walls was given attention when the need for improving the air quality and health
benefits in interior spaces was given importance. On the second note, these green walls add an amazing touch of
natural beauty to corporate offices. You can use a variety of indoor plants if you want to create a living wall in your
corporate office.
This article is about bringing to your attention the five most amazing examples of corporate living green walls. So
let's begin.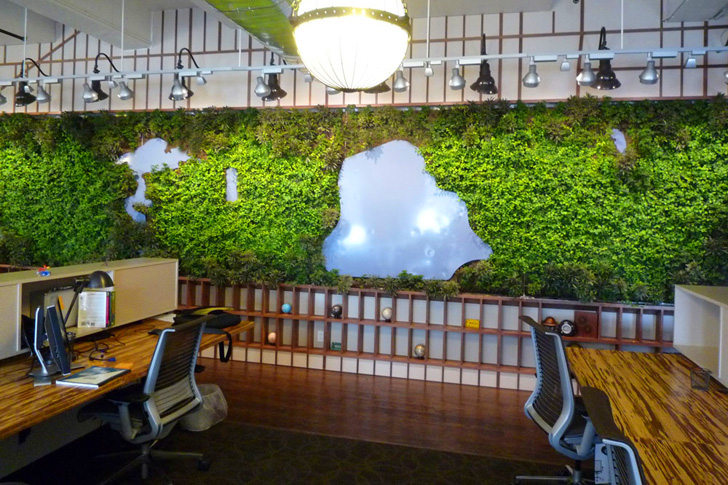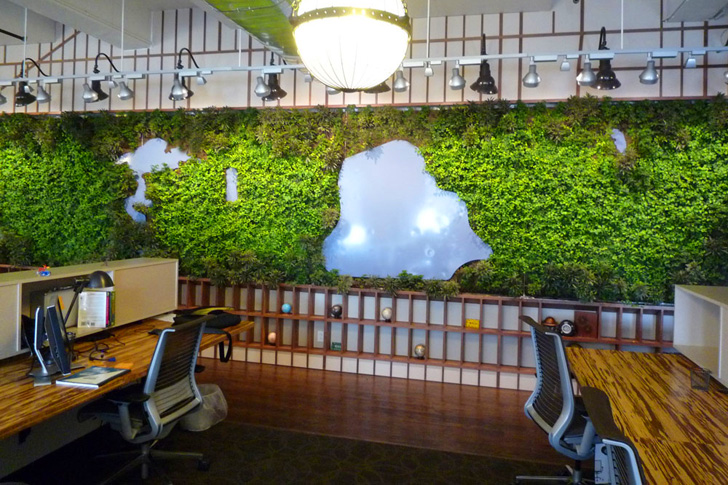 1- Google Office in New York
The Google New York City office has one wall that has leaves and plants growing all over it. The main idea behindcreating such a wall is to purify the air and to improve the feng shui of the new Google office. Earlier the idea of creating living walls was laughed upon, but now it is seen as a wonderful way to add beauty to corporate offices.

2- Lendlease Global Headquarters in Sydney
The astounding six meter high living green wall includes more than 5,000 plants. The creation of this wall is based
on the study that proved such interior green walls can eliminate up to 24 litres of carbon dioxide from the air, not
every day but every hour. This amazing living green wall cools the air temperature of the surroundings which
results in reduced energy consumption for air-conditioning.

3- Desjardins Building in Quebec
This 65-meter vertical garden is the world's tallest indoor living green wall. There are about 42 plant species and
more than 11,000 plants used in this exotic breathing wall. The most attractive feature of this wall is that the
plants are arranged according to their textures, colours, sizes, and patterns. Another distinguishing feature of this
creation is that it's completely soil free and uses only those species of plants that prosper in the same vertical
environments in nature.

4- Ann B. Barshinger Cancer Institute in Pennsylvania
It makes perfect sense for the healthcare organizations to create such green walls. The living wall in the lobby of
the cancer wing of this hospital is meant to promote a calm environment for the patients that are receiving
treatments there.

5- The Amazon Spheres in Seattle
Amazon's new corporate office in Seattle is a spectacle to behold by all means. These huge glass spheres have the
interior that is designed to create the atmosphere of the Amazon rainforest. For that, the designers have created
vertical gardens, using 40,000 plants of 400 varying botanical species.
Green walls are not just being created in corporate offices. They are being created on bigger scales these days, like
airports, soccer fields, and city halls. Considering that they instantly become a wonderful sight, it's an idea that is
becoming prevalent across the globe.