Coworking spaces are becoming increasingly popular across the world. With more people working remotely than we have ever seen, many are seeking out the camaraderie and normalcy of an office building on their own hours and their own terms.
A cowork is essentially an office that is open to everyone. It may be a room in a hostel, or one floor of a building full of offices, or a repurposed cafe, but it has all the amenities of a normal, modern office, such as WiFi, coffee, printers, desk chairs, sound-proof rooms, outlets, and tables. Instead of the office belonging to one company, each individual pays for a membership in the cowork, and can go into the room to work with people from all different disciplines, from engineers to graphic designers.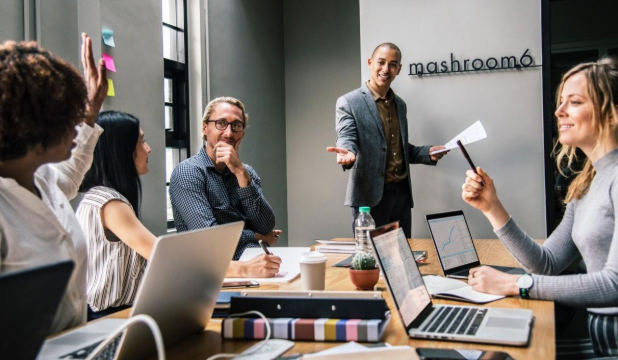 It's like doing your homework at your own house versus doing it with a friend at their house; if you're stuck, you get different perspectives from your friends and their parents compared to what you'd usually get at home.
So, why are coworking spaces becoming so attractive? Well, most importantly, professionals can be far more productive in these environments. They expose professionals to a variety of attractive networking opportunities. They also make it easier to collaborate with other people with different skills in the same space. If you use co-working spaces frequently, it may be quite beneficial to figure out how to make the most of them. You can surely learn a lot and improve your craft just from working at one of these spaces.
These cowork locations may be ideal for parents who feel the necessity to get away from home. Sometimes a parent just needs some space from their kids to focus and get some work done! With that being said, you may benefit from learning about your personal parenting style and the results it may yield. BetterHelp offers educational articles to help many people learn about mental health and familial relationships. Along with that, they offer access to licensed counselors and therapists. As you're looking into beautiful coworking spaces, consider that equipped with fact-checked information from BetterHelp, you can care for both your home life and professional life simultaneously. 
With all that said, here are some of the best coworking spaces on the planet.
Hubud, Bali
Hubud is one of the most highly rated co-working spaces on Earth, and is extremely popular in Bali. The bulk of the building is made of bamboo. and there's an on-site café that serves wonderful nutritious dishes and beverages.
Hubud is open 24 hours a day from Monday to Friday, so you have everything you need in one location to get some serious work done in an atmosphere that is tailored to your requirements.
A few extra pros include Skype booths for those crucial calls, coliving packages which include airport pickups, a scooter, lodging and even a Hubud coworking membership.
NeueHouse, California
Located in swanky suburbs of Hollywood, the NeueHouse Coworking Space is one of the most well decorated, sophisticated coworking spaces in existence. That doesn't mean it compromises on practicality. Noise-canceling headphones, as well as bicycles and charging packs for your gadgets, are available upon request.
There's an in-house restaurant that serves three meals a day excluding snacks, as well as a screening room, in-house art exhibitions, cultural events, and, wait for it … happy hour at the end of the day. It doesn't get much better than that.
The Work Project, Hong Kong
The Work Project boasts a tranquil yet trendy design ethos.
Tall ceilings, beautiful yet comfortable furnishing, and a magnificent vertical garden built by French botanist Patrick Blanc are just a few of the characteristics that truly distinguish this environment, elevating everything without making it seem overloaded.
The building is situated right next to the offices of Google, Facebook, Alibaba and Manulife, so you know you're in good company (no pun intended), and The Work Project provides access to over 20 restaurants, four gyms, hotels, and other lifestyle services through its partners.
Patchwork, Paris
Patchwork is a Parisian coworking space located in the middle of the city. The bright interior decorations and the notion of bringing together artists, designers, bloggers, photographers, developers, and entrepreneurs all together in one location inspired the name of this one-of-a-kind coworking space.
You have the option of joining the shared coworking space, getting an open space desk, renting an office, or booking a conference room.
This premium coworking space is ideal for remote workers and small startup teams of 8-10 individuals that need to collaborate. Patchwork has several extra facilities as well, including a lounge room, kitchen, and high-speed wifi.
Work and Co, South Africa
The objective of Work and Co's coworking space was to bring together skilled remote workers to share their knowledge and career aspirations. It's in Cape Town, one of the world's most breathtakingly gorgeous towns, and the coworking space lets you work with some beautiful views.
Facilities High-tech technology is used in the design to aid individuals from all walks of life. As with most coworking facilities, you may select between an employee, community space, or a private meeting room.
Whether you're in the high streets of Hollywood or the pizzazz of Paris, you'll find countless coworking spaces sprawled across the world. We've only mentioned a few of the world's most inspiring coworking places. The status of coworking spaces has never been better than it is now.
Whether you're a small business, a digital nomad or an entrepreneur, you have options. Plenty of options.
Any growing business demands practicality, portability, sustainability, and the type of concept exchanges and networking opportunities that any bonafide cowork space delivers. Regardless of where we work and considering the prevalent global situation we face now, coworking may become the norm going forward.
[This post is written by Marie Miguel. Marie Miguel has been a writing and research expert for nearly a decade, covering a variety of health- related topics. Currently, she is contributing to the expansion and growth of a free online mental health resource with BetterHelp.com. With an interest and dedication to addressing stigmas associated with mental health, she continues to specifically target subjects related to anxiety and depression.]