What can be better after a tough day than coming home and having some time to yourself? It is very important to find different ways to relax after work in order to keep your productivity up in the long run and simply regain the strength you have lost during the day. Your home may be just the right place to do it. From jogging and cooking, your best relaxation happens at home.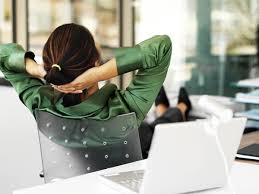 Dedicate time to your hobby.
No matter what you enjoy the most – cooking, reading romance novels or doing yoga – your hobby may be your best relaxation opportunity. It distracts your brain from everyday problems and provides you a pleasant pastime. More so if you can do it in the quiet of your own home.
Choose physical relaxation.
There are many ways to relax your body:
take a warm shower or soak in a hot tub in order to relax the muscles and improve the blood flow

do some yoga or other physical exercises that are relaxing and create a positive mood

choose a massage or a spa procedure for full body relaxation

lie down and have a nap
Some of us can also relax by jogging, weight-lifting or doing other more stimulating exercises. Sport is a good source of endorphins for your brain and physical activity is capable of lifting the mood pretty quickly. So, whatever it is you like best, moving your body is a good way to boost your brain. 30 minutes a day is enough to make sure you stay healthy and productive.
Opt for fun activities.
There is a number of ways to de-stress by doing something fun. Generally, people choose activities like watching a movie or a TV series, reading a book, or playing computer games and online slots. These activities switch off your brain and help you spend some time without any stressful challenges in the way. So, if you haven't found anything to do in the evening, sit down at your computer and play a game or two just to relax.
Talk to your favorite people.
Conversing with friends and loved ones over a glass of wine is one of the best ways to relax. So, if you feel like you don't want to be spending time alone and would prefer a company, invite the closest friends for a cup of tea, play games, chat or watch something together. A good company will definitely keep you stress-free.
Practicing mindfulness has become very popular in the last few years, and for a good reason. Meditation techniques are the most effective relaxation tool. They make your brain focus on your physical sensations and thus, detach your thoughts from your everyday chores. People who practice meditation are happier, more relaxed, and sleep better.
Relaxation after a hard work day is important for your physical and mental health. Make sure you dedicate enough time to yourself and get some peace and quiet, and you will live a long and happy life.