It's not rare to see people complaining to companies and service providers for all sorts of issues. Be it defects in the product, quality issues or cash back demands, Twitter has come to be the customer care platform of choice for the consumer in a hurry.
However, it's not everyday you see a Bollywood star complaining about his erratic mobile network connection. Especially if it happens to be Amitabh Bachchan.  In a somewhat uncharacteristic display, Big B complained about his failing messages on his Vodafone phone on Twitter.
The tweet almost sounded like it was typed in panic – in all caps, bereft of proper punctuation or without tagging Vodafone. 


But when someone with more than 27 million followers tweets, it's bound to reach the right people. While Vodafone chose to reply with the template "We're sorry and we're looking into this" to Big B's plea for help, another network biggie decided to step in. Spotting the perfect opportunity for a cross-sell, none other than Reliance Jio had this to offer.


Peddling your own offerings on a thread that bashes a competitor isn't a new practice on Twitter. Ask MobiKwik who was quick to cross-sell its mobile wallet to every user that complained about Twitter being down, recently. Except in Bachchan's case, the move is a bit curious. Bachchan has voiced over for one of Jio's campaigns on TV and was present during Jio's inauguration on account of being one of the known high-profile friends of Reliance boss Mukesh Ambani's. So the chances of this being a disguised endorsement run moderately high, for precisely the reason it's going viral for. Interestingly, Amitabh Bachchan's son Abhishek Bachchan on the other hand has been the brand ambassador of Aditya Birla owned Idea and the face of the iconic "What an idea Sirji" campaign!
In typical Twitter fashion, the thread soon became a hub for other disgruntled customers who in turn listed out their own grievances, while fans poured their love for the superstar.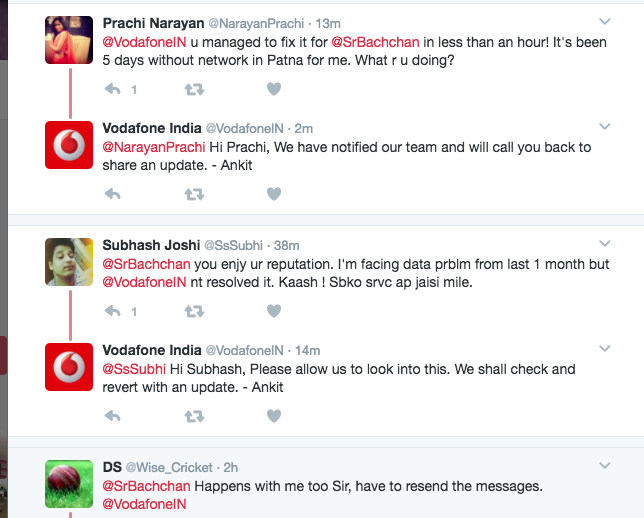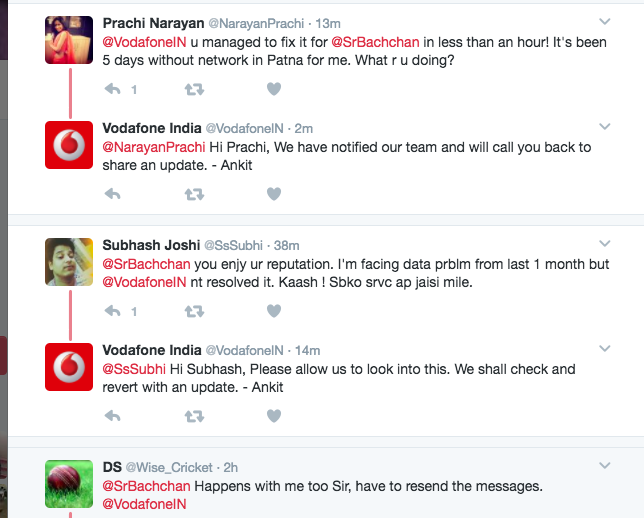 The incident however curious, proves that no matter what your status or how rich you may be, some things never change. Erratic mobile networks, template customer care responses, and Twitter complaints are some. Even celebrities ain't immune to them.