Andhra Pradesh CM Chandrababu Naidu has quite a reputation for being tech savvy. During his first term as the chief minister of the yet-undivided Andhra Pradesh, he was credited with having a singular focus on IT, and had transformed the state into a tech powerhouse. And in his second term as Chief Minister, he's kept his IT focus.
The Andhra Pradesh government has a publicly-visible dashboard that tracks every little activity in the state. Called CORE, or CM Office Real-time Executive Dashboard, it tracks government data in astounding detail.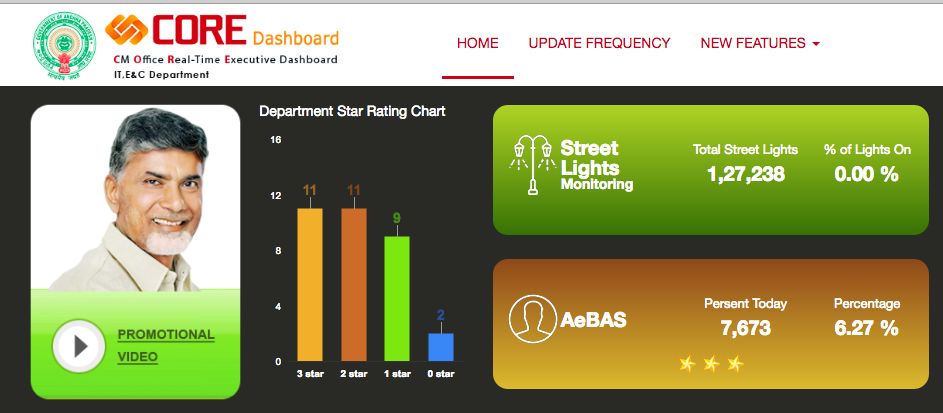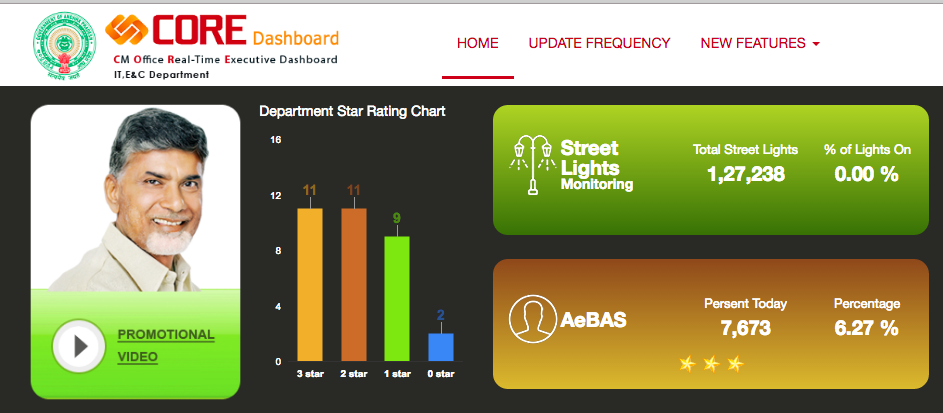 Right at the top of the dashboard, there's tabs for employee attendance, rainfall, and ground water. These can be drilled down into more details – the employee attendance tab, for instance, gives you the percentage attendance across all of the state's districts. The attendance details are collected via Aadhar card, and broken down into into weekly and monthly numbers.

The ground water tab, similarly, has information about the ground water levels in the state's 13 districts. There are also visualizations, that highlight areas that need to be worked at.  

And that's just the start – this level of detail extends to all of the government's ministries.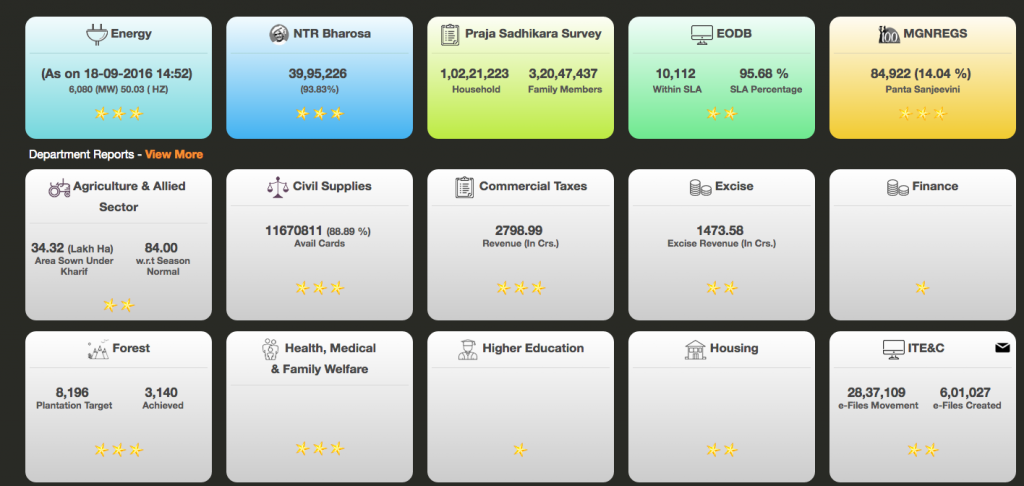 For each ministry, there's critical numbers right on the main tab – for Excise it is revenue, for the Forest Ministry it is the tree plantation target and so on. Each of these can be clicked on for further details. 
And crucially, the dashboard doesn't stop there. It rates all ministries with a star rating. Energy does well with three stars, but Higher Education languishes at just one star. There's also a convenient graph that shows how many ministries have how many stars.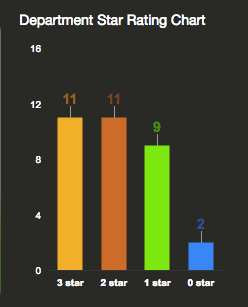 Initiatives like these start off with a lot of promise, but can often suffer from lethargy that creeps in. Data is not always updated, or is outdated. CORE helps against this by having an "Update Frequency" tab right on the home page, and ministries that haven't updated their data shown in red.


The Andhra Pradesh government seems to have changed the game as making administrative data available is concerned. What's more, this CM's dashboard is fully available to the public. This is taking administrative transparency to a whole new level – by putting all this data out in full public view, the government is accountable like never before.
Now it's time for other states to follow its lead.