Diwali is India's biggest religious festival, but it is also a time for companies to earn a few extra bucks. Diwali offers abound, and there are discounts, cashbacks, and schemes wherever you look. But one company sought to give a thumbs down to the commercialization of a celebration of victory of good over evil. Burger Singh, a burger joint from Delhi, sent out an unusual Diwali SMS.
"Diwali has always been over-exploited by brands. But you know us, we never exploit situations for revenue gains. Happy Diwali, Burger Singh."
The message seemed simple and heartfelt – an oasis of the genuine Diwali spirit amidst the discount madness that was going on everywhere else. Burger Singh was going back to simpler times, when a Diwali wish was more important than an offer being thrust into your face.
Around an hour later, Burger Singh followed up that SMS with this.
"LOL just kidding. Burger Singh is running a 2+1 offer on all dine-in and takeaways for the Diwali weekend. BTW we are open till 3:30 am."
Well played, Burger Singh, well played.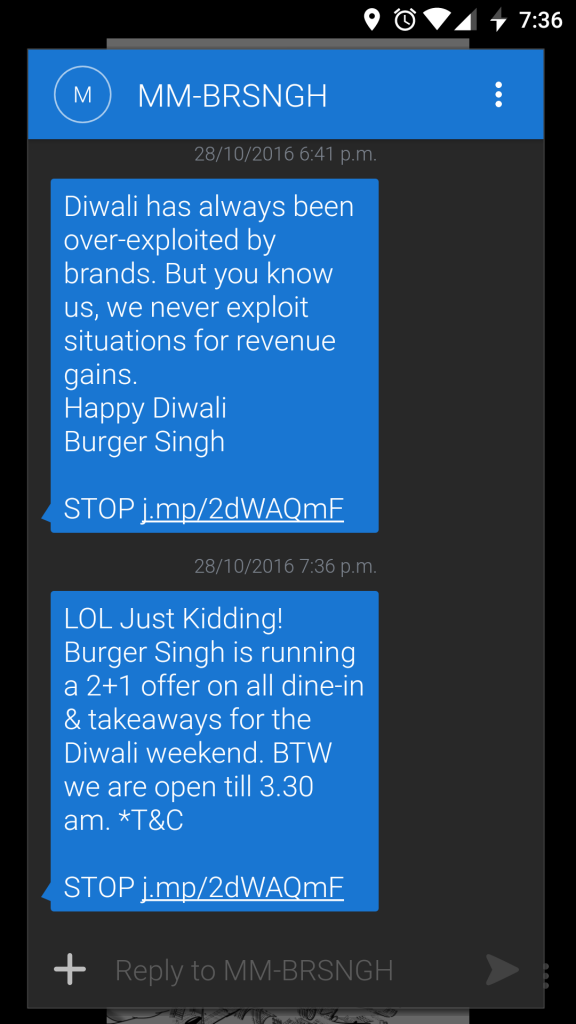 Burger Singh's delicious troll is currently going viral online, and presumably lots of people are taking them up on their 2+1 offer. And this isn't the first time that Burger Singh has been in the news for its campaigns – it had offered 20% off on its orders after India's surgical strike on Pakistan, and had used a colourful discount code, fpak20, to boot. That had backfired, and had met with lots of outrage on social media. In fact, that's what the "But you know us, we never exploit situations for revenue gains" line in their first message was referring to. This time, though, they seem to have hit the mark – and have hopefully left their users with good tastes in their mouths.