Even if the Champions Trophy concluded with a heartbreaking loss to Pakistan, it had one upside — everyone in the country now knows how exactly the area of a triangle is related to the area of a circle.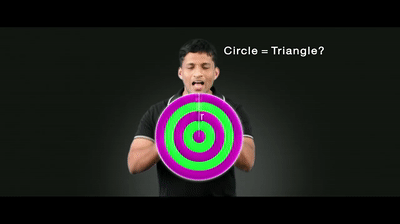 Ed-tech startup Byju's ran an extensive ad campaign during the Champions trophy, featuring happy kids who were learning Chemistry, Biology and Maths on its app. Founder Byju Raveendran himself made an appearance, showing off how the area of a circle could be calculated using the area of a triangle. The ad spawned a variety of reactions, ranging from how it unnecessarily made a simple concept complex, to "it gave me brain fever". But whatever's Byju doing, it seems to be working — people seem to be buying its educational programs by the thousands.
Four hundred thousand, to be precise. Byju's says it now has 4 lakh paying customers, who pay an average of Rs. 10,000 for access to its learning materials. That translates to a revenue of Rs. 400 crore, which is pretty remarkable by Indian consumer startup standards. 
It's not surprising Byju's is making lots of money — it's one of the most well-funded startups in the space, having raised over Rs. 1200 crore from investors. Some big names have backed the company, including Mark Zuckerberg's Chan Zuckerberg foundation, which had participated in a $50 million (Rs. 325 crore) round in September last year. Byju's sells its curriculum sets for specific classes, for instance Maths and Science for Class 6, or a series of CAT lectures. Users can choose to buy a tablet with an SD card, or stream it on the internet.
The lectures aren't cheap — the Maths and Science curriculum, for instance, costs between Rs. 2 and Rs. 30,000. But Byju's has a pretty sophisticated setup for creating its content. It has a dedicated workforce of over 500 employees which create the video lectures, including animators, graphic designers, and even two in-house bands. Once its content is ready, Byju's deploys its large sales teams who call up parents, encouraging them to buy its products. With 8 million app downloads, Byju's already has an interested audience — all it takes is form them to be able to upsell them to their paid offerings to have a viable business running.
And Byju's says it's only getting started. It's already nudging the unicorn list with a valuation of $700 million (Rs. 4,500 crore), and Raveendran thinks there's lots of room to grow. "We touch less than 1 percent of the country's student population today," he says. "Even if we cover just 10 percent in the next years, we'll be setting off a learning revolution." Byju's is already adding 1000 new paying customers a day, which translates to Rs 1 crore in annual revenue being added every 24 hours. If Byjus can grow ten times its size as Raveendran plans, it might become an education behemoth of the kinds India hasn't seen before.