Rajnikath is kind of a big deal in his home state of Tamil Nadu. The upcoming release of his latest movie, Kabali, is the pop culture moment of the year, and fans can't wait to see the superstar on screen. Kabali releases this Friday, but there's a problem. Those wanting to catch the first show have the little matter of having to show up to work in the morning. But a Chennai startup has found a way out. It has declared a holiday so that its employees can catch Rajni on the big screen.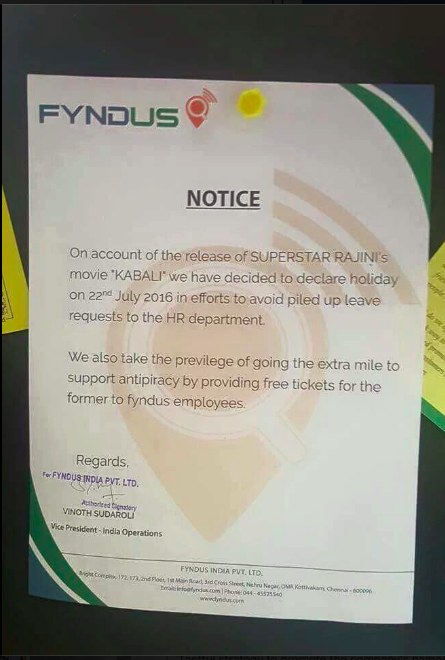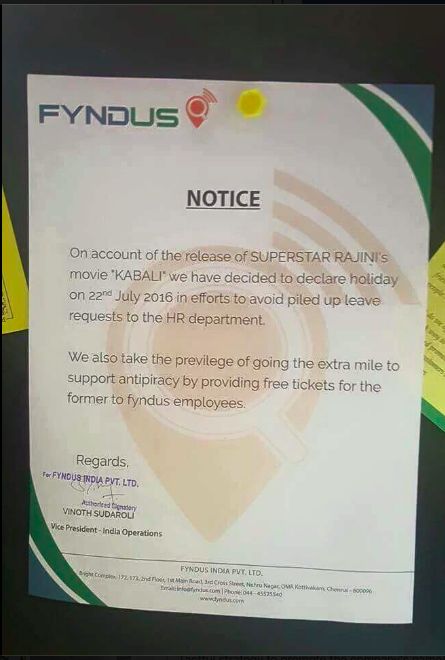 Fyndus, a data management company, says that it doesn't want to deal with all the leave requests that are bound to be piled up with HR on Friday, so it's just decided to declare it a holiday. And the company hasn't stopped there – as a cherry on the cake, its providing free tickets for its entire workforce to the movie.
And Fyndus isn't the only startup that's chosen Thalaivar over mundane concerns such as productivity. Chennai's most famous startup, Freshdesk, has a tradition of taking its employees to catch Rajni's movies. All of Freshdesk had watched Kochadaiiyaan and Lingaa when they were released in 2014, and they'll catch Kabali too.  "We are planning to take our employees (to watch the movie) on the Saturday after the release and are in talks with Satyam Cinemas. We are looking to accommodate everyone at the main screen which has a capacity of almost 600 people," said Vignesh Vijayakumar, who heads marketing at FreshDesk.