Sundar Pichai might be one of the most powerful men in tech, but that doesn't stop him from fanboying over his favourite sports stars.
Pichai was visiting Barcelona last week, and managed to find time to drop by Camp Nou, the home of Barcelona FC. Now the Google CEO has previously confessed to being a bit of a Barcelona fan in interviews, and was adequately starry eyed when he reached the home of the Spanish football club.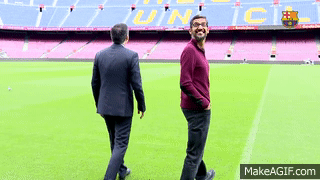 And when you're Google CEO, you don't just take a walk around the stadium. Pichai managed to watch a practice match, and talk to the players after it was done.
"Good goal," he said as the players walked off the field. "Good game last night against Athletico Madrid," he said, beaming. He then met Luis Suarez, and assured him that he was a Barcelona fan.
Pichai was positively giddy with excitement when he met veteran midfielder Andres Iniesta. "Play for many more years," he urged.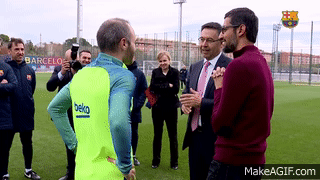 "I watch every game," Pichai told Gerard Pique, seeming to barely believe his luck at having met the Spanish defender.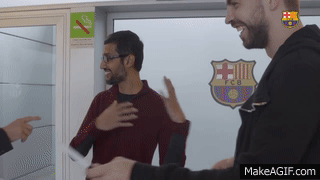 But he had yet to meet the biggest name of them all. Pichai then shook hands with Lionel Messi, thought by many to be the best footballer of his generation. "My favourite..against Bayern Munich two years ago," Pichai was able to mumble when he was near Messi, referring to his goal against the German club in the Champions League in 2015. Messi sheepishly smiled at the compliment.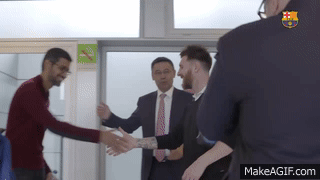 Pichai got a send off with a Barcelona jersey which said "Google", and carried the signatures of the entire Barca team.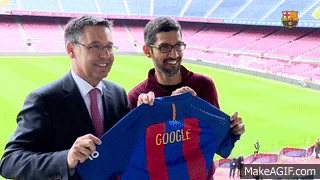 Through the visit, Pichai's wide grin never once left his face. He might head the biggest tech company in the world, but all it takes to turn him onto into a gushing fanboy is a visit to his favourite football club. Men, indeed, will always be men.