Mark Zuckerberg's Harvard commencement speech was meant to be a triumphant return to the alma mater for the Facebook founder. Zuckerberg had dropped out of Harvard in his second year to build what would become one of the world's biggest technology companies. His return to campus, merely 13 years later, was meant to establish him in the pantheon of Harvard greats. Zuckerberg too had been hyping up the Commencement speech, building it up over the last few weeks with Facebook posts and an hour-long Facebook live. And while the speech itself went well — someone at the Harvard Crimson, Harvard's student newspaper, wasn't quite taken by their famous alum.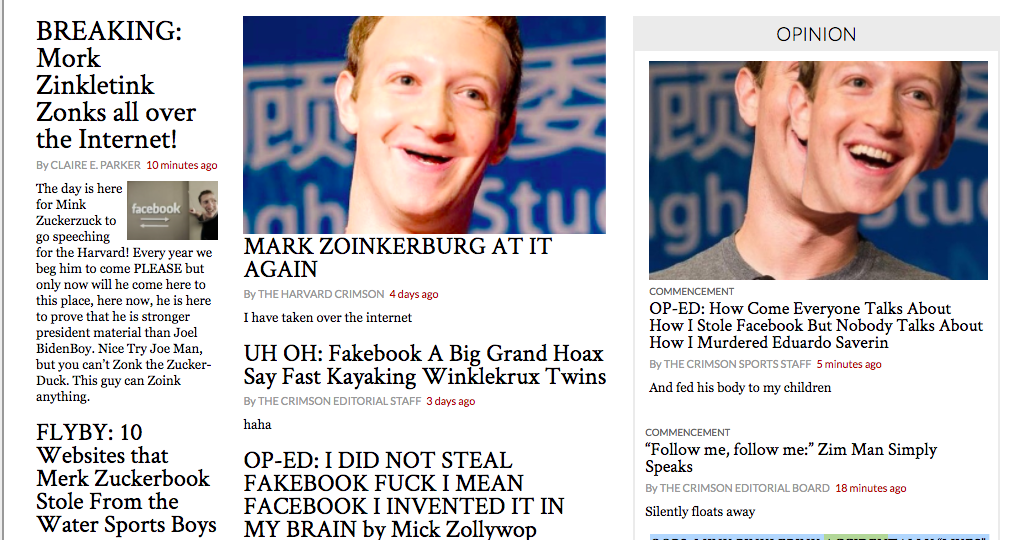 Harvard Crimson's website was taken over during Zuckerberg's speech, with every single post about the Facebook founder without ever mentioning his name. "Mork Zinkletink Zonks all over the internet!," was the headline of the lead story. Next to it was a photoshopped image of Zuckerberg with no teeth. And while these look like the hijinks of some bored college kids, there seemed to be some underlying disdain for Zuckerberg in the posts.
"10 Websites Merk Zuckerbook stole from the Water Sports Boys," was the headline of yet another story, clearly referencing the allegations of the Winklewoss twins that Zuckerberg had stolen their idea for Facebook. This was something that was brought several times on the home page — the Op Ed by "Mick Zollywopp" was "I did not steal Fakebook f*ck I mean Facebook I invented it in my brain."
The home page also brought up several other unsavoury incidents from Facebook's early days, including the treatment of Eduardo Saverin, who had been allegedly pushed of the company by Zuckerberg, with the two ending up settling in court. "Nobody talks about How I murdered Eduardo Saverin," said a headline, with a blurb of "And fed his body to my children."
And more than anything else, the hackers seemed to poke fun at what are increasingly looking like Zuckerberg's Presidential ambitions. After Donald Trump had won the American Presidential elections in November last year, Zuckerberg had declared he wanted to visit all 50 states in the US to better understand the people of his country. Since then, he's been putting up pictures of meeting ordinary Americans, eating in their homes, and intently listening as they told him their problems. "Every year we beg him to come PLEASE but only now will he come here to this place, here now, he is here to prove that he is stronger president material than Joel BidenBoy," said an article on the page. And the hackers were also aware of the spurt in Zuckerberg's social media activity over the last year. "Zuck! Zuck! Zuck!" cheers Zuck at commencement," was another headline, as was "Oops: Mink Pinklebink accidentally "likes" own commencement speech."
Harvard Crimson quickly took the offending posts down, and said it was the work of a hacker. "Earlier today, The Harvard Crimson's website was altered by an unauthorized user. We are currently working to repair the breach. We regret any inconvenience to our users and look forward to the rest of Commencement," the President of Harvard Crimson told Gizmodo.