HDFC Bank has been drawing harsh criticism over a loyalty program that allegedly charged customers without their consent.
The issue was first brought up by Karthik Srinivasan, a prominent blogger and a longtime HDFC customer, who claimed that HDFC had unethically signed him up for its Preferred Banking Programme which cost Rs. 400 per year. Srinivasan wrote that HDFC had sent him a mail welcoming him into the program, which would give him access to a virtual relationship manager. However, the costs of the program were disclosed only at the bottom of the mail, and HDFC had opted-in people by default. "If you wish to opt out of the Virtual Relationship Management Programme, Click Here," the mail had said in its footer.
Srinivasan argued that had he failed to open the mail, he'd end up enrolling in a program and paying the associated costs without his knowledge. 


Srinivasan published a blog detailing the incident, and tweeted to HDFC asking for an explanation. HDFC replied a day later, claiming that the bank had been "fair and transparent" by providing an opt-out facility, which was in compliance with regulatory requirements.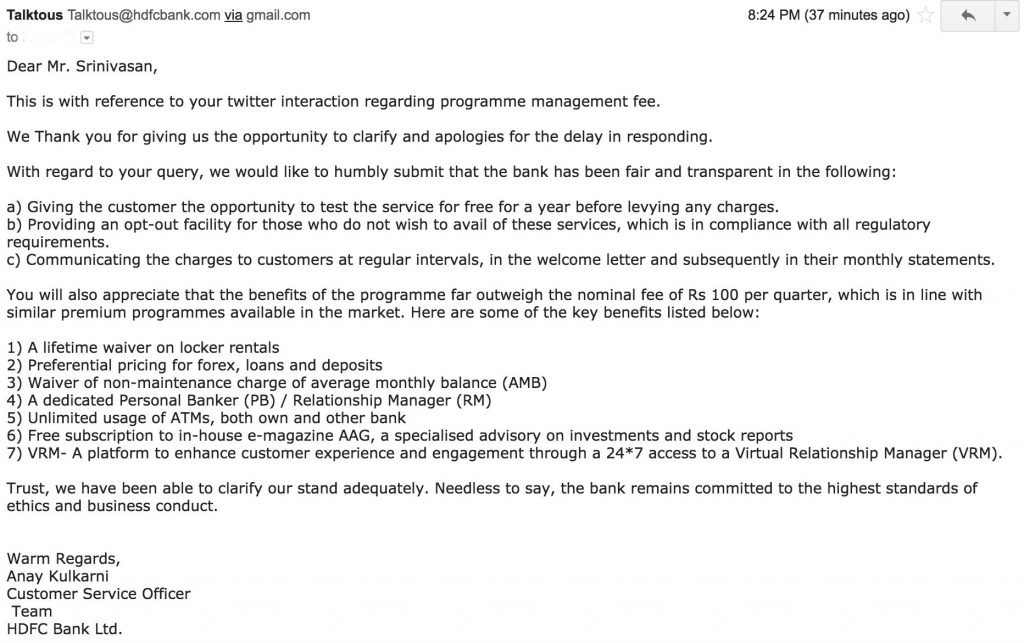 The explanation has failed to satisfy Srinivasan, who's embarked on a tweetstorm to get HDFC Bank to apologize to its customers for "using a devious opt-out way to deduct money from your a/c without permission." He says that he will tweet every day of 2017 until he gets the bank to apologize.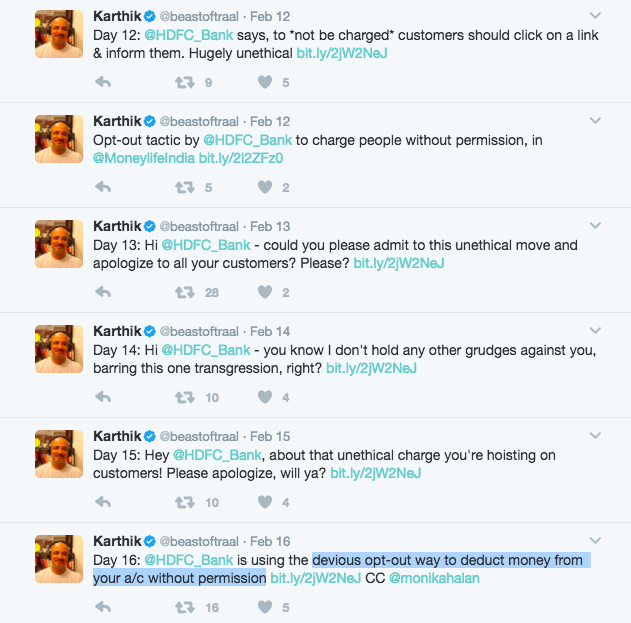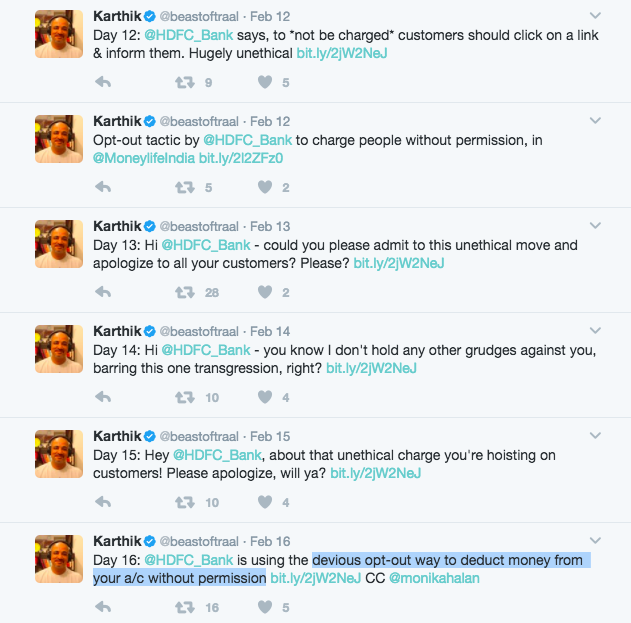 The constant pressure appears to be working – several people have now spoken out against the practice. Rashmi Padhy, the founder of Koove, has written a blogpost of his own calling it a "Rs. 400 crore fraud" by HDFC.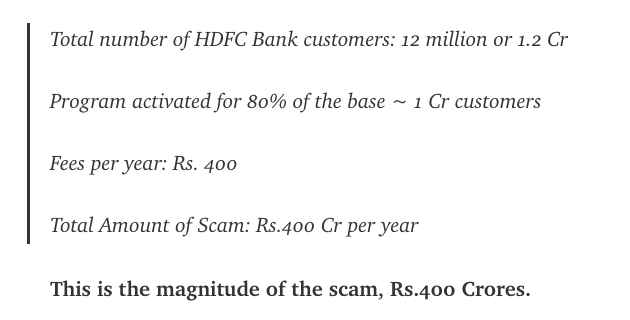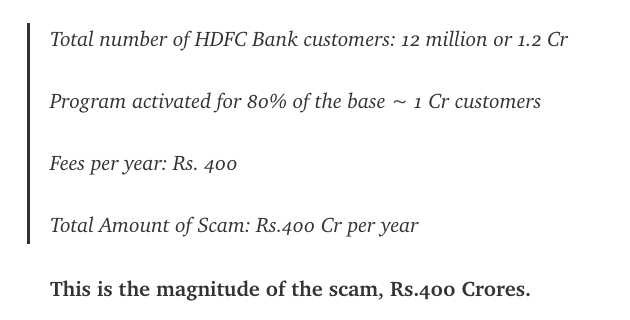 Other users have also chimed in.
Thanks @beastoftraal. I do not think it is legal and ethical for @HDFC_Bank to come up with newer schemes and auto opt in their customers https://t.co/6mETfxjj0X

— Bharadwaj Raghuraman (@aaju) February 22, 2017
Clear cheating by @HDFC_Bank Basic ethics to get customers to opt in not opt out of paid service. Really cheap way to meet profit nos. @RBI https://t.co/JBP6kfTY9Z

— Amey (@amey_p1) February 22, 2017
HDFC, for its part, is still continuing with the program, but it's not hard to see where the customers' concerns come from – given the deluge of mails received by the average user, it's unlikely all mails from HFDC will be opened; it's even more unlikely that users will notice the cost in the footer, and actively opt out. It's a clever growth hack by HDFC – the costs associated are trivial, and people are likely to shrug off a small quarterly debit on their bank statements. But given the backlash, HDFC might want to rethink its strategy – no growth hack is worth losing your reputation over.