There has been yet another shutdown in the home services space – and this time, it's a big name.
Mumbai-based Taskbob has shuttered its operations after over two years in the business. A mail to this effect was sent to Taskbob users by Aseem Khare, CEO and Founder. "..due to unforeseen circumstances, Taskbob will be shutting down its operations as of 19th January. All the orders already placed in the system will be duly processed," the mail says.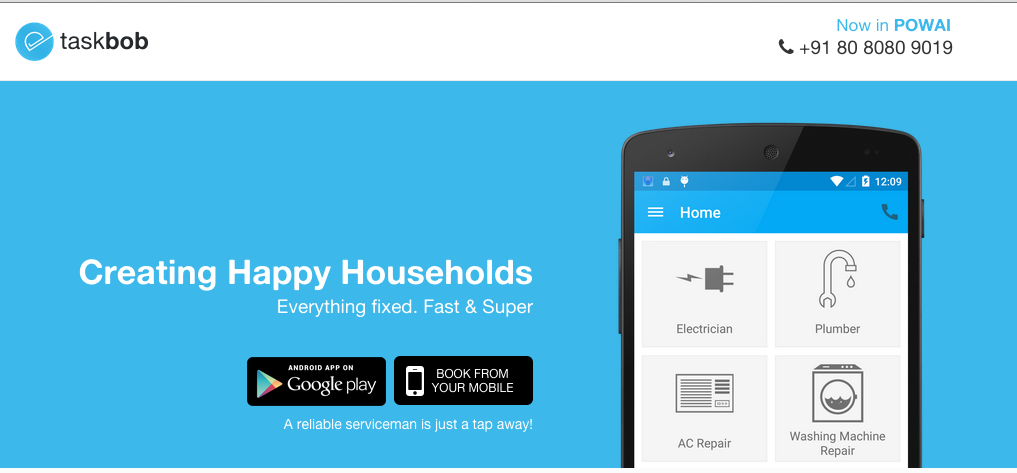 Taskbob had been founded in December 2014 by- Aseem Khare, Abhiroop Medhekar, Ajay Bhatt and Amit Chahalia. . It had raised $5.7 million (Rs. 38 crore) in two rounds of funding from IvyCap Ventures and Orios Venture Partners. Within the first year, it had emerged as one of the prominent names in the space, and had acquired Zepper, a small Bangalore-based home services startup. Its last round of funding had come in February 2016, a $4.5 million Series A round led by IvyCap ventures.
There had been signs of trouble at the company late last year, when some employees had been reportedly fired. Khare's farewell mail suggests that even though they'd managed to build a popular brand, they found it hard to manage costs. "Even though, we could create a significant difference in customers', service providers' and teams' lives, a solid business is created only by building scalability & profitability. And to achieve those in a low margin business and in a tough external market proved unexpectedly daunting. More than what anyone could have expected," he says.
Prior to the mail, several other rounds of firings had happened, and employees had been told that the company was shutting down in December last year.
The home services space has been a hard nut to crack, with few startups having made a mark in the space. Taskbob was one of the more famous names, and had managed to raise a Series A round. More established companies, such as Snapdeal and Quikr, have been looking to foray into the market, and even Facebook had launched a home services search in India last year.