Things are getting heated in the Indian digital wallets space, and Indian startup wars are getting real. With lots of competitors, lots of VC money and India's huge payments market at stake, companies doing what it takes to survive, and are fiercely protective of their positions within the pecking order. And when Freecharge released a report which implied that it was doing better than its competitors, rival MobiKwik wasn't pleased. 
Earlier this month, Freecharge had released a report by Nielsen which had said that Freecharge "ranked no. 1 in terms of reach and engagement." The report had said that Freecharge was the fastest growing app in terms of user growth, and it was now neck and neck with leader Paytm in terms of user engagement. 
This report was carried by all major newspapers and blogs, but when Mobikwik pored through it, the company says it found several discrepancies. In a blogpost, MobiKwik claimed that Nielsen's approach was "callous and inaccurate", and favoured Freecharge over other companies. It said that Nielsen's sample size of 6000 was too small to draw conclusions about a market as large as India. It also said that the company used a timeframe of May to July 2015, while Freecharge was launched in September of that year. And perhaps most damningly, it said that the report was not an impartial report, by a custom report sponsored by Freecharge.
MobiKwik then contacted Nielsen, who admitted that the report had indeed been cited wrongly, and asked Freecharge to take its blogpost down.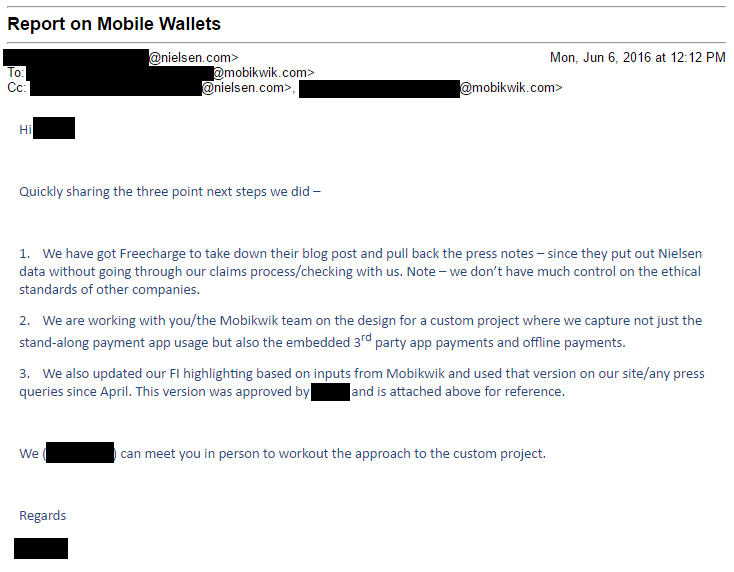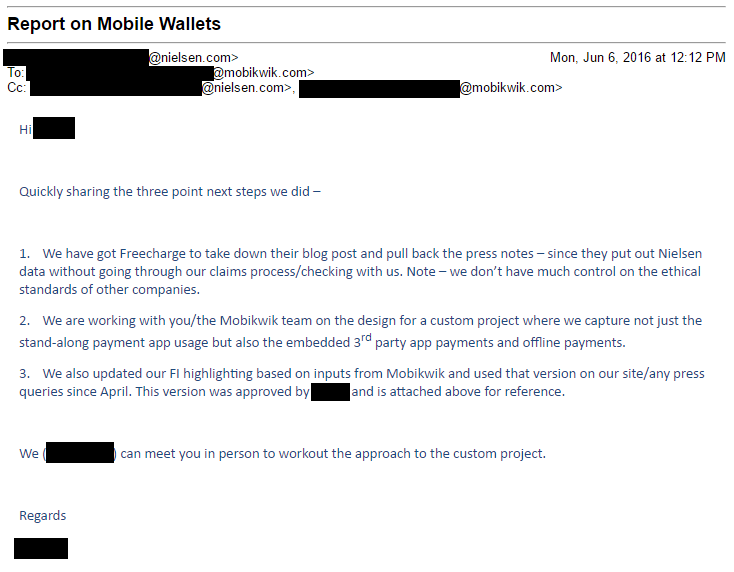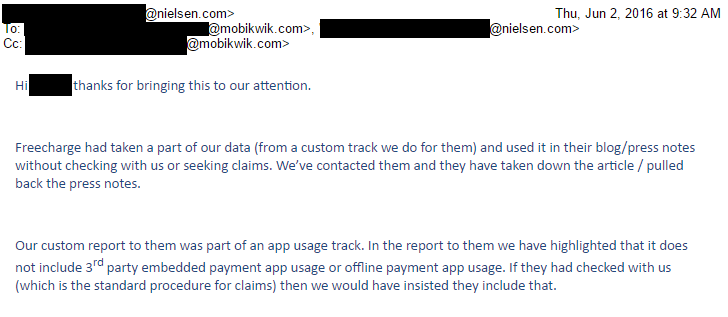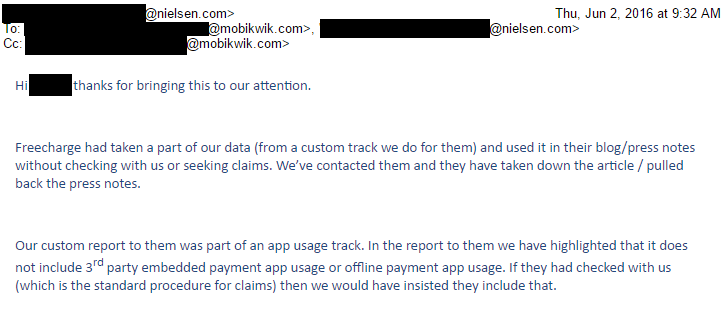 But Freecharge wasn't done yet. It published its own post, saying MobiKwik was bitter because "the new kid on the block (Freecharge) has overtaken them." Titled "Don't shoot the messenger when the message stings", it claimed that the report wasn't sponsored, and the data they'd used was syndicated track data and not custom data. The blog also mocked MobiKwik's understanding of statistics. "Six thousand is a very robust sample size by any standard. Somebody needs to revisit their lessons on probability and statistics.  A primer on statistics is on the way.. Hope it helps!"
While the last part is true (for a 95% confidence interval and a population of 300 million, the sample required is around 9000, which doesn't seem all that different from Nielsen's), there's still the niggling question around paid reports. With enough effort, data can be twisted to say what you want it to say, and if brands like Nielsen publish reports that's aren't objective and impartial, that doesn't seem to be a good sign for India's startup ecosystem. And as the tone of the 2 blogposts shows, there's clearly no love lost between Freecharge and MobiKwik.
Regardless of how this controversy plays out one thing is clear – while Paytm is (for now) at the top of the Indian digital wallets pile, the battle for the no. 2 spot just got a lot more intense.