Elon Musk is planning to boldly go where no man has gone before. The entrepreneur has announced that he plans to get humans to Mars in as little as six years – but it isn't going to be easy. There are massive technical challenges, rival agencies to fight, and Musk has several other projects to juggle.
That's when Siddhartha Sahai, a BITS Pilani alumnus, decided to create a game to simulate Musk's arduous journey. Musk2Mars features a grim-looking cutout of Musk as he stands on earth. He needs to navigate past the dark reaches of the solar system to get to the red planet. In his way stand rivals – Amazon CEO Jeff Bezos, who's competing with SpaceX with his Blue Origins project; vagaries of Artificial Intelligence; and Robert Downey Jr, who's mad at him for being the real life Iron Man.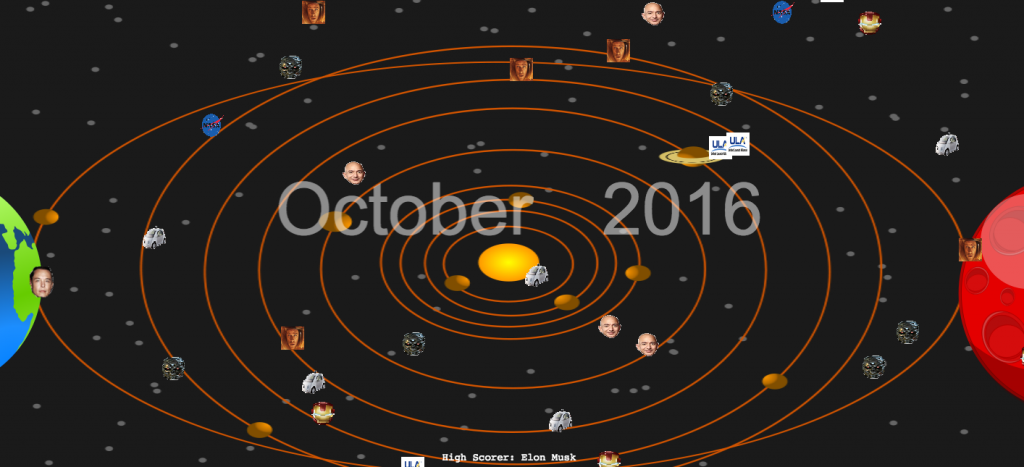 Touching any of these whizzing obstacles causes Musk's ambitions to fail, and he must start over. Next to the game is a running timeline, and players need to reach Mars in the shortest time possible. For some scientific accuracy (and added difficulty), Mars slowly moves around its orbit, making it even harder to hit a moving target.
"I'm really inspired by Elon Musk and have read his books," says Siddhartha, who created the game over a weekend. "I just wanted to make more people aware of what the goal is, and what a milestone it would be in history if he pulls it off."
And he's created a strangely addictive device to get people to learn of Musk's mission. The game, which was built using the PixiJS framework, reminds us of popular Flash games from the 90s – no fancy graphics, but super-engaging gameplay. For good measure, Siddhartha throws in several easter eggs – there's Matt Damon who stabs Musk for wanting to he the the first "real" Martian, and while in space Musk can get hit by the self driving car. The high scorer, no matter what score you achieve, remains Elon Musk himself.
While other entrepreneurs are buying Google ads and Facebook campaigns to promote their startups, Musk has his army of fans creating games chronicling his journey. Whether he succeeds in getting to Mars or not, Musk has managed to inspire a new generation of techies like no one else.