There was once a digital payments company, and you won't believe what happened next.
Paytm has a finger in most pies in the digital world, selling everything from gold loans to flight tickets, but now it seems to be moving into a direction that no other e-commerce company has yet explored. It has just launched its own Scoopwhoop-style entertainment blog.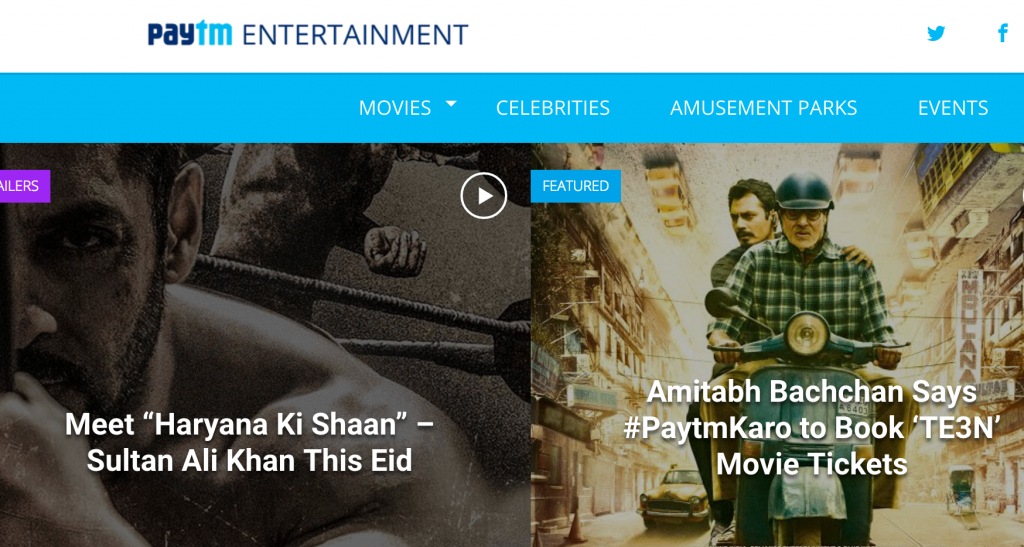 Called Paytm Entertainment, the content caters to the formula already perfected by other players in the light entertainment industry. "The top 7 richest actors in the world" is a post, as is "7 of greatest quotes by Mohammad Ali". The headlines are appropriately clickbaity, the content is image heavy, and posts are concluded by a series of Buzzfeed-like reaction emoticons. Coupled with Paytm's already-large social media following, this seems a sure recipe for some viral success.
But if one looks a little closer, this doesn't merely seem to be an attempt to capture pageviews. The topics on the blog seem tailored around Paytm's product offerings. Paytm has recently started selling movie tickets, and a large proportion of the posts on the homepage center around movies. There are also ads on the right that allow you to book movie tickets for the movies the articles are talking about, on, not surprisingly, Paytm. Similarly, Paytm also sells tickets to amusement parks, and next to articles about amusement parks ("3 record breaking roller coasters from around the world"), there are ads to buy amusement park tickets.
Given the vast variety of products that Paytm offers, it's unlikely the blog will run out of content ideas anytime soon. And if it does take off, Paytm will have a steady stream of relevant advertising that'll be much cheaper than traditional methods. While rival e-commerce companies will buy expensive TV slots and outdoor hoardings, Paytm could potentially reach a much bigger audience, right on their social media timelines.
But content creation is tricky business, and given that Paytm has no experience in area, Buzzfeed and Scoopwhoop probably aren't losing any sleep just yet. The trick for Paytm here would be to not hardsell their services – as long as users find the content valuable, they will like and share it, along with any ads that Paytm chooses to place along with it. And that could prove to be a big differentiator in India's crowded e-commerce space.