During his movie career, Pierce Brosnan was best known for being a suave, globe-trotting spy who was a hit with the ladies. But a new ad campaign will have you believe that man famous for playing James Bond is an everyday paan-masala-chewing-spewing man with a twirling moustache in India.
In an advertising move that's probably more bizarre than a Shahrukh Khan endorsing a fairness cream, Paan Masala company Pan Bahar has cast the Hollywood superstar as the brand ambassador. And Brosnan has bitten, or should we say, chewed. 
The one minute TVC involves a a James Bond-ish scene complete with sleek cars, sidekicks and a gangster's moll, and ends with Brosnan mouthing a "Class never goes out of style" –  strange choice of words given that the product is chewable tobacco, not quite a hand-rolled Cuban cigar.
The ad campaign that launched today (after a teaser on the brand Facebook cover page) has its Youtube ad splashed across social media and front page ads in dailies, much like the leftovers of the product advertised. But what's probably creating a bigger splash and helping the strange choice of brand ambassador is social media reactions of the move.
While most people are yet to see the brand's ads in action, those who have seen it have a thing or two to say about it.
Internet comedy group AIB has put out a post.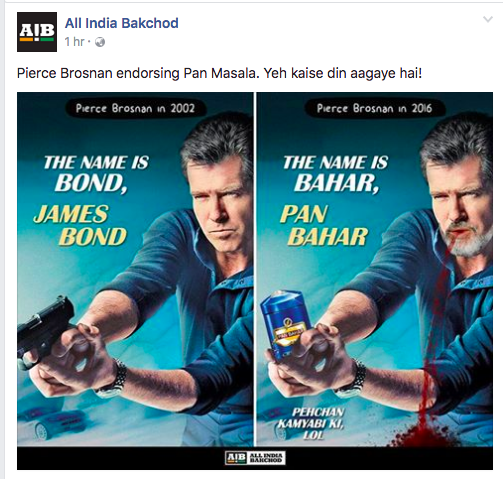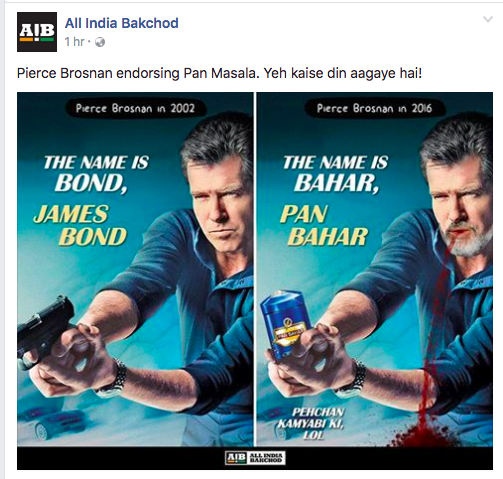 As have the Twitterati.
Pierce Brosnan.
Played James Bond.
Endorses Pan Bahar.
Licensed to kill.

— Ramesh Srivats (@rameshsrivats) October 7, 2016
Pierce Brosnan spitting a paan ki pichkari all over his 007 legacy like pic.twitter.com/lG0fs9bmON

— Ripper (@Ace_Of_Pace) October 7, 2016
No, no, no. Actually class is temporary, death by oral cancer is forever. pic.twitter.com/dAU2EgLYWG

— Rajneesh (@MrMrRajneesh) October 7, 2016
Chew today, Die Another Day. pic.twitter.com/T24ZPBY9qD

— MS (@connectwithms) October 7, 2016
Pierce Brosnan endorses Pan Bahar.
Screw you, Hugh Jackman.
And, Micromax.

THIS is the greatest Make in India moment. pic.twitter.com/AuYEsJ6gVr

— Sorabh Pant (@hankypanty) October 7, 2016
Waiter : drink, sir?
James Bond : dry martini
Waiter : Yes sir
Bond : shaken not stirred
Waiter : ok
Bond : babua ek pan masala bhi

— Pakchikpak Raja Babu (@HaramiParindey) October 7, 2016
Interestingly, this is not the first Indian association for the Irish actor. Previously he's endorsed the Reid & Taylor line of men's clothing, but that partnership has made a lot of sense given Brosnan's image as a well-clad gentlemen. With the Paan Masala endorsement, we're not sure what's next. Brad Pitt for Rupa Baniyans, anyone?