After months of speculation, and repeated denials by both parties, Quikr has finally sealed the deal and acquired real estate portal Commonfloor. Reports of Quikr acquiring Commonfloor had been abuzz for a while but Commonfloor CEO had diligently rubbished them every time. However in a report on December 1, the deal was touted to be almost through.
However, this time both the companies, before confirming with an official statement (that did come later), have decided to announce the merger through an exchange of cheeky tweets.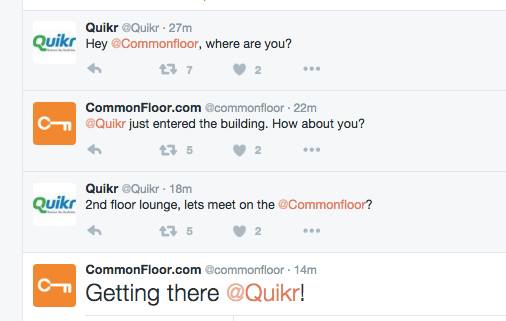 CommonFloor, which counts investors such as Accel, Google Capital and Tiger Global, was in talks to merge with Quikr, after it failed to raise additional capital to fund its business. So far, the firm has raised $60 million. It was speculated that CommonFloor was going to be sold at a significant discount to its private market valuation. Some reports had claimed that this number would be between $160-200 million, but this has not yet been independently confirmed. 
The merger, which is expected to be completed over the next two to three months, will give CommonFloor.com access to Quikr's 30 million consumers and harness the potential of the cross category nature of the platform, while QuikrHomes will benefit from CommonFloor's structured data and domain expertise. The company will continue to operate both brands in the market and honor the commitment towards their respective customers. 
"We are super excited about this development as the combined power of QuikrHomes and CommonFloor will help us bring more choices to our buyers and sellers making us the undisputed leader in the online real estate space" said Manish Sinha, Head of QuikrHomes.
Pranay Chulet-founded Quikr, with a valuation of around $1.5 billion, has been looking for acquisitions to strengthen its verticalisation strategy. Quikr has already made large forays into home services and jobs segments and has been aggressively promoting its various verticals with the new "Aasan hai badalna" trope. 
From a classifieds listings website to looking all set to establish dominance in real estate, local services, jobs and cars, Quikr is surely finding it easy to change and how.