Paytm's rise in the payments space this year has been meteoric, but there are now that signs that incumbents might be getting a little uncomfortable.
SBI's official Twiiter account has said that its internet banking users can no longer transfer money to their Paytm wallets. And in candour that's unusual in the corporate world, it says it "recommend(s) using State Bank Buddy mobile", their own wallet.
@theavinashrao "Add money" to PayTM using SBI Internet banking has been disabled by bank. We recommend using State Bank Buddy mobile(1/2)

— State Bank of India (@TheOfficialSBI) December 24, 2016
@theavinashrao wallet app for Android and iOS devices. Funds may be added to State Bank Buddy through SBI Internet banking. (2/2)

— State Bank of India (@TheOfficialSBI) December 24, 2016
The comment was made when a Twitter user complained to SBI's official account about being unable to add money to their Paytm wallet. There was some outrage at the move, with some users claiming that the move was anti competitive, and to the obvious detriment of Paytm. And when another user replied saying SBI Buddy's interface was poor, and saying that they should improve it first before banning Paytm, Paytm didn't miss the chance to gloat, and replied on the thread saying that "Happiness was guaranteed at Paytm."
@AnirudhNaik24 Happiness is guaranteed at Paytm. If we fall short of your expectations, give us a shout. #Paytmkaro!

— Paytm Care (@Paytmcare) December 25, 2016
This isn't the first time that SBI has trained its guns on the new upstart in the payments space – Paytm founder Vijay Shekhar Sharma had earlier shared a picture supposedly outside an SBI branch, where a banner had compared SBI Buddy's feature to Paytm. The banner, which read more like a Whatsapp forward and less like the marketing collateral of a national bank, highlighted Paytm's Chinese ownership, and raised questions about its security.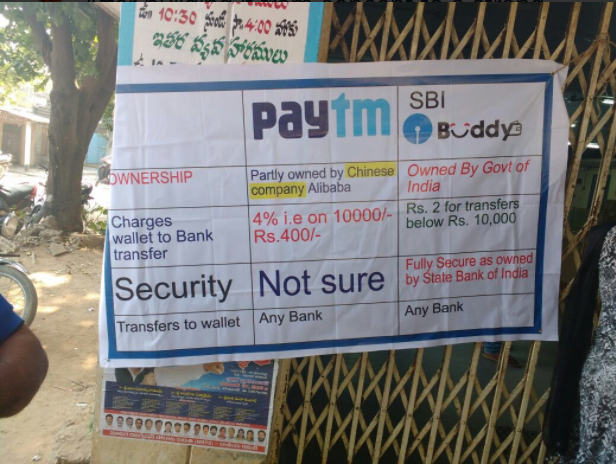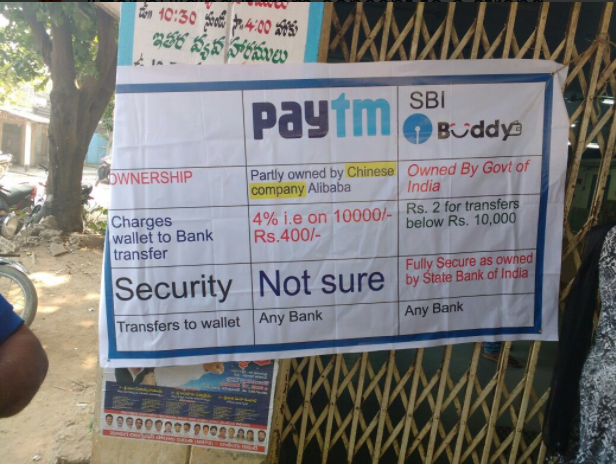 And while there's some incongruity in centuries-old bank taking on a 6 year old startup, these attacks point to the shifting sands in India's payments space. SBI was the long established incumbent, with 14,000 branches and nearly 3,00,000 employees across India, but was outflanked in the digital race by nimble startups who built loyal followings for their digital products. Now SBI's using its heft to get its foot in the door in the digital arena, by blocking transfers to Paytm. As things stand, India's largest bank now doesn't allow transfers to India's largest digital wallet. And while time will tell who'll win the battle of the wallets – a startup or a 200 year old bank – the loser for now might just be Digital India.
Update: SBI had blocked the option to transact through digital wallets in June this year. It's only now that the issue is being highlighted in light of the recent dependence on Paytm and other digital transactions.