There was a time the Momoe founders (pronounced "Momo" and not "Momo-ee") and the team would go to restaurants and pubs in Bangalore and approach the customers to install the Momoe app and pay their bill through it to avail a discount, instantly. I had happened to be at one such pub.
This was a little before Paytm became the undisputed king of mobile payments, and other players were unheard of.
Less than a couple of years later, this team from Bangalore has landed into the Unicorn club, by virtue of having been acquired by one.
Gurgaon based Shopclues, the lesser known ecommerce unicorn in India, has acquired Momoe in a deal that's said to be worth $10-12 million. ( INR 70 crores)
Momoe was founded in 2014 by Utkarsh Biradar, Karthik Vaidyanathan, Ganesh Balakrishnan, Neelesh Bam, and Aiman Ashraf, mostly graduates of IITs and IIMs.  Through the deal, top 5 executives from Momoe, founders included, will join the Shopclues team. Momoe announced the deal on its Facebook page.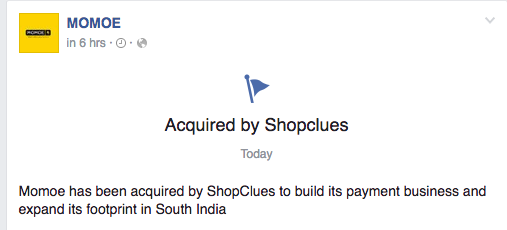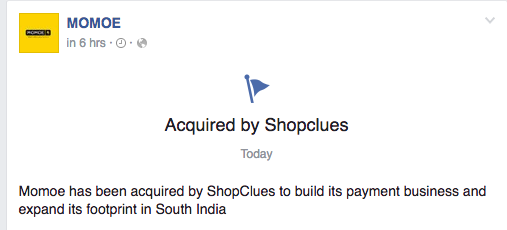 Momoe's acquisition will help Shopclues leverage the technology platform to streamline payments for its 5000+ merchants, who usually belong to tier 2 and tier 3 cities.
This acquisition by Shopclues allows it to have a payments platform that many of its competitors already have. Paytm was first a digital payments platform before getting into e-commerce, while Snapdeal too, through its Freecharge acquisition, has a wallet and payments platform to its name. On the other hand, Flipkart's PayZippy wasn't a success story, and was only used to service Flipkart customers.
It's been a glum couple of months for Indian startups, and Momoe's acquisition comes as a sign of positivity, and brings hope to hundreds of other startups who await further funding or an acquisition.