If you check out the bio sections on Twitter profiles, most of them bear the "views are personal" disclaimer. In fact, one of the reasons why Twitter is such a successful platform is because it lets people maintain separate identities which are different from their public personas.
Such was the case when a Twitter influencer,  @Bhak_sala, who also runs an alternative political website OpIndia, expressed his opinions on a political event. And things went haywire from there.
It all started when Swati Chaturvedi, a journalist with DailyO, wrote a piece in which she supposedly targeted the RSS. OpIndia, which is an openly right-wing site that seeks to expose the lies and manipulation in mainstream media, wrote a counter piece exposing the fallacies of the article.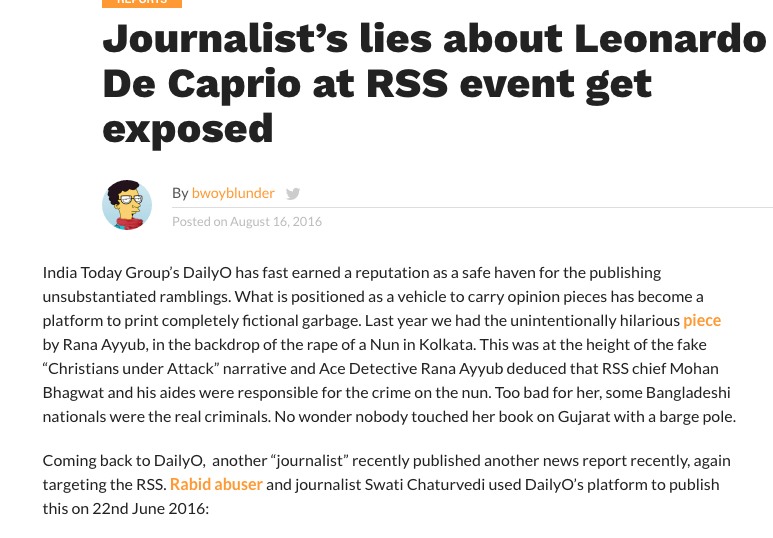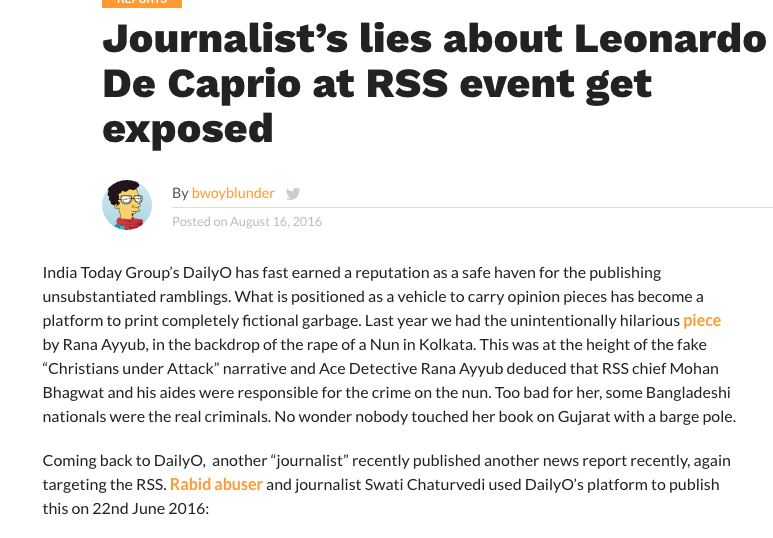 The piece went viral, and rattled by by her journalistic abilities being questioned, Chaturvedi launched into a tirade against OpIndia.
Turns out these OPIndia guys have a day job as well! Clearly trolling doesn't keep kitchen fires burning"

— Swati Chaturvedi (@bainjal) August 29, 2016
She made a personal attack against OpIndia founder Rahul Raj, calling his job at  Novartis "mediocre." 
Chief troll cum stalker Rahul Raj actually has a mediocre job at pharma firm Novartis in Hyderabad."

— Swati Chaturvedi (@bainjal) August 29, 2016
She didn't stop there. She even tagged Raj's employer, Novartis, drawing their attention to the side project of their employee.
Any policies in place to control your stalker & communal inciter employee running a nasty propaganda site @Novartis https://t.co/8UEp8C9siV

— Swati Chaturvedi (@bainjal) August 29, 2016
Twitter didn't take too kindly to dragging an employer into a political debate.
Not massively comfortable with this idea of tagging people's employers over their personal tweets. Dangerous precedent.

— Rohan (@mojorojo) August 29, 2016
If someone troll upsets you: simply Mute. If you really angry: simply Block. That's part of FoE. But complaining to employer?? Seriously???

— Yashwant Deshmukh (@YRDeshmukh) August 29, 2016
While most of the sentiment seemed against Chaturvedi, some of her supporters did have her back.
.@bhak_sala was exposed by me trying to communalize Dr Narang's death.

Will @Novartis take action on him? https://t.co/f7g1Diwqqy

— Ankit Lal (@AnkitLal) August 29, 2016
Not quite backing off, Chaturvedi continued to defend her action.
And, he's only been using my pic & abusing & stalking me for years! Also indulging in communal incitement! https://t.co/D7brK79a7x

— Swati Chaturvedi (@bainjal) August 29, 2016
And Rahul Raj, for his part, seems to be taking the situation well.
Thanks a lot for your support. Hectic day in office today, so unable to respond. Getting moral support from many silent well wishers 🙂

— Rahul Raj (@bhak_sala) August 29, 2016
This whole incident bring up an interesting question – can an employer take action if they don't agree with the tweets of an employee? For the most part, tweets are personal expressions, but can have ramifications in the workplace – stories abound of employees having lost their jobs because of racist and inappropriate tweets on twitter.
But proactively bringing in employers isn't good form. Twitter is a great medium to exchange ideas because it lets people attack ideas, not people. If Swati Chaturvedi wanted to get back at bhak_sala, she could've written a blog rebutting his opinion. To tag his employer is taking the easy way out.
And ordinary people with jobs is what makes Twitter the great medium it is. For too long, journalists have held sway over what information can be transmitted and consumed. Twitter and other online sites allow the common man to voice his opinion, and question journalists and those with power. And throttling them from doing so by threats of calling out their employers goes against some of the basic tenets of a free and open internet.
Not cricket, Ms. Chaturvedi.