A 26-year-old filmmaker has accused TVF founder Arunabh Kumar of inappropriate behaviour while on set. 
Her accusations come after a girl's anonymous blogpost had gone viral on social media yesterday, detailing how the TVF founder had harassed her while she was employed with the startup. Reema Sengupta, a filmmaker who's founded CATNIP, a video production company out of Mumbai, has now come out in support of the anonymous blogger, saying that "to everyone doubting if this is true, know that this girl definitely isn't the only girl he has been a sleaze to."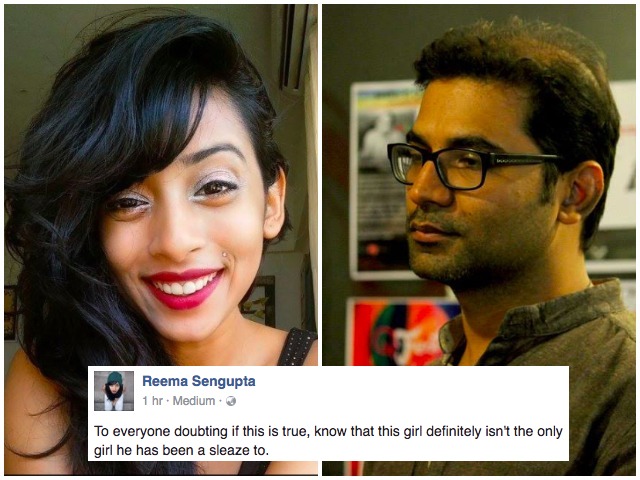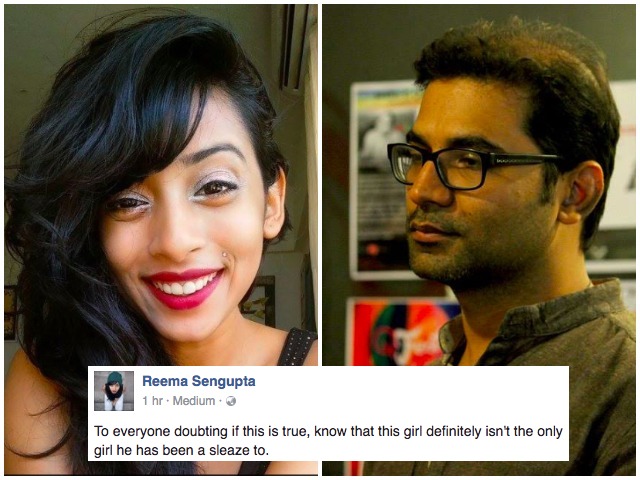 "I was shooting with him in the TVF office, for a web series I was directing last year. The first time we met at the recce, he asked me to send him my work, which I did out of courtesy," she says in a Facebook post. "When we met on the day of the shoot, I asked him if he had seen the links. To this he said – why don't you come over to my place and we can watch them together. We can also watch a movie. Which movie do you want to watch? I politely evaded the question and continued briefing him about the shoot. As I talk, he finds some lame excuse to place his hand on my hand (which was on the table in his glass cabin). In the middle of the shoot, he touches my shoulder tattoo and tells me he finds it sexy. After every other shot, he would come over to the monitor to see how the shot looks, but at the same time graze his hand against my waist. All this in a 5-hour shoot. I can only imagine what she must have gone through for 2 years!" 
Sengupta goes on to say that she told her producer how she was creeped out with this behaviour. Her producer then made sure that she wasn't alone with Kumar for the rest of the shoot.
Update: Another woman has come out about her experience with Arunabh Kumar. Reshma Patra says that in 2012 she'd messaged Kumar for a coffee because she was new in the city and she'd been batchmates with him at IIT Kharagpur. During the conversation, Kumar had reportedly asked her, "Would you go to my place, and dance for me?". "He said he'd like to see me get naked and see me stripping and dancing *for him*," she alleges.
Another one.
The count is reaching double numbers soon.
SPEAK UP, COME OUT. pic.twitter.com/Saq7D4Uflj

— Shivam (@GhantaGuy) March 13, 2017
Update 2
Yet another woman has spoken up about an uncomfortable experience with Arunabh Kumar. Rafiya Khan, a former Assistant Producer at independent agencies, says that she became acquainted with Kumar when she was moving into a rented studio that TVF was moving out of. One day, she says that Kumar called out to her. "Out of now where he started telling me he just came back from some place in Ratnagiri, and he bought mangoes. He asked me if I liked mangoes, while his mouth spoke those words, his hands slided on my back, from neck to waist. Im not someone who gets scared easily, I wasnt scared, I just knew his intentions. I moved away from him, stared and said a NO and walked off. Since that day he never met his eyes with me. I should have punched him, but I ignored," she says in a Facebook post.
Last night, a blogpost had gone viral detailing how Arunabh Kumar had repeatedly harassed a girl from his hometown of Muzzafarpur while she was working with the company. The blogpost had contained serious allegations, but none of these could be verified because the author chose to remain anonymous. TVF, for its part, has vehemently denied the claims. "The article is completely ludicrous and defamatory against TVF and its team. All the allegations made against TVF and its team in the article are categorically false, baseless and unverified," it had said in an official statement. 
Amit Golani, a senior member of the TVF team, has also said that "no such person" from Muzzafarpur worked at TVF.
Utter nonsense and false claims on an 'Anonymous' post. There has been no such person existing from muzaffarpur working at TVF.

— Amit Golani (@GolOpinions) March 13, 2017
 There have been several other accounts of women reportedly coming forward with their experiences, but we haven't been able to independently verify them. We'll update this article as the situation develops.