It has been a crazy 18 months, and we're finally down to this. The American public will vote for electing their next President later today. It's been a seesawing, bruising battle between Donald Trump and Hillary Clinton, and it'll all be decided over the next few hours.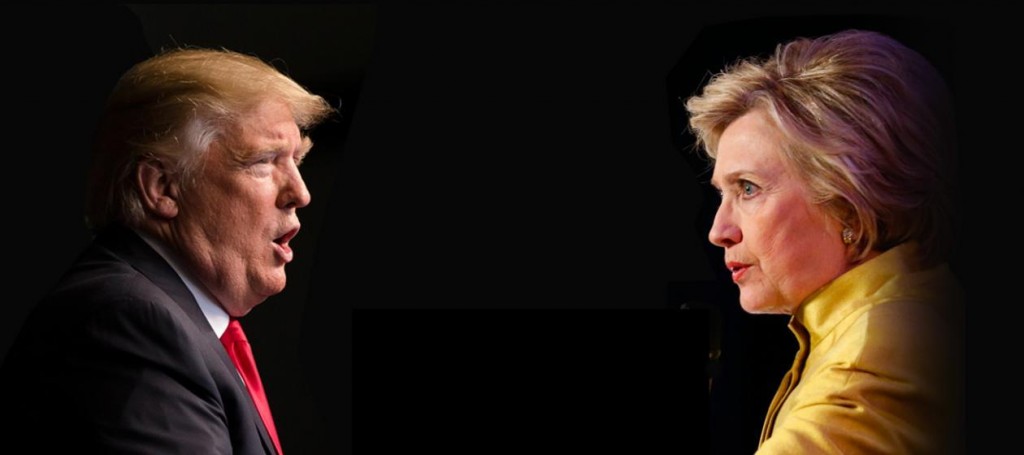 Going into the elections, most polls are giving Hillary Clinton an edge over Donald Trump. The RealClearPolitics average currently gives Clinton a 2.9% lead over Trump nationally. This number is an average of 12 polls conducted by separate organizations in the United States; crucially, eleven of the twelve currently have Clinton ahead, with leads ranging from +7 to +1. One solitary poll gives Trump a +5 advantage nationally.
But the US electoral system doesn't simply use a summation of the votes of its citizens to decide the President. Instead, it assigns electoral votes to states based on their size and population. A candidate winning a state, even by a single percentage point, wins all the votes in that state. Which makes it possible that a candidate could lose the popular vote, but by virtue of doing well in big states, might end up becoming President.
The FiveThirtyEight election forecast considers individual probabilities of a candidate winning particular states, and then uses a complex model to predict who'll eventually win. At last count, it gives Donald Trump a 31% chance of becoming President, and Hillary a 69% chance. This number has oscillated quite a bit over time, with Hillary being as high as nearly 90% in August, and Trump briefly taking the lead in July. But for the greater part of the year, this model has also predicted that Clinton has a better chance of becoming President than Trump.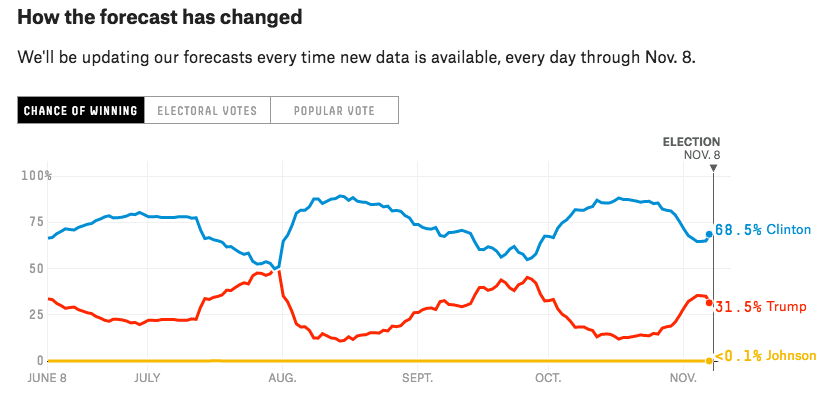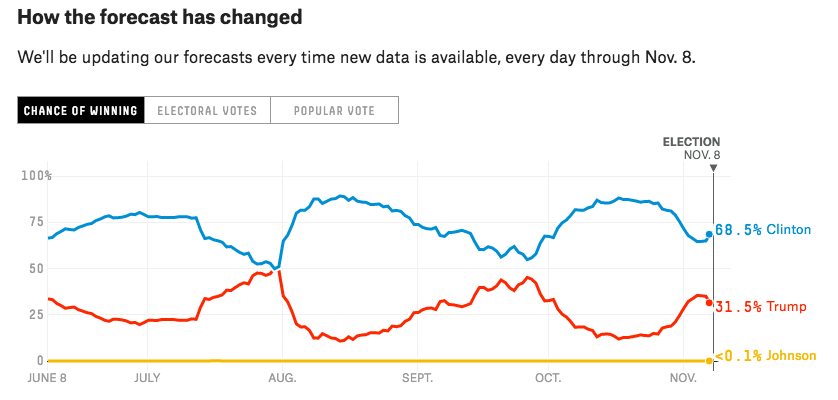 Online betting site Bovada makes Clinton a (2/11) favorite to come out on top in Tuesday's presidential election. Trump's price, meanwhile, has slipped to (15/4). That equates to an 84.62 percent chance of Clinton getting to the 270 electoral votes and a 21.05 percent chance for Trump.
While odds seem firmly stacked against Trump going into the election, the real estate tycoon has staged comebacks in the past. When he'd stood for the Republican nomination, most pundits had laughed at his ticket, with Nate Silver, the man behind the FiveThirtyEight forecast, having pegged his chances at less than one percent. Trump, to the astonishment of all political observers, blew away 17 other candidates to clinch the Republican nomination. 
And polls have been wrong in the past. Most recently, polls had predicted that Britain would vote to remain a part of the European Union, but had been wrong – Britain had voted leave, and beaten polls by 4 percentage points. Trump too, will be hoping for a miracle – and perhaps a Brexit 2.