Politicians commuting to work usually conjure up images of Ambassadors with red lights surrounded by a convoy of more cars. But Arjun Meghwal, the sitting MP from Bikaner, Rajasthan, does things differently.
He chose to cycle to work for his oath-taking ceremony in Parliament.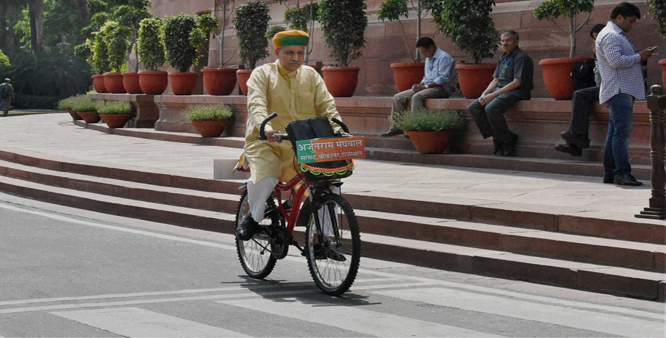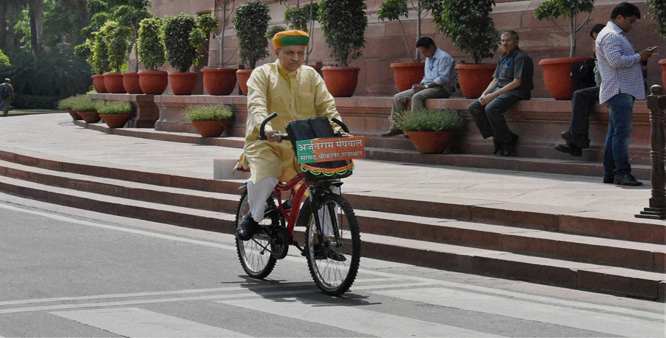 Meghwal had been recently elected as Minister of State, and the colourful turban-clad MP chose to cycle to the Rashtrapati Bhavan for his oath taking ceremony. Even though he appears to be riding alone, he's hounded by a volley of admirers and supporters enroute.
This activity could have been written off as a publicity stunt except that the MP is known to cycle regularly to the parliament, choosing to give the trusty sarkaari car a miss in favour of a greener, cheaper alternative.
Now, in India, usually 2 kinds of people bike to work – the ones who can't afford a motor vehicle, or the fitness conscious. But this MP with his pedaling is putting the whole image of spoilt government employees out of whack, and bringing a whiff of fresh air to the old ways of Indian politicians.
There has been a lot of talk about the dangerously rising levels of pollution in the national Capital giving rise to campaigns like the odd-even rule and electric autosrikshaws. But it's great to see a politician personally leading the way by walking cycling the talk.