Jeff Bezos' charm offensive in India isn't quite going as planned, as far as government officials are concerned.
"They may have put in a billion dollars, but then if they make a loss of a billion dollars every year then they jolly well have to finance that billion dollars," India's Minister of Commerce and Industry Piyush Goyal said at a conference today. "So it's not as if they are doing a great favor to India when they invest a billion dollars," he added. Goyal said that the allegations against Amazon and Flipkart of misuing their dominance was a "cause of concern for every Indian."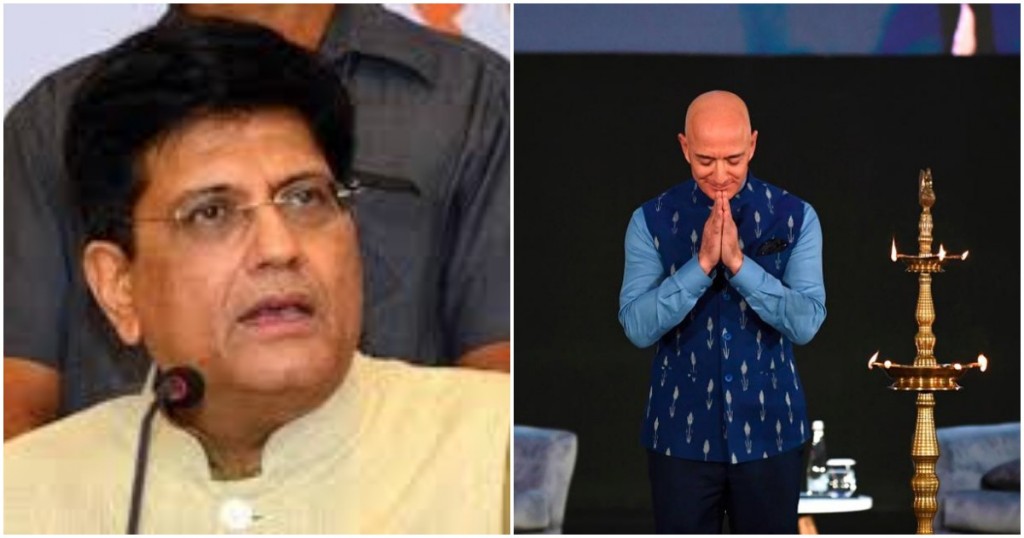 Amazon CEO Jeff Bezos had arrived in India on the 15th, and had immediately announced some big-bang measures for India's small and medium businesses. He'd said that Amazon would invest $1 billion in India to help digitize the operations of  SMBs, and annoucned that Amazon would use its clout to help ensure that $10 billion of Make in India goods are exported by 2025.
But it doesn't appear to have mollified India's small business owners, who are protesting Bezos's India visit. These traders allege that Amazon has been misusing its dominance in the Indian market to shaft small and medium businesses. Traders say that Amazon has been promoting its own products at the cost of those of SMBs, and have been creating contracts, such as exclusive deals with smartphone makers, which help them continue its dominance.
This had been substantiated by India's Competition Commission, which has initiated an antitrust probe against Amazon and Flipkart for misusing their duopoly in India. This has meant that the Indian government appears to be unwilling to publicly engage with Amazon — it appears that PM Narendra Modi will not meet Jeff Bezos during his India visit. And with Piyush Goyal publicly saying that Amazon is not doing any favours by investing in India, it indicates that the Indian government is making an effort to keep Amazon at an arm's length during Bezos' India visit.