India's e-commerce revolution has touched most men, women and children in the country, so why should animals be left behind?
Animall, an online platform which allows users to buy and sell livestock including cows, buffalos and goats, is now valued at Rs. 175 crore. Animall was founded in 2019, and has just raised $5.9 million in its Series A from global funds including Sequoia Capital, Omnivore Partners and LetsVenture Fund. The fundraise gives the startup a Rs. 175 crore post money valuation.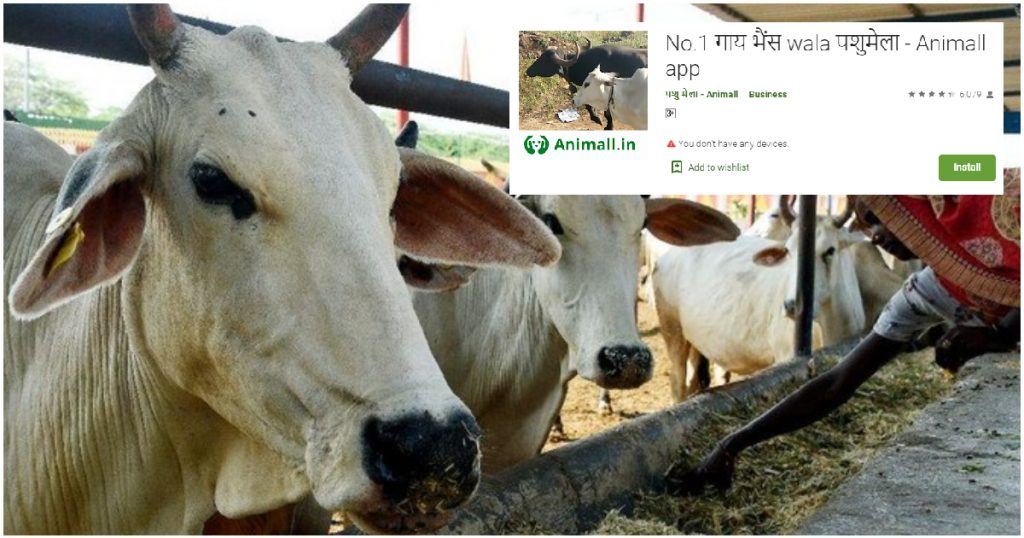 There's no shortage of e-commerce startups in the country, but Animall has zeroed in on an opportunity that was, as it were, waiting to be milked. Animall calls itself India's largest online livestock market, with the app saying it is the "No. 1 gaye bhains wala pashumela (No. 1 cow and buffalo animal fair)". The app allows animal owners to put up their animals for sale, much as you'd put up a used computer for sale on Olx. People in their vicinity can see the listing, and then contact the owner directly to make the purchase.
To its credit, Animall has suitably localized its platform to make it work for its audience. The product listings, too, succinctly describe the products that are being traded. "8.5 liters milks, second byaat, Rs. 63,000," says a listing. "This is a five year-old murrah buffalo. She was mated a week ago and is not pregnant. The last time she was lactating, she had a milk giving capacity of 12 liters," it continues. Attached is a picture of the murrah buffalo in question, looking happily at the camera.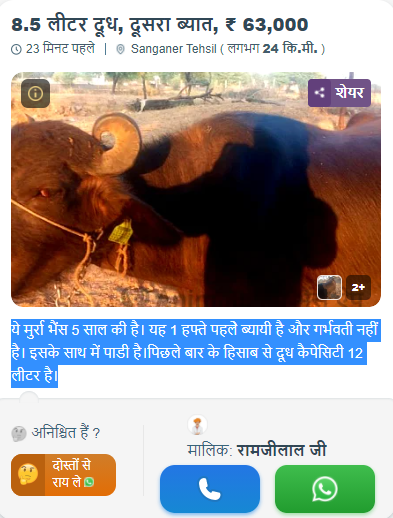 There are other details too that Animall appears to have focused on. As opposed to simply displaying the name of the owner, Animall adds the honorific "ji" at the end in all names, making the app more relatable amongst its target market. The app is mainly in Hindi to allow for its widespread adoption among the dairy farming community. Animall appears to have been an instant success, with over 1 million downloads, and a rating of 4.3 after over 6,000 reviews.
Apart from merely allowing for the buying and selling of livestock, Animall has built a community for the dairy farmers who use its app. The platform has brought animal doctors online, who answer the queries of the dairy farmers. There is also a forum which allows farmers to talk shop and discuss strategies on how to get the most milk from their livestock. There's also a "Doodh parchi", which allows farmers to keep track of the milk they've sold, and a rate calculator, which enables farmers to know the fair prices for the livestock.
What's more fascinating about Animall's success is how it took 12 years after the launch of Flipkart — the startup that brought about India's e-commerce revolution — for entrepreneurs to come up with a similar app for buying and selling of animals. India had a rich and long-standing tradition of animal fairs, such as the Pushkar fair, which draws farmers from all over the country. And in 2019, an enterprising company has managed to bring an animal fair online, with some very encouraging results. Which goes to show that Digital India might just be getting started — who's to say how many more verticals exist for Indian entrepreneurs to come and disrupt with the use of technology.