Among the spate of companies that have hit the public markets this year, there's one which is lined up which might be tastier than most — Barbeque Nation.
Barbeque Nation, the nationwide chain of restaurants known for its live-grill menu, has filed for an IPO. The company plans to raise Rs. 700 crore from public markets to expand its presence across the country. After being founded in 2006, Barbeque Nation has quickly grown to 81 outlets, and shows no signs of letting up — 34 of its outlets have been added just over the last two years.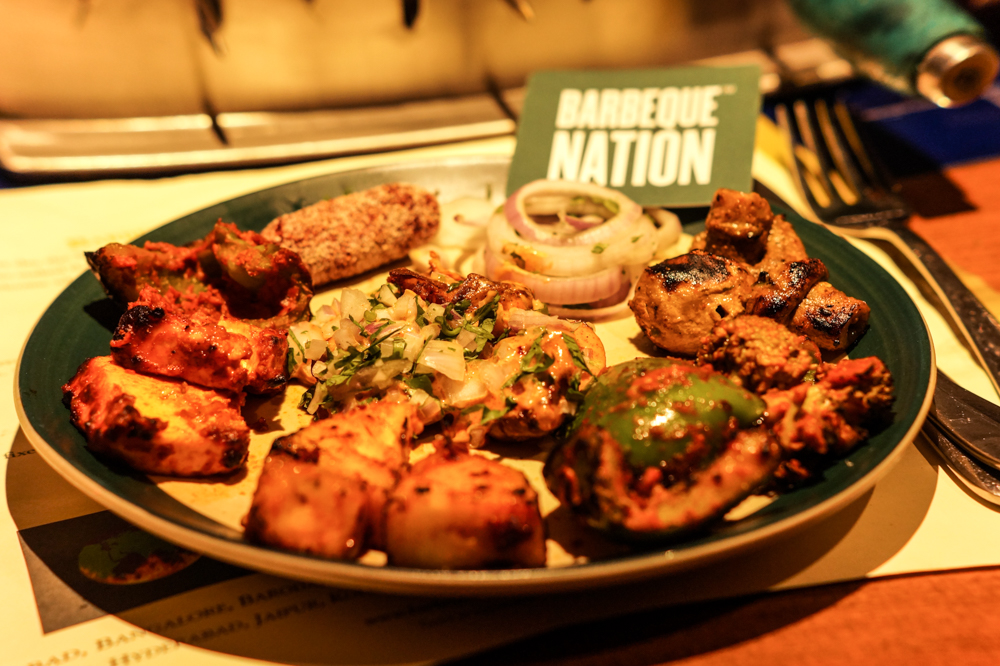 The Story
Barbeque Nation's beginnings can be traced to a fortuitous discovery one cold November night at Sayaji Hotel in Indore. Restaurant Manager Prosenjit Choudhury had been serving kebabs by the poolside, but guests weren't happy — they complained the the kebabs weren't hot enough. Choudhury had seen a television show in which nomads had faced the same problem while camping on riverbanks, and had improvised to find a solution. They had erected a grill using stacked armour, and cooked meat on it
Chaudhury ran with the idea — he started serving meat, which was 90%, cooked to customers on mini-grills on tables. It was an instant hit.
Chaudhury then got the go-ahead from Sajid Dhanani, then MD of Sayaji Hotels, to enter food retail. He set up Barbeque Nation's first outlet in Mumbai on Pali Hill in 2006. Starting up in Mumbai was a challenge for a little-known brand from Madhya Pradesh, and the company wasn't sure if the business model was viable. "I wanted to see if the hoopla around the live-grill would wear off. But after six months, we had 50 percent return customers," he told Forbes.
Growing Pains
Barbeque Nation then looked to quickly expand to other cities, and had opened successful outlets in Mumbai, Bangalore, Hyderabad and Gurgaon. The company went on to open nine other outlets, but Chaudhury realized he wasn't able to maintain the hands-on control as he'd been able to before. He then came up with a novel way to build accountability and trust among his store managers and staff.
Waiters and staff at Barbeque Nation don't accept tips, but are judged on feedback from customers. The chain built an in-house call center in Indore that gathers customer feedback every day and feeds it into something it calls the Guest Satisfaction Index. Customer satisfaction counts for 50 percent of the total weightage,  and Staff Satisfaction & Attrition (25 percent) and Costs & Sales (25 percent) make up the rest. If they meet the standards, store managers and staff are rewarded a bonus of up to 100 percent of their salaries.
And the chain chooses its staff carefully. Along with an HR consultancy, the company has designed a three-hour psychometric test that all employees have to clear. "Almost 18,000 people have taken our psychometric test over the years, only 15 percent have passed," say the founders.
Capturing the urban professional
Barbeque Nation has homed upon its core audience  — the upmarket urban professional. Its fixed price menu is by design; the founders feel that a fixed price makes it easy for groups of professionals to visit because there's no uncertainty about the bill. The company also wanted people to capitalize on celebrations like birthdays, job treats and festivals, and opened outlets with large tables for big groups to dine together.
And the company makes sure the customer is always at the forefront. When they started out, three rivals quickly appeared, but they couldn't compete. "Advertising unlimited prawns and then putting in more vegetables or giving smaller prawns won't work," says Choudhury, "You cannot fool the customer."
Prawns to profits
In 2012, MD Sajid Dhanani passed away, and his brother Kayum Dhanani took over. In 2013, Kayum secured Rs. 110 crore in PE funds from CX Partners to help fund further expansion. Barbeque Nation has only grown since then — its annual revenues were nearly Rs. 400 crore in 2016, and the company was profitable, with a profit after tax of Rs. 12.8 crore.
And with its IPO, Barbeque Nation will join a select group of restaurant chains that are listed on Indian stock indexes. For a company that was founded just 11 years ago, that's quite a journey.