The strain is already beginning to show for companies that have been hardest-hit by the coronavirus pandemic.
Fitness startup Curefit has reportedly laid off as many 800 employees, and permanently shut down its centers in smaller towns. "Given the current pandemic and restrictions across the country, our business is going through significant changes. The lockdown has affected all our business offerings and we do not see the situation improving for quite some time, considering the pandemic spread has affected all the markets we operate in. This unprecedented situation has forced us to close operations in small towns in India and the UAE," the company said in a statement.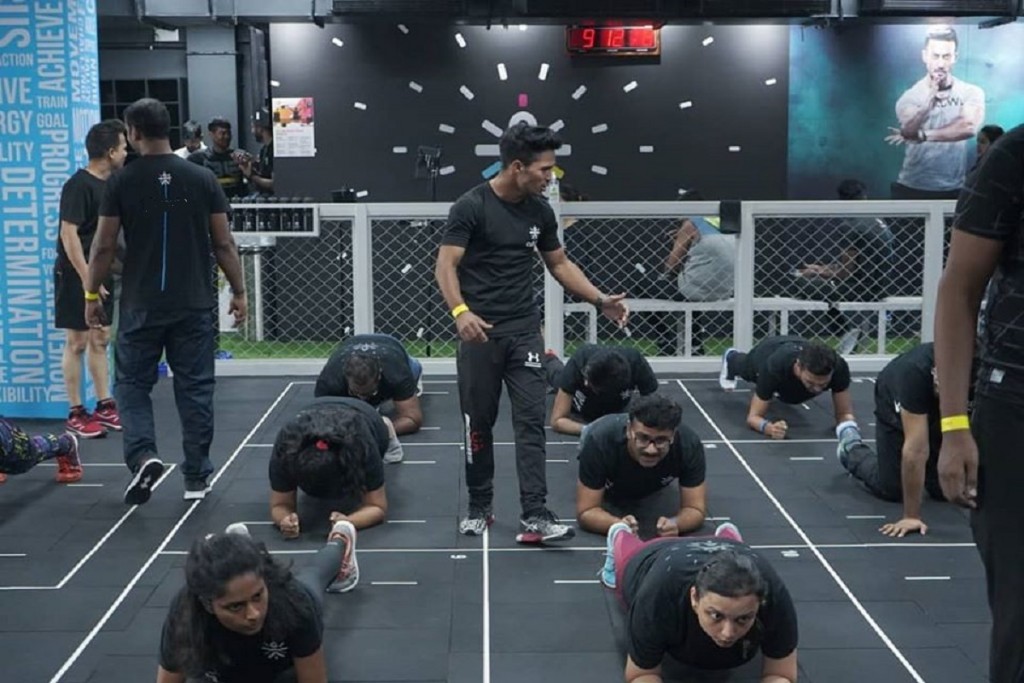 "While we are doing everything we can to solve for our customers, we also need to adjust to the new realities and manage costs to ensure the long term viability of the business. We have downsized our employee base across markets where we have shut operations and have initiated pay cuts across levels. The founders have taken a 100% pay cut, the management team 50% and the rest of the staff depending on seniority have a reduction of 20 to 30%," Curefit added.
Curefit said that it had adopted a fixed plus variable model that had helped it retain most of its trainers. "90% of the cult trainers continue to be with us and have been moved to a fixed plus variable model to tide over the crisis. All employees part of the downsizing have been provided with a significant severance package to help them with the current situation, including extended health insurance for them and their families. Further, we will provide our full assistance in out-placing them in the coming days. We have also created an emergency fund of Rs 2 Cr to support affected employees in the coming months," Curefit said.
Curefit employees had earlier taken to social media to complain about how they had been abruptly laid off. "They called us this morning and told us to resign our jobs," wrote an employee on Twitter.
@KTRTRS Hello sir my name is Akhil and I am working for a company called Curefit they called us this morning and told us to resign our jobs in this crucial pandemic period sir and they also removed more than 40 members of our team this please help us sir

— Akhil Babu (@AkhilBa35470517) May 3, 2020
"Two days back I got a call (about the resignation)," wrote another employee, who worked with the company as a boxing and HIIT trainer. "We gave more than 100 percent to this company and now they're doing this to us," they added.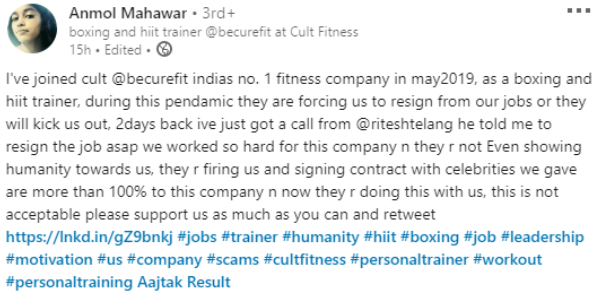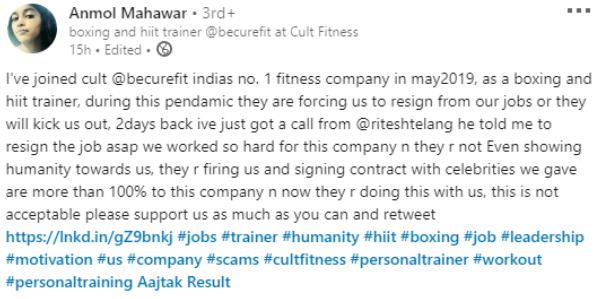 Curefit meanwhile has said that it will continue its "pause days" until the lockdown is done, so that its customers aren't impacted by the crisis. The company has also ramped up its digital offerings, and is also bringing aboard celebrity trainers that are taking virtual classes for members. 
It's an unfortunate situation, and possibly one that Curefit could have scarcely predicted. Gyms and fitness centers have been shut ever since then lockdown began, and there's no telling how much longer they'll be shut for — working out in large groups in an indoor environment could well become a no-no for the foreseeable future, and Curefit's business could  be severely impacted as a result. Curefit does have the advantage of having a subscription model where members pay for 3-month, 6-month and 12-month memberships, but it's likely that new signups have ground to a virtual halt. It's also likely that existing members aren't renewing their memberships as they're expiring through the lockdown period.
This would've led to a cash crunch for Curefit — with barely any revenues coming in, the company would've still had to pay its staff, and that wouldn't have been sustainable in the long run. Curefit appears to have opted for laying off a section of its staff, and enforcing pay cuts on the others. It's also looked to shut down what are presumably loss-making businesses in smaller towns, and is also reportedly looking to sell off its Eat.fit cloud kitchens in smaller cities. It's presumably the only option that the company has at the moment. And if the coronavirus lockdown goes on for much longer, there might be greater pain in the offing at the fitness startup.