Once startups become large companies, they seem to very quickly assume the trappings that come with their increased stature.
Big Basket, which is selling a 68% stake in the company to the Tata Group, has sent a notice to tiny Coimbatore-based startup Daily Basket for having the word "basket" in its name. BigBasket claims that it has an established connect with the "basket" word, and says that Daily Basket has "dishonestly adopted the name and mark "dailybasket" to make (its) name and mark deceptively and/or confusingly similar to …BigBasket." BigBasket has said that Daily Basket can no longer run its business, its website or its mobile app with the current name, and somewhat incredibly, also demanded that Daily Basket pay up Rs. 2 lakh towards the cost of the legal notice.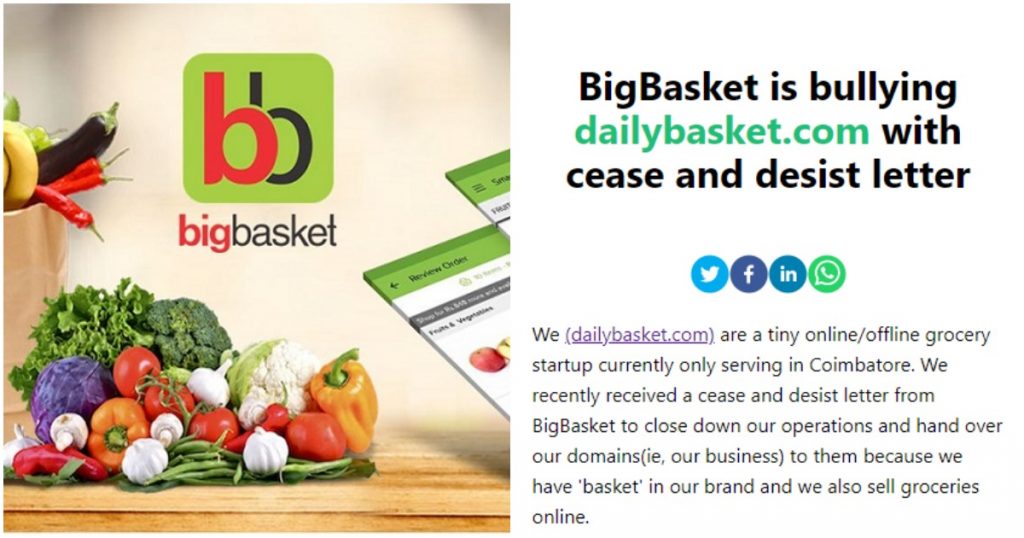 Daily Basket, though, hasn't taken kindly to the notice, and has gone ahead and set up a website called bbisabully.com. On the site, Daily Basket has shared the legal notice in its entirely, and also shared screenshots of the logos and both apps side by side, implying that they weren't similar enough to confuse people. "Though we have a word 'basket' in our brand and we do deliver online groceries, it doesn't mean we copied their trademarks or unethically copied their website & apps. We never misuse BigBasket's brand in any way as they claimed in the cease and desist letter. That's a blatant lie," says Daily Basket on the website.
"We are a tiny bootstrapped company currently only serving in Coimbatore and about to open our first physical location. We don't have that mighty power & money that Bigbasket possesses to engage in endless lawsuits and unlawful intimidations," the website adds, while saying it's a "two-person" startup.
The courts will perhaps decide whether simply having the name BigBasket can let the company to not allow any other grocery delivery startup to use the word "basket", but it's strange that BigBasket decided to send a legal notice. After Flipkart's success, other companies including Lenskart did come up, and unlike "kart", which can thought to be a trademark, basket is a common noun. But regardless of what the courts decide, it's hardly going to be an even fight — BigBasket is valued at $2 billion, and Daily Basket, on the other hand, was founded 8 months ago, has two employees, and doesn't yet have a physical store. BigBasket, though, could do well to remember it was once a startup too — had supermarket chain Big Bazaar decided to send it legal notices back when it had two employees, it might not have quite become the success that it is today.