Flipkart was the toast of India's corporate world last month — in a span of just over a decade, the company had cracked the online commerce market, successfully fought off foreign competition, and ended up being acquired at a valuation of $20 billion (Rs. 1,30,000 crore). But while Flipkart's journey has been spectacular, a retail chain in India has quietly entered the same valuation range, just 16 years after being founded — and it's been profitable while doing so.
Supermarket chain DMart, which runs 154 stores across India, is now valued at Rs. 1,00,000 crore following a surge in its stock price. That puts it within touching distance of the 1,30,000 crore that Flipkart was valued by Walmart last month. Dmart's stock has enjoyed a stunning run on the stock markets since its IPO in March last year. DMart's stock had an issue price of Rs. 299 but closed at Rs. 604 on the day of its listing. Over the last year, the stock has nearly tripled in value, and currently trades as Rs. 1,606.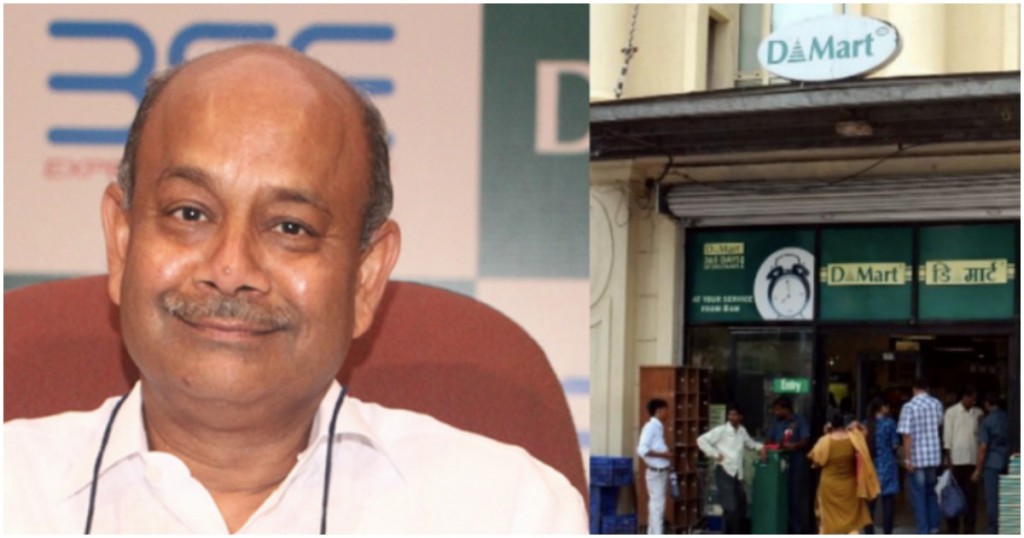 DMart's stock does have reason to climb the way it has — the company does seem to have the numbers to keep its investors happy. In 2018, its revenues were Rs. 15,009 crore, up 26% over the previous year. Even more impressively, it was profitable — Dmart's profits grew by a massive 62.6% to Rs. 785 crore last year. In comparison, Flipkart had slightly higher revenues of Rs. 19,854 crore, but ended up losing an astonishing Rs. 8771 crore over the same period.
The DMart Story
If Flipkart was founded by two 25-year old bright-eyed young men at the start of their careers, DMart's founding story couldn't have been more different — DMart was founded in 2002 by a then-45-year-old Radhakrshnan Damani at a point when he'd already made his millions. When he founded DMart, Damani was already a legendary name in Indian stock markets, having picked up several value stocks and seen them rise to stratospheric valuations, including Gillette and HDFC Bank. Damani, who'd dropped out of a commerce degree after the first year, had first joined his father's ball bearings business, but had started investing in stocks when he was 32. He ended up becoming one of the biggest stock investors of the 90s, and current stock market bull Rakesh Jhunjhunwala considers him to be a mentor.
But after a successful stock market career investing in consumer-facing companies, Damani decided to start his own. He founded supermarket chain DMart in 2002, and adopted strategies that were unique to Indian retail. Until then, most retail chains leased their stores, but Dmart chose meticulously do its research, and owned its own stores outright. That strategy seems to have worked — Dmart has never had to shut down a store it's opened in all the years of its operation. While other retail players forayed into other categories, including electronics and fashion, DMart remained focussed on its core food and grocery business. And when other supermarket chains are all launching their own private brands in a bid to improve margins, DMart still stocks only third-party products.
It's this conservative approach that seems to have paid off for DMart. Other retail chains were choosing growth, but for the first 15 years, Dmart only operated its stores in 4 states. Even today, the company has only 154 stores in India, and is present in 11 states. But what DMart has sacrificed in growth, it's made up in margins — Dmart had a profit-to-sales ratio of 3.7%. In comparison, other major Indian retailers don't fare quite as well — Future Group has a profit to sales ratio of 0.21%, Spencer's Retail had a negative profit to sales ratio of -8.9%, and Reliance Retail, which operates high-margin categories including electronics and jewelry and has more than twice the revenues of DMart, only managed a profit to sales ratio of 1.6%.
Dmart's conservative — but profitable — approach seems to be modelled after its founder. Damani is notoriously media-shy, and gives no interviews. He's said to be shy in real life as well — he doesn't seem to speak much, but is supposedly a good listener, absorbing large amounts of information quickly, and then acting on it. And while Damani's successes have made him tremendously wealthy — thanks to the surge in Dmart's stock price, he's now worth $9.22 billion (Rs. 60,000 crore) — he still wears a white shirt and white pants to work, the dress he's been wearing since the 80s. He still takes evening walks on Girgaum Chowpatty in Mumbai, and cordially talks to the strangers who approach him after his Dmart's public success.
And Dmart's story, especially when compared to Flipkart, shows how there can be radically different approaches to building a successful business. Flipkart's founders couldn't grow their company fast enough — they raised billions of dollars in capital, expanded at breakneck pace, and finally sold their business to a global giant. Losses weren't a consideration — Flipkart lost billions of dollars while attempting to grow quickly, but it didn't seem to matter in the end. Dmart, on the other hand, has always had an eye on its bottom line. The company consciously chose to forgo growth to continue operating in states and businesses it knew well. And while the results might have taken slightly longer to arrive — Dmart was founded 16 years ago, compared to Flipkart's 11 — they have also been more lucrative, especially for the founders. While Flipkart's founders made away with a billion dollars each, Damani's ended up making nearly 9 times that. In the age when "Go big or go home" seems to be every startup's manta, Dmart's story shows that everyone once in a while, the slow and the steady can also win the race.