While essential services have still been allowed to operate during the coronavirus lockdown, it hasn't stopped some people from taking advantage of the situation.  
A Dunzo employee has been arrested after using his Dunzo delivery bag to smuggle a snake worth Rs. 50 lakh during the coronavirus lockdown. Dunzo employee Mohammad Rizwan, 26, and Azar Khan, 27, an accomplice, allegedly put a "two-headed snake" inside a Dunzo delivery bag, and transported it around Bangalore to sell it. Following a tip-off, Bangalore police nabbed the duo while they were trying to sell the reptile near Sarakki signal in JP Nagar, South Bengaluru, on Wednesday evening. The police also seized a scooter and three mobile phones from the accused.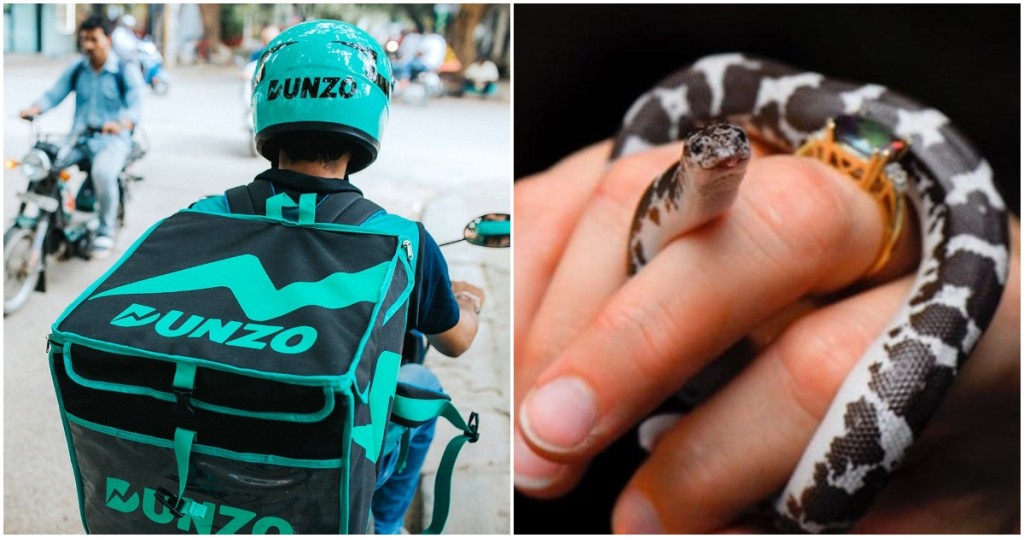 "We have arrested two persons who tried to sell the two-headed snake. The double engine snake belonging to the Boidae family, commonly called Sand Boa, has been rescued," said Sandeep Patil, Joint Commissioner of Police (Crime). "It is a specified reptile under schedule-4 of Wildlife Protection Act, 1972. The duo were trying to sell the reptile for Rs 50 lakhs. The snake is used for medicinal values and is believed to bring good fortunes," he added. A case has been registered under the Wildlife Protection Act against the duo and a probe is underway.
Bangalore Police has said that they'll question Dunzo officials to figure out how a Dunzo bag was used for the crime. "We will summon the Dunzo officials to inquire how such a thing managed to take place and what preventive measures are they planning to take to prevent such incidents in the future," Patil said.
While essential services have been kept open during the lockdown, the concerns around their functioning have been raised previously as well. Last week, a Box8 employee who'd delivered food orders in Delhi through Zomato had tested positive for coronavirus, and 72 households had subsequently been quarantined. There had also been a scare around a Swiggy delivery executive testing positive in Hyderabad a few days ago. And with a Dunzo delivery person now clearly misusing the special privileges accorded to delivery companies to commit a crime during the lockdown, it'll only weaken the case of startups that have been arguing that their services be kept open during the coronavirus outbreak.