Facebook has taken its first steps into India's multi-billion dollar e-commerce space.
Facebook has begun letting users charge their phones from within its app. The feature is still being rolled out, but some users have reported seeing a "Mobile recharge" header when they click on the options within their Facebook apps.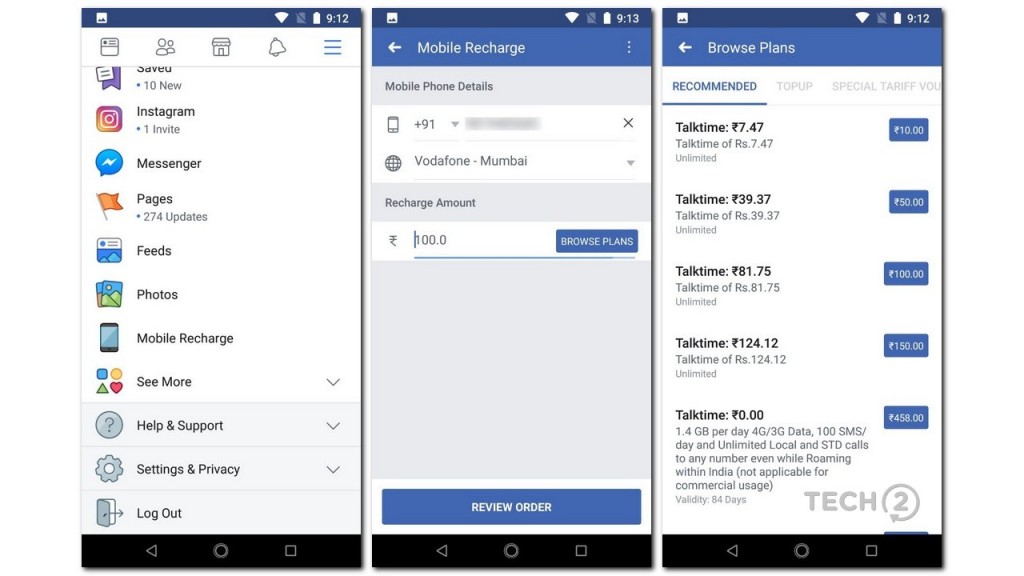 The recharge process itself works pretty much how recharges work online — users can enter their mobile numbers, and Facebook automatically detects their telecom operator. It then shows plans that are available, and users can enter the amount that they wish to recharge. The payment options are somewhat restricted at the moment, with users only being given the option to recharge through Credit and Debit cards.
It might be a feature that's already available on thousands of other apps in India, but it's a bombshell development in India's e-commerce space. Facebook, by some distance, is one of the most popular apps in the country, but has thus far not really gotten into the whole e-commerce game. Facebook has made a few halting attempts to get users to transact through its platform — in 2016, it had launched a service that helped people find electricians and plumbers near them, and more recently, has been heavily promoting its classified marketplaces where users can buy and sell items through Facebook groups.
But these attempts had been met with a limited response, partly because Facebook didn't always have both sides of the market in place when it launched its products (there weren't enough home services players in place when we'd written about Facebook Services in 2016), and partly because Facebook didn't seem keen to promote its new launches enough. Even though Facebook Services was launched, it never found its way into Facebook's main tab, making it hard for the average Facebook user to find and use it.
Facebook, though, seems more serious about its mobile recharge feature — it's right on Facebook's main settings tab, and provides an end-to-end service. Facebook is already recharging phones for all major operators in the country , and its mobile recharge service is pretty much the same as recharging your phone through Paytm, or FreeCharge, or any other app of the nature. Facebook also has the advantage that it's already used daily by hundreds of millions of users in the country — instead of opening up a separate app for mobile recharges, users will possibly stay within the Facebook platform when they look to recharge their phones.
Most crucially, phone recharges have proven to be a stepping stone into other areas of e-commerce. Paytm, famously, had started off a mobile phone recharge platform, but over the years, has become an e-commerce behemoth that offers everything from gold purchases to flight tickets. It's still early days for Facebook, but it could look to chart a similar course in India. And it if does succeed, it could end up upending India's e-commerce space as we know it.