With the world bracing and fighting against a pandemic unknown to humankind less than a year ago, COVID-19 has, for better or for worse, changed the way lives were being lived. This change has not only led to the collapse of many existing industries but also has paved the way for several emerging ones. It has pushed us into rethinking, revisiting our ways, to fit the new normal. Innovation is the guiding light that would provide support and sustainability to this new future.
Atal Incubation Centre- BIMTECH and UN Global Compact Network India along with Birla Institute of Management Technology are providing a platform, "Global Impact Innovation Challenge (GIIC 2020)", an international innovation challenge to highlight the solutions to the problems of the COVID era and beyond. The Challenge endeavours to find the most promising innovations, and enable them to create an impact at the global level.
GIIC 2020 is inviting innovators who have a ready-to-market idea, or an existing venture (not more than 3 years), that could create sustainable impact. Also, the innovation is required to demonstrate significant impact through results or proof of concept.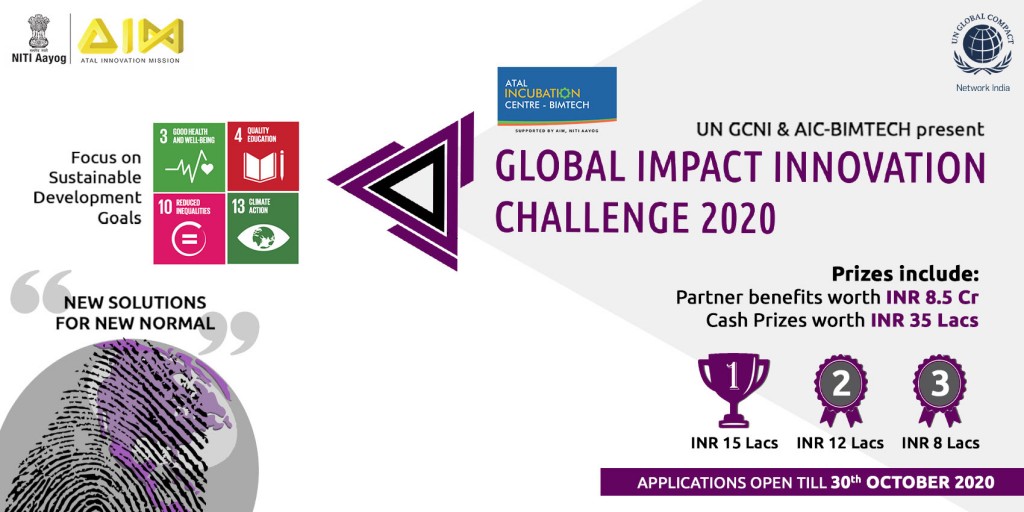 Inception of Global Impact Innovation Challenge (GIIC 2020)
Atal Incubation Centre- BIMTECH hosted an international innovation challenge in the fond memory of Late Shri B.K Birla Ji in 2019-20, by the name of B.K Birla Global Innovation Challenge 2020 (BGIC 2020), which attracted 860 innovations across 5 countries. (PFA the document for detailed insights about the event). This event was partnered with UN Global Compact Network India, which sowed the seeds of a partnership that would foster in the coming time.
During the spread of COVID-19, when the world was trying to understand these rapidly changing and volatile times, we saw a ray of light in the spurt of innovations that are capable of addressing seemingly new issues the world faces. As both entities recognized that their focus lies towards the same goal, i.e. supporting innovation that can provide solutions to the new problems in these new times, during the pandemic and after, Global Impact Innovation Challenge 2020 came into existence.
Focus SDGs
Climate Action

Good Health and Well-being

Quality Education

Reduced Inequalities
Rewards                         
Cash Grants

: First Prize – INR 15,00,000 | Second Prize – INR 12,00,000 | Third Prize – INR 8,00,000

Incubation

: All the finalists will be directly offered incubation at Atal Incubation Centre- BIMTECH (Gurukul Program)

Supports

: All the finalists will be extended the support services worth INR 8.56 Cr, which Atal Incubation Centre- BIMTECH provides, to its incubatees like,

Free credits for Digital Ocean, Amazon Web Services, Superb Services Cloud and Zoho One

F6S: Alpha Card of the total price value of USD 1,000,000

PayU: Free transaction credits

MSG91: Free 50,000 SMS per month for 6 months

Solidworks: Free license for a year

Networking Opportunity

: All teams shortlisted for the semi-finals and finals will have an opportunity to connect with the extended network of the hosts and participating stakeholders to find synergies for maximizing their impact outreach.

Additional Opportunities

: All the finalists will be provided many parallel platforms in the partner network of Atal Incubation Centre- BIMTECH for pitching their innovation.
Eligibility Criteria
In order to be eligible to apply and participate, all teams must meet the following criteria:
The team can be represented in the competition by a maximum of two members.

There is no restriction on the age or background of applicants.

If the submission is a venture, the venture must not have been in existence for more than 3 years.

Any submission must have a prototype/pilot.

The entries received will be recognized by the "name" of the venture/idea.

The applicants may or may not be Indian Nationals; however, the venture should be aimed at creating an impact in India, with global possibilities.
Judging Criteria 
The Judges will review and evaluate the Impact Proposals of all the teams using the following criteria: 
The Business Model

Innovation and uniqueness offered by the business model

Clarity of the business model

Financial feasibility of the business model

Sustainability

Scalability of the business model

Feasibility of implementation plan

Clarity of vision, social and financial objectives

Quality of the management team
Some Important Details about GIIC 2020*
Three Stage Challenge: 

Proposal Round, Semi-Final and Final

Last Date of submission for Proposal Round: 

30-October-2020

Result of Proposal Round:

 07-November-2020

Result of Semi-Finals: 

21-November-2020

Finale: 

11-December-2020
Registration Link