Kerala is witnessing its worst floods in nearly a century, and the situation is grim — as of last reports, 324 people have lost their lives, and thousands of others are trapped in their homes, waiting for the waters to recede. As government agencies have stepped up their efforts towards relief and rescue efforts in the region, some startups and companies are helping out as well, doing their bit to help a state in need. Here are some of the most prominent efforts by companies to help those affected by the Kerala floods.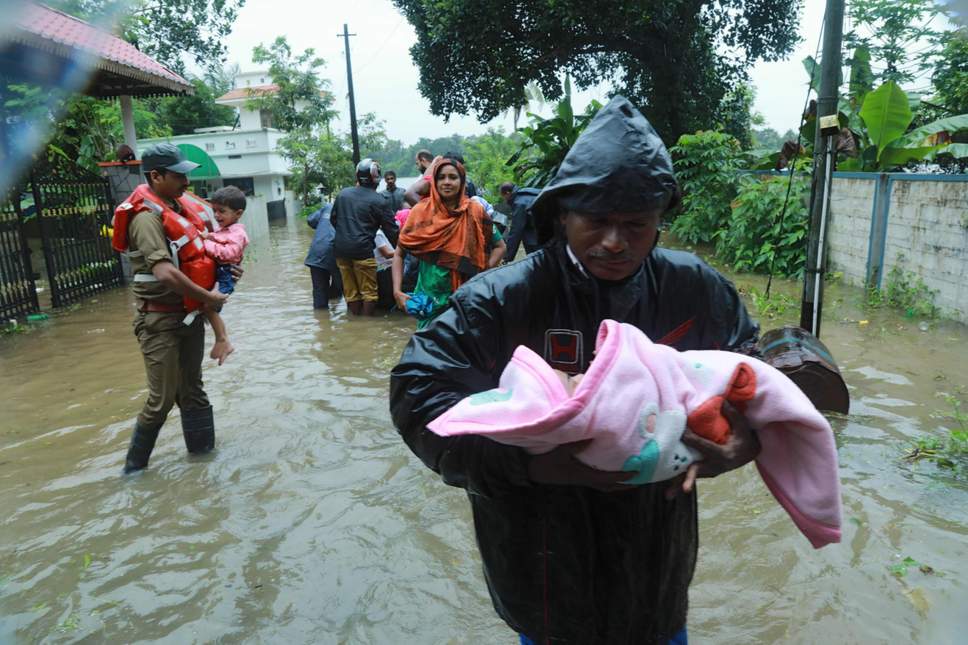 Amazon: Amazon already sells several items that flood victims would need, such as mosquito nets, torches, soaps, and umbrellas. To help out with the Kerala floods, it's partnered with 3 NGOs, and people who wish to donate to the flood victims can buy these items from  them its site. These items will then reach the NGOs, who'll in turn pass them on to people who need them in the flood affected areas. On its dedicated page, the NGOs list out the priorities of each item, the quantities that are required, and Amazon even shows how many have already been donated.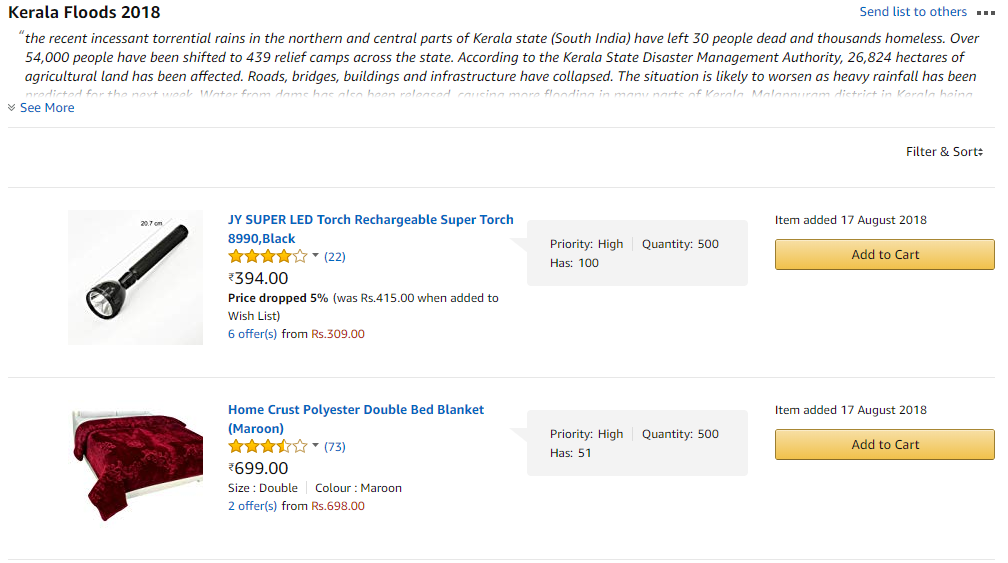 It's a pretty clever idea, because the items have been chosen by the NGOs, who know what's needed on the ground, and given that there's no cash donations involved, there's little chance of pilferage. Amazon's Kerala flood relief page can be accessed here.
Paytm: For those wishing to donate money to the official Chief Minister's Distress Fund, Paytm has enabled a Kerala Floods option on its app. People can donate to the fund through its app, much like they'd make a usual payment online. To further incentivize users, Paytm has said that it'll match each donation rupee for rupee, meaning that your donation will effectively be doubled, with the other half being contributed by Paytm. As of yesterday, Paytm had said that it had already raised Rs. 1.5 crore through its initiative.
Paytm option to donate for kerala floods pic.twitter.com/JIpfx0g6rG

— கருணைமலர் (@karunaiimaLar) August 16, 2018
Mobikwik: Fellow payment company Mobikwik has also activated a similar option on its app, allowing its users to donate directly towards flood relief. Mobikwik has said that it will also contribute Rs. 5 for each donation that's made through its app.
A kind gesture can reach a wound that only compassion can heal. Let's get together and #StandForKerala. For every donation made to the @CMOKerala fund through @MobiKwik , we will be contributing additional ₹5.
Click here to learn how: https://t.co/oBs4HrkXh2#PrayForKerala pic.twitter.com/h6QysxjHwC

— MobiKwik (@MobiKwik) August 16, 2018
Tech Mahindra: Several companies have been conducting drives in offices, collecting items from employees that the people affected by the floods might need. Tech Mahindra in Bangalore carried out one such drive, encouraging its employees to donate items to the Kerala flood victims.
#TechMBanglore triggers a flood of support for Kerala across @tech_mahindra and 113,000+ associates extend a helping hand to rebuild God's own country… #TheTechMWay#KeralaFloodRelief pic.twitter.com/iNjvxt8zU6

— Vrinda Pisharody (@vrindapisharody) August 17, 2018
Google: And Google has its usual Person Finder up for the floods, where users can post about people who're missing, as well as post about people who're safe. Google's Person Finder for the Kerala floods already has more than 18,000 records. The Google Person Finder for the Kerala floods can be accessed here.
Our thoughts are with those in Kerala. Help track missing people with #personfinder: https://t.co/8EECLFpCqv #KeralaFloods pic.twitter.com/mo9VM3Uph4

— Google India (@GoogleIndia) August 16, 2018