Sachin Bansal had changed India's e-commerce space with Flipkart. Now he seems to want to change India's financial services sector — and he's willing to put his money where his mouth is.
Flipkart co-founder Sachin Bansal has said that he will deploy all the proceeds from his Flipkart sale into his financial services Navi Technologies. "I am putting almost all of mine (money) — that is going to happen in the next few days or weeks, whatever is left after Ola investment. All eggs in one basket," said Bansal in an interview to TOI. It's estimated that Bansal will plough $400-450 million (Rs. 3,150 crore) into the new company, which will make it one of the biggest equity infusions by a promoter into a new financial services venture.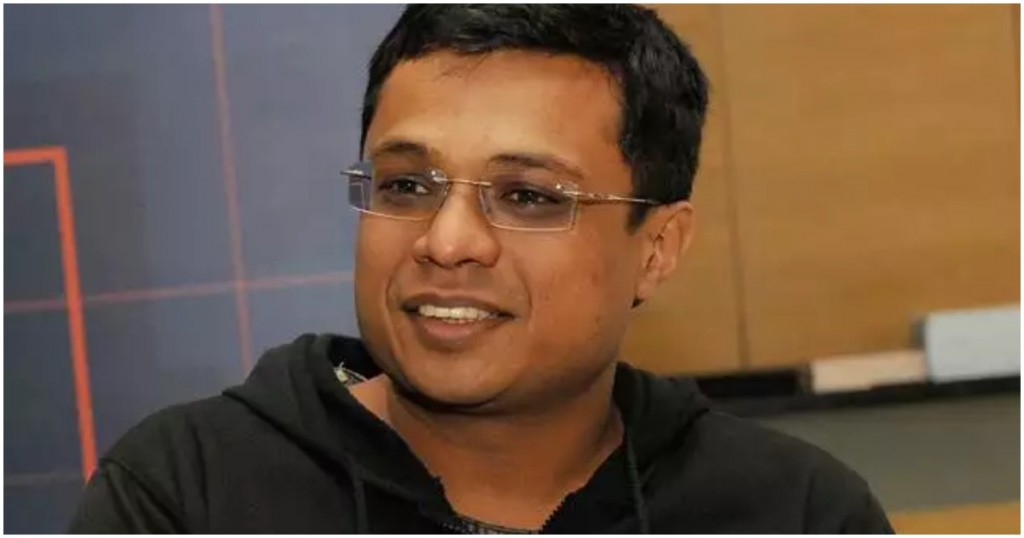 It's not yet entirely clear what Navi Technologies will do, but the financial services firm has already applied for a universal banking licence with the Reserve Bank of India. The company has also been hiring some big names from the financial services space —  he's roped in former RBI director and ICICI Bank top executive Nachiket Mor, who was till recently head of Bill & Melinda Gates Foundation in India. He has also roped in as an adviser Paresh Sukthankar, the former deputy to HDFC Bank CEO Aditya Puri, who had worked at India's largest private sector lender since its inception in 1994.
Like with Flipkart, Bansal will likely use technology to help with his financial services push. "We will keep the smartphone at the centre of consumer experience, rather than an add-on," Bansal said. He indicated that currently, it's the other way round, with bank branches being the centre of focus. He also said that mobile apps also crash at the start of the month, underlining how there is a gap in technology capability at big players. "If you think like a consumer tech company rather than a traditional financial services company, you can solve some big problems," he added. And Bansal has an appropriately large mission as well — he says that if India is to grow to become a 5 trillion economy, the credit to GDP ratio needs to grow to 100 percent from just 57 percent now, and it's likely that he believes that his firm will help give out loans more efficiently and in greater numbers than before.
Thus far, tech firms haven't done particularly well in banking. Paytm had started Paytm Payments Bank with much fanfare in 2017, but it doesn't seem to have had the impact that was expected, and Paytm is now in the process of trying to turn it into a small-credit bank. Navi Technologies, though, has applied for a universal banking license, which will allow it to become a full-fledged bank. The last two players to get a universal banking licence in India were IDFC First Bank and Bandhan Bank, which had applied in 2013.
Navi Technologies could be Bansal's biggest play in fintech, but he's made some other moves in the space as well. Last year, he had acquired microfinance company Chaitanya Rural Intermediation Development Services (CRIDS), and become its CEO. He is also reportedly in the process of acquiring DHFL Insurance and Essel Mutual Fund to develop plays in the insurance and asset management plays. Bansal isn't going to fund all his ambitious plans by himself — he says he plans raise additional capital from three-four outside investors, including World Bank arm IFC, which is investing $30 million at a valuation of $650-700 million. 
While Bansal isn't investing his entire $1 billion Flipkart fortune on Navi — he's also invested in several startups, including Ather energy, and has also invested a large sum in Ola. But it's still unusual for a newly-minted billionaire to take such concentrated bets this quickly. Luckily, Bansal has a solid precedent — Elon Musk had famously spent his entire PayPal fortune on SpaceX and Tesla, and both companies are category leaders in their own right. Now Sachin Bansal has put the vast  bulk of his Flipkart earnings into Navi — he'll be hoping that his fintech play ends up much the same way.