Over the last few years, India's food tech players have managed to bring all manner of restaurants — from the high-end to the cheap neighbourhood joints — on their platforms. Now the Indian government is stepping in to help them grow their selections.
The Indian government is partnering with Swiggy to bring street food vendors online. The Ministry of Housing & Urban Affairs (MoHUA) has entered into an MoU with Swiggy to onboard street food vendors. India's street vendors have been badly hit by the coronavirus pandemic with people hesitant to visit their stalls, and the government hopes that by getting vendors online, it'll be able get them some business.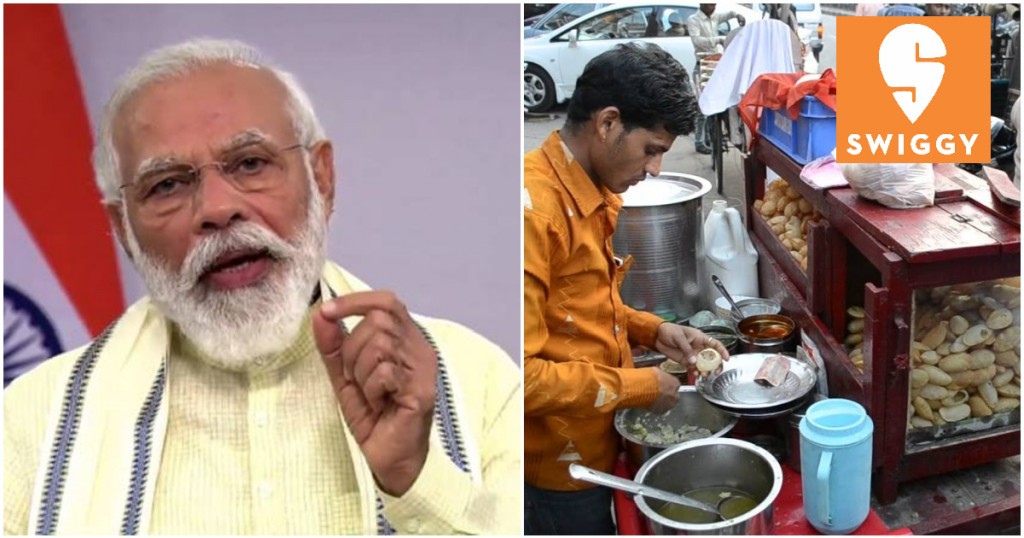 Street vendors would traditionally not have been able to list on food tech platforms — they don't have clearances such as an FSSAI certificate which these platforms require. MoHUA has coordinated with key stakeholders including Municipal Corporations, FSSAI, Swiggy and GST officials to ensure that street vendors have the necessary prerequisites are completed for this initiative. MoHUA and Swiggy will run a pilot program by on-boarding 250 vendors across five cities of Ahmadabad, Chennai, Delhi, Indore, and Varanasi. The street vendors will be helped with PAN and FSSAI registration, training on technology and partner app usage, menu digitization and pricing, hygiene and packaging best practices. Upon the successful completion of the pilot, MoHUA and Swiggy plan to expand this initiative across the country in phases. 
The entire program is being run under the PM SVANidhi Scheme, which has been focusing on helping street vendors in dealing with the coronavirus pandemic. Under the scheme, street vendors can get collateral-free working capital of Rs. 10,000 for their businesses. As of late September, 6.57 lakh street vendors have already got loans worth Rs. 654 crore under the scheme. The scheme aims to help 50 lakh street vendors by next year.
Having street vendors on food tech platforms could be a gamechanger for the entire space. Most Indian cities have small street food vendors that serve delicious meals and snacks, but are yet to be touched by the digital revolution. With phones becoming commonplace, and all citizens having bank accounts, they only thing coming in the way of these vendors is compliances like FSSAI and GST. If the government can help these vendors get the requisite clearances to be able to list on these platforms, they too will be able to partake in the food tech revolution that's been sweeping the nation. Customers wouldn't complain — they'll be able to order online from an even wider selection of dishes, and India's street food vendors will not only be able to deal with the blow that Covid has dealt to their industry, but also open up a new income stream going forward.