Even as one Indian space-tech startup is readying to send the country's first private rocket into space, another has notched a world-first to its credit.
Chennai-based space-tech startup Agnikul Cosmos has successfully tested the world's first 3D printed single-piece engine. The engine was successfully test-fired at the vertical test facility at Thumba Equatorial Rocket Launching Station of Thiruvananthapuram-based Vikram Sarabhai Space Centre (VSSC). Agnikul's single-piece engine 'Agnilet' has been fully designed and manufactured in India, which is a major milestone for 3D printing technology in the country.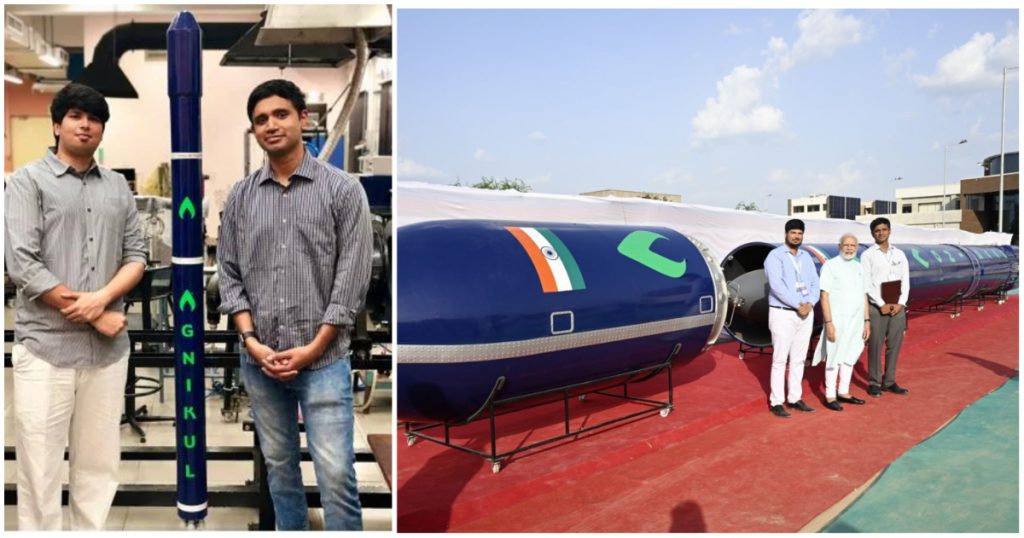 "This is an unforgettable moment for all of us here at Agnikul," Agnikul co-founder and CEO Srinath Ravichandran. "Besides validating our in-house technology, this is also a huge step in understanding how to design, develop and fire rocket engines at a professional level. We are incredibly thankful to IN-SPACe and Isro for making this happen. Also grateful to the Indian Government for having made such efforts possible by the creation of IN-SPACe," he added.
The successful engine test will boost the development of the startup's launch vehicle 'Agnibaan', which will be capable of carrying up to 100 to 300 kg of payload to Low Earth Orbit (up to 700 km altitude). The test was conducted to validate the technological possibility that rocket engines can be 3D printed, and made as a single piece of hardware. Agnikul had recently announced that the government has awarded them the patent for the design and manufacturing of their single-piece rocket engines. It had also announced the inauguration of its Rocket Factory-1, India's first-ever rocket facility dedicated to 3D print situated at IIT Madras Research Park.
Agnikul Cosmos is one of the new crop of space startups which have mushroomed since the government indicated that it wanted to open up the space sector to private players. Agnikul was founded by Srinath Ravichandran, who has an engineering degree from College of Guindy and an MS in Aerospace Engineering from University of Illinois, and Moin SPM, who has a degree in Aerospace Engineering from Anna University, and an MBA in Aeronautics from University of Newcastle.
The duo founded the startup in 2017, and it was initially incubated at the National Center for Combustion R&D at IIT Madras. In 2018, the startup fired its first set of igniters and single injector element based thrusters. In 2019, the company raised funding, and signed agreements with potential customers. In 2020, the company raised its Series A, and also signed a partnership with ISRO. Agnikul has thus far raised Rs. 105 crore from investors including Anand Mahindra and Naval Ravikant.
Agnikul's 3D printed engine could be a gamechanger for space exploration. A regular engine has many parts which come together to make the device, but a single-piece engine could be easier to fabricate. It could also end up being cheaper than conventional engines. These 3D printed engines, however, will need to be tested in flight to ensure that they are robust, and able to withstand the temperatures and pressures of a rocket going to space.
These are the kinds of innovations the Indian government had in mind when it had opened up the space sector for private players. The Space Activities Draft Bill in 2017 — the same year Agnikul was founded — had recommended the inclusion of private firms in space programs, including building rockets, satellites and launches, both for Indian and foreign customers. The founders of Skyroot, the company which is sending the first private rocket to space, had said that they had quit their jobs to start their company after they read the draft of the bill.
The founders of Agnikul echo similar thoughts. "With the efforts of IN-SPACe, the private space ecosystem is growing in the right direction and also gets access to the state-of-art technologies to make and test world class products inside the country, thus directly contributing to the Make in India and Aatmanirbhar Bharat initiatives," said Agnikul co-founder Moin SPM. And with Indian startups already coming up with new innovations and even sending rockets to space, the private sector looks set to help usher in a whole new era for Indian space initiatives.