Startup investments don't always work out — as many as 90% of all startups fail — but when they do, the results can be nothing short of spectacular.
InfoEdge has turned its first Rs. 4.7 crore cheque to Zomato into a Rs. 5,000 crore windfall. In 2010, InfoEdge, which runs portals like Naukri.com, Jeevansathi.com, and 99Acres.com, had put in Rs. 4.7 crore into Zomato, which was also its first investment. When Zomato went public yesterday, that investment had grown by 1050 times to be worth Rs. 5,000 crore.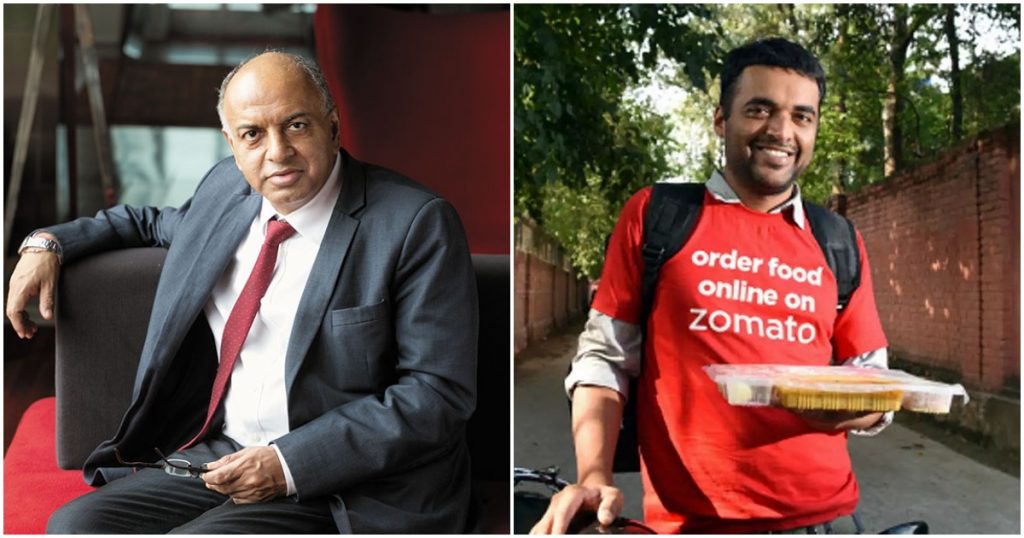 "Here is the ultimate evidence why India should invest more behind its startups and in early stage VC funds," wrote InfoEdge's Sanjiv Bhikchandani, sharing data of the returns InfoEdge would get on its initial Rs. 4.7 crore investment based on Zomato's stock price. Had Zomato's stock stayed at its IPO price of Rs. 76, InfoEdge would've made a 633x multiple on its initial investment; had it touched Rs. 106, it would've made a 887x return. Zomato's stock though closed at Rs. 126, meaning that InfoEdge had earned a 1050x return on its initial investment. That means that InfoEdge has turned the Rs. 4.7 crore into a staggering Rs. 5,000 crore.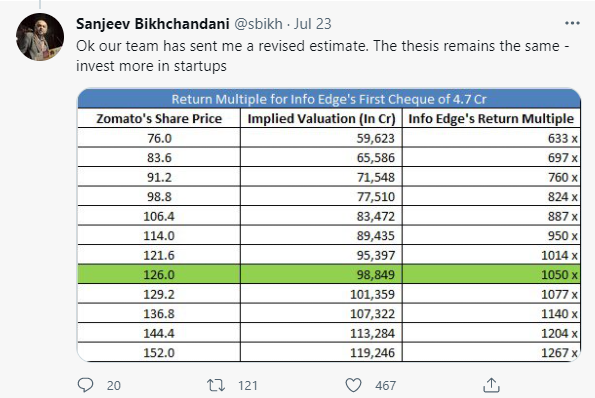 These are remarkable returns, and unattainable by most traditional financial instruments. While fixed deposits earn as little as 6% per year, and mutual funds can earn as much as 15%, InfoEdge's initial investment grew at an astonishing 88% per year.
And this Rs. 4.7 crore investment had happened because InfoEdge's Sanjiv Bhikchandani had used Zomato, and liked the service. "Both Hitesh (Oberoi, Info Edge CEO) and I had been separately using the site for about 6-8 months before that, and we liked the site,'  Bhikchandani had described the investment in 2018. "We discussed, and figured that maybe it's worthwhile having a conversation with FoodieBay for investment." It was then that Bhikchandani did some legwork to get in touch with FoodieBay's founders. "I went to network solutions and did a WhoIs search and found out Deepinder Goyal's name in the admin contact. Then I did a Google search for his name and found an email id," he says.
Bhikchandani had done something that most founders dream about — he proactively approached Zomato CEO Deepinder Goyal. "I sent a cold email to him. I still have that email somewhere in my email archive. "I use your site, we're fans. If you're looking to raise money contact us" the email said," says Bhikchandani. 
Deepinder Goyal was only to happy to receive money from one of India's biggest names in technology. "He got back to me by email within 24 hours, and we met in 48 hours," remembers Bhikchandhani. And things moved quickly after that. "We shook hands (for a deal) in 72 hours," he says.
It's a deal that's worked remarkably well for both parties — Zomato went from strength to strength after the seed money, and is now worth nearly Rs. 1 lakh crore. And Sanjiv Bhikchandani's cold email helped him turn a Rs. 4.7 crore cheque into a cool Rs. 5,000 crore.