The world's richest man is giving away cashbacks, and Indian customers are invited.
Amazon CEO Jeff Bezos has penned a letter to Indian consumers on the fifth anniversary of Amazon's entry into India, thanking them for support during the journey. "Dear Customers, We launched Amazon on 5th June 2013 with a vision to transform the way India buys and sells," says the letter, which is plastered over Amazon India's website today. "I want to thank you for  your support for making Amazon.in the most visited shopping site in India for the last two years."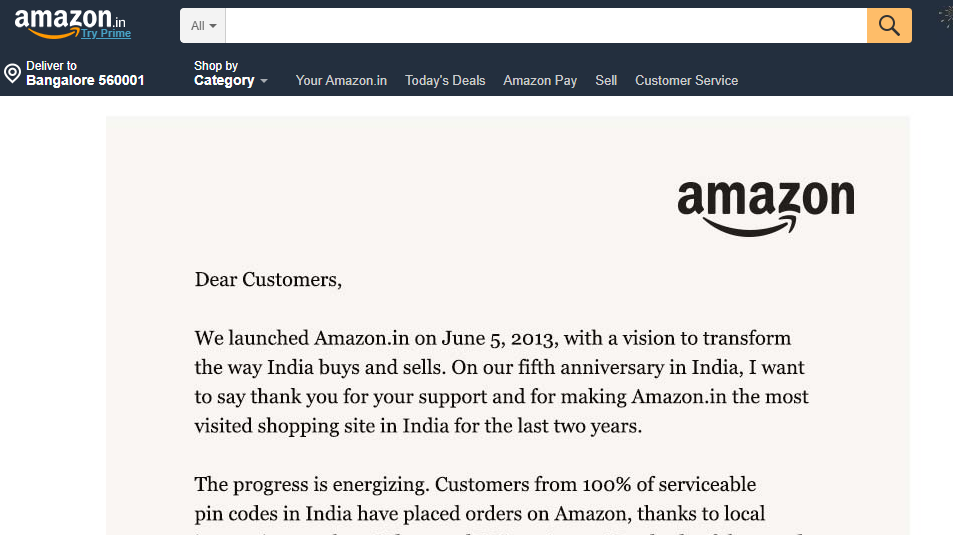 Bezos then lists out what he feels are Amazon's chief  innovations in its India journey. He highlighted Project Udaan, through which Amazon appoints offline associates across retail points like kirana stores and mobile shopping outlets, and provides them a PC-based website. The store owners are then trained to help customers find and buy products from Amazon, and they earn a commission in the process. He also highlighted Amazon's I Have Space program, through which Amazon appoints local store owners who deliver products to customers within a 2–4 kilometre radius of their stores.
Amazon's local innovations seem to have paid off — Bezos says that Amazon has now sold goods in every pin code it services in India. And Bezos' letter has a distinct Indian touch as well — he says that Alexa can now be used for "playing bhajans," and adds that Amazon has become "India ki apni dukaan."
But Bezos saves the best for last — he declares that on 6th June, Amazon customers will receive a Rs. 250 cashback for purchases of Rs. 1000 or more. And Amazon is serious about promoting the offer — the letter is currently posted on Amazon's front page, replacing the products and deals that are usually displayed.
It's been apparent for a while that Amazon's been all-in on India — it's earmarked $5 billion into the country, and has been aggressively countering Flipkart to become India's largest e-commerce destination. But the stakes have just become higher — Walmart acquired Flipkart last month in a deal valued at $20 billion, and that means that Amazon will have to renew its efforts continue to dominate India. And a personal letter from Jeff Bezos, along with a thank-you cashback, shows how serious Amazon is about winning India's fledgling e-commerce market.