In 2016, Jio had changed how Indians access the internet on their phones with its dirt-cheap 4G data plans. Two years later, Jio seems to want to change how Indians access broadband internet.
Jio has just annouced JioGigaFiber, its fibre broadband service. "Gone are the days of Mbps, now it will be about Gbps," said Isha Ambani while introducing the JioGigaFiber. "(JioGigaFiber) will now extend fiber connectivity to homes, merchants, small and medium enterprises and large enterprises simultaneously across 1,100 cities to offer the most advanced fiber-based broadband connectivity solutions," added RIL Chairman Mukesh Ambani.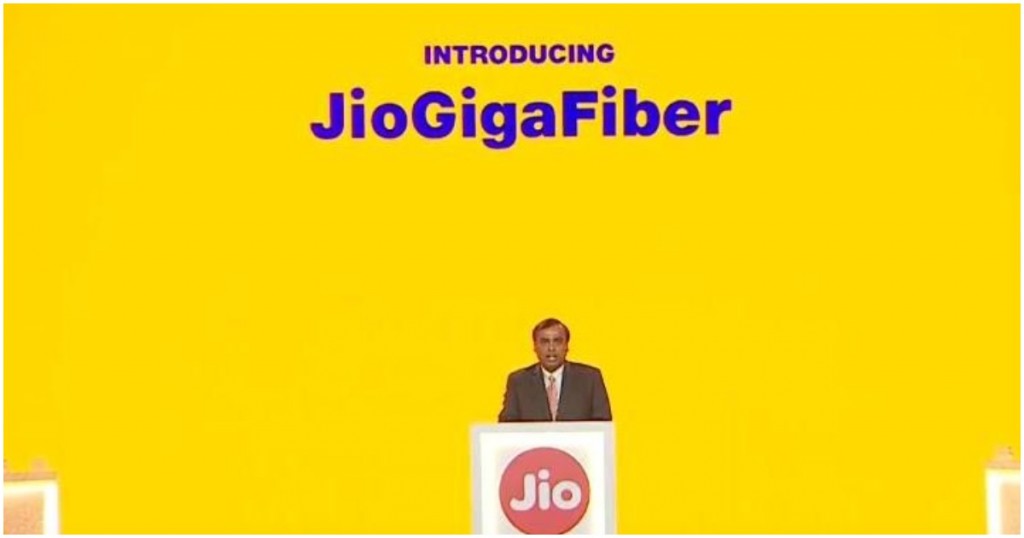 And like with Jio, Reliance won't just leave users with the connectivity solutions and step aside — Jio says that will launch a range of smart home products to integrate with JioGigaFiber. These smart home appliances, such as smart doorbells and smart cameras, will be controlled through the MyJio app. Jio says that these smart home products will be installed in the homes of interested customers  in less than an hour. 
Reliance is currently beta testing the JioGigaFiber service across thousands of homes, and says it will soon begin rolling out the service. The company has also invited users to sign up with their interest on receiving JioGigaFiber in their homes, and Jio says that it will begin rolling out its fiber cables in the areas which have the most interested users. 
Reliance hopes that JioGigaFiber will transform how Indians connect with the internet in their homes. It says that its fiber broadband service will let users view ultra-high-definition entertainment on large screen TVs over the internet, allow for multi-party video conferencing from living rooms, and enable voice-activated virtual assistants, virtual reality gaming and digital shopping. "Your home will have wall-to-wall Wi-Fi coverage, every appliance, plug point, switch will become smart. You can have cameras giving you 24×7 security monitoring, alerts," said Ambani.
It's no surprise that Reliance wants a foothold in users' homes — companies like Amazon and Google have launched their own virtual assistants, and through devices like Alexa and Google Home, have managed to forge  a direct and personal connection with their users. This connection can be leveraged to get users to becomes loyal to their own platforms — a user with Alexa in their home, for instance, is more likely to purchase on Amazon through a simple voice command, and a user with Google Home will stick to Google as a search engine. Reliance has interests in every industry from the media to retail — it wants a presence in users' homes to be able to distribute the vast array of services its provides.
Reliance already had a large distribution network with Jio — the service now has over 200 million users. But it clearly sees the home as the next frontier. Jio had transformed India's mobile internet space — since its entry, mobile data rates have plummeted, speeds across networks have gone up, and Indians are connected like never before. If JioGigaFiber's impact on home internet can be anywhere close to the impact Jio has had on the mobile data industry, India might just have its very own broadband revolution around the corner.